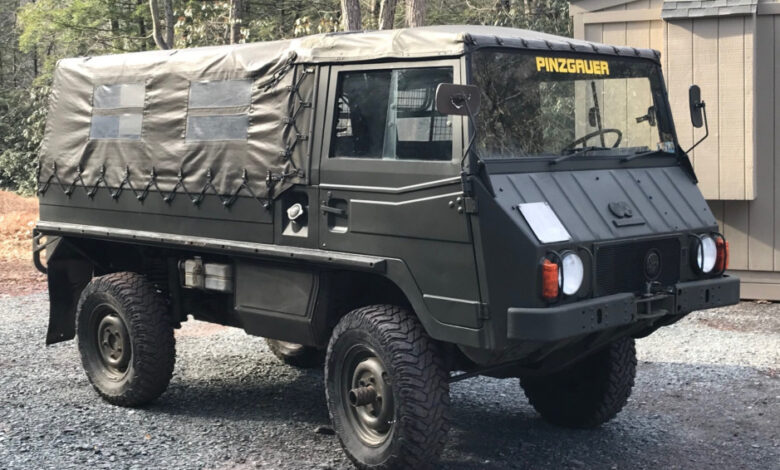 Named after a breed of horse from its native Austria, the Pinzgauer 710M is an extraordinary machine. From motorhead and military enthusiasts to people prepping for a doomsday scenario, the Pinzgauer continues to stand the test of time. Not bad for a high-mobility all-wheel-drive vehicle engineered in the '60s.
The Pinzgauer 710M is the first generation of the almighty beast. Official production began in 1971 but the original prototype was ready in 1969. It is the successor to the Steyr-Daimler-Puch Haflinger 700 AP 4×4 multi-purpose military vehicle.
Primarily used by militaries across the globe, the Pinzgauer 710M can transport a lot of troops over extremely rough terrain. Efficiently. It can carry up to 10 people or two full NATO pallets full of confidential equipment.
Capable of reaching a top speed of 68 miles per hour (110 kilometers per hour), the 710M can get the job done. There may be faster vehicles or more modern technology available but many militaries still use a 710M to this day.
That is a testament to how capable, reliable, and durable the original Pinzgauer 710M design is.
Although there are many so-called all-terrain vehicles or ATVs in existence, the Pinzgauer truly lives up to the title. Consider its capabilities as the only proof you need.
First-Generation Pinzgauer Off-Road Ability:
Ground Clearance at Lowest Point – 13.2 inches or 335 mm
Approach Angle – 38°
Departure Angle – 45°
Fording Depth – 27.6 inches or 700 mm
Side-Slope Angle Navigation – 43.5°
That's not all, the Pinzgauer 710 can even climb walls. If there is a task in the field, you can probably find a way for the Pinzgauer 710 to help.
Pinzgauer 710M Performance Capabilities:
On-Road Tow Capacity – 11,023 pounds or 5,000 kg
Off-Road Tow Capacity – 3,307 pounds or 1,500 kg
Range without 125-Litre Fuel Tank Expansion – 249 miles or 400 kilometers
Range with 125-Litre Fuel Tank Expansion – 435 miles or 700 kilometers
A 2.5L air-cooled inline 4-cylinder petrol engine powers the first generation Pinzgauer 710M. It produces 87 horsepower and features two Zenith 36 mm carburetors. There are even two oil pumps to ensure the engine never runs dry regardless of operating angles.
Shifting gears in the Pinzgauer requires the ability to operate a 5-speed manual transmission with a 2-speed transfer case. You're up, cadet. Hope you can handle 133 pound-feet of torque, it doesn't sound like much but you will feel it pull.
You could say the Pinzgauer engineers thought of everything and still forget to mention a few things. The engineers wanted this war machine to be dependable but easy to fix when the unexpected occurs. They did an excellent job.
Even the chassis has a unique design which factors into the high-mobility performance of the Pinzgauer 710. It features a central tube-chassis design with a transaxle that distributes weight evenly. This foundation gives the Pinzgauer a very low center of gravity.
The differentials are completely sealed and why not? Engineers designed the differentials to require almost no additional lubrication or maintenance. It also features portal axles, similar to the Unimog, to help provide outstanding ground clearance even over protruding obstacles.
Oh and just in case 4 wheels and 10 passengers are not enough for you, there is still hope. You can also consider the Pinzgauer 712 from the first-generation of production. It features 6 wheels with AWD, making it a true 6×6 ATV.
The slightly larger 712 variant can seat 14 passengers including the driver. No, these are not clowns climbing out of a Volkswagen. They are highly-trained professionals you do not want to mess with.
There are several body type variants, with the M and K versions being most common. The M stands for a soft-top model while the K designation represents a hard-top Pinzgauer. Variants of the Pinzgauer 710K are a 5-door hard-top with seating for 5 passengers.
A fully independent suspension sweats trying to keep the ride smooth but it makes up for it in other areas. Do not expect a comfortable ride, this isn't a luxurious retreat. You're not going to take the Pinzgauer 710M for a weekend to the Hamptons.
Drones? What do you mean drones? You have vacuum assisted drum brakes if you need to stop for some reconnaissance.
Establishing the Perimeter
Even though the Pinzgauer is primarily an official military vehicle, they did sell some to civilians. During the first-generation production window of 1971 to 1985, Pinzgauer made 18,349 first-generation models. This tally includes both the 710 and 712 variants.
That means it is possible to find a Pinzgauer 710M for sale, if you want one. Imagine showing up to a casual weekend off-road get together with this tank. Chances are you will have a few passenger seats spoken for.
Obviously this is the kind of vehicle that could come with several modifications specific to which industry or military was using it. As a result, market prices will vary a bit outside the realm of normal vehicle condition factors.
You are more likely to find such an oddball as the Pinzgauer through automotive auction sites. The European market will provide a few more opportunities. However, finding a 710M stateside can be more convenient if you live on that side of the pond.
Taking a look at some recent auctions suggests a price range between $20,000 to $40,000 for the Pinzgauer 710. A very recent auction at Bring a Trailer fetched $30,850 for this 1973 Steyr-Puch Pinzgauer 710M. Just a few weeks before that, a '75 Pinzgauer 710M sold for $19,900 on Bring a Trailer.
Finding the right Pinzgauer could take some patience but if you are not too picky, it shouldn't take long. Whether you want to restore a Pinzgauer or find a show-worthy example is going to be a determining factor as well.
Landing a Pinzgauer will put you behind the wheel of one of the most capable off-road vehicles of all time. How you decide to utilize the 710M is entirely up to you.
From camping to museums, the Pinzgauer holds down the fort in the world of light duty military trucks. They are both intimidating and intriguing from afar.
There is a high probability driving a Pinzgauer publicly will earn you a few thumbs up. You might not be able to add them next to your stripes but they should count for something. At the very least, there should be a wall-climbing decorative pin that comes with every Pinzgauer.