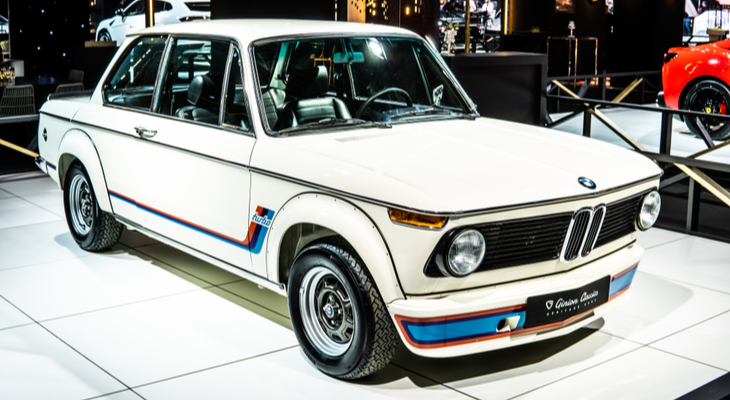 Before there was a BMW 3-series, the 02 series was the German automaker's compact car. Right before the oil crisis hit in the early 70s, BMW made the 2002 Turbo their very first turbocharged model. Never even officially available in the United States, the 1973 BMW 2002 Turbo is a very desirable car among enthusiasts.
Unfortunately, the oil crises caused BMW to only make 1,672 total 2002 Turbo cars. That certainly did not create enough opportunities to drive this quirky but very enjoyable machine.
Introduced at the 1973 Frankfurt Motor Show, the BMW 2002 Turbo is a front-engine, rear-wheel-drive 2-door sporty coupe. It features a 2.0L turbocharged inline 4-cylinder engine with a 4-speed manual gearbox. You really feel the soul of the road while driving a 2002 Turbo.
In its stock form, the 1973 BMW 2002 Turbo produces 168 horsepower at 5,800 rpm. It creates 177 pound-feet of torque at 4,000 rpm. This engine features a single overhead camshaft (SOHC) design with two valves per cylinder.
For its era, the 7.5-second scoot from 0 to 60 miles per hour is not bad. It takes 23 seconds to reach 100 mph. The '73 2002 Turbo can reach a top speed of 211 kilometers per hour or just over 131 mph.
One of the coolest things about the 2002 Turbo is the reverse-mirrored lettering along the front bumper of the car. As you approach other drivers on the road, they will see the word Turbo in their rear-view mirror. This is a polite way to give them time to get out of the way because forced induction is coming through.
The Turbo Lag Conundrum
Purists insist on keeping their 2002 Turbos all-original but others prefer tuning them a bit. For example, a stock 2002 Turbo suffers from severe turbo lag. Basically, the 2002 Turbo feels like a dog until it hits 4,000 rpm when you really notice the boost kick in.
This causes some owners to ponder aftermarket upgrades such as installing a Garrett T03 turbo. Once you begin going down that rabbit hole, you will need to upgrade a lot of components and fuel mapping. That is the life of hot rod tuning but there is a lot of potential lurking within the 2002 Turbo.
Either way, chirping the tires of the 2002 Turbo is fairly easy, it happens frequently while driving. Oops. Every chirp will likely bring a smile to your face.
Driving the 2002 Turbo offers a nostalgic experience. From the sounds to the smells, you will appreciate every mile. It is light on its feet, offering decent agility for its time.
Of course, do not expect the 2002 Turbo to handle like a newer BMW, it is still from the 70s. It is not like you have a double-wishbone suspension and the brakes are not going to stop on a dime. Take some time to get to know this classic car before throwing it around corners.
When the boost kicks in alone, it can send many unsuspecting 2002 Turbo drivers into the trees around corners. You will become more comfortable as you spend more time behind the wheel. Once you feel as though you are one with the car, you will appreciate how nimble it is for an older car.
1973 BMW 2002 Turbo Dimensions:
Wheelbase – 2,500 mm or 98.4 inches
Height – 1,410 mm or 55.5 inches
Width – 1,620 mm or 63.8 inches
Length – 4,220 mm or 166.1 inches
Curb Weight – 1,080 kg or 2,381 pounds
Not Easy To Find
You will have more luck finding a 1973 BMW 2002 Turbo for sale in the European market. There just are not many of them stateside. There are a few but many owners have no interest in selling them.
Keep in mind BMW only made the 2002 Turbo during a two-year production window covering the 1973 and 1974 model years. A recent stateside Bring A Trailer auction fetched $193,100 for this 1974 BMW 2002 Turbo.
A brief look at the 2002 Turbo market over the past 5 years reveals an average value just above $130,000. Not bad for a car with an original sticker price right around $6,600.
BMW has a very successful and impressive Motorsports track record at this point. Their Motorsport division created a nice little gem with the 2002 Turbo. Yet, many people do not even know what the 2002 Turbo is when they see it at a show.
The real joy of this car is sitting behind the wheel but it certainly features vintage BMW styling. From the dual round headlights to the flared fenders, the 2002 Turbo never shies away from a spirited drive. Enthusiasts everywhere will be eager to give you thumbs up if they ever see you driving one.