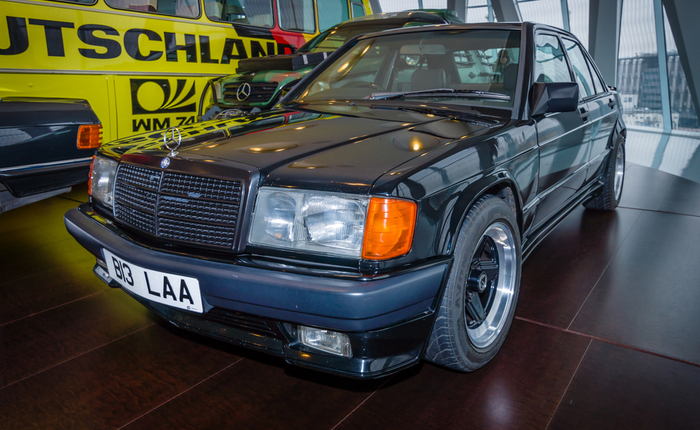 Believe it or not, there was a time when Mercedes-Benz and AMG were separate companies. In those days, AMG tuned engines for race cars, often for Mercedes-Benz. The Mercedes-Benz 190E 3.2 AMG was the very first AMG model sold with a new car warranty from Mercedes-Benz.
Internally, Mercedes-Benz officially called the 190 series the W201. The 190 features a front-engine, rear-wheel-drive layout with four doors. You can fit five passengers in a 190 but it is still a compact executive class automobile.
A stylish body kit and high-performance engine are what separates the AMG version of the 190 from the standard Mercedes-Benz model. Many 190 models feature 4-cylinder engines under the hood. Standard and other AMG 190E models from 1982 to 1993 feature engine displacements ranging from 1.8L to 2.6L.
Pop the hood on the Mercedes-Benz 190E 3.2 AMG to find an inline 6-cylinder engine. Yes, it is 3.2L and it produces 231 horsepower with 234 pound-feet of torque. For its era, the 3.2L M103 AMG I6 offers impressive performance from a naturally aspirated engine.
Of course, there is a similar famous racing chassis with a V8 under the hood nicknamed 'The Hammer'. Legend has it this 6.0L V8 W124 190E is capable of taking down some supercars. Because of this, many enthusiasts dub the AMG 3.2 190E 'The Baby Hammer'.
Built in competition with the E30 BMW M3, the 190E does have the precision engineering you expect from Mercedes-Benz. It also features a luxurious interior with prestigious trim, offering comfort with class every mile along the way.
Yet, despite boasting a 5-link rear suspension, anti-roll bars, and anti-squat geometry, the 190E is bulky. The handling of the 190E shows it and so will the tires after a few laps. It certainly will not give an E30 a run for its money around corners.
Although straight-line performance is on par with the engine specs, the driving experience suffers from sloppy steering precision and excessive body roll. Where the Mercedes-Benz 190E 3.2 AMG really shines is its styling. This car looks like the quintessential classic Mercedes-Benz from the 1980s.
Expect a 190E with the 4-speed automatic transmission to reach 62 miles per hour in about 7.6 seconds. With the 5-speed manual, going from 0 to 62 mph will probably take closer to 7.8 seconds. Should you keep going, you should be able to reach a top speed of 151 mph.
Thankfully, AMG tuned the 190E aerodynamically through their body kit. This enables the AMG 190E 3.2 to be fairly stable at higher speeds. Some of the aerodynamic AMG additions include a rear spoiler and front splitters.
Even though you are enjoying the comfort of the Benz, you will want to roll the windows down when accelerating. This AMG 3.2L engine sounds incredible, especially when it is roaring at wide open throttle. It literally sounds like you are going a lot faster than you really are.
Mortgage or Mercedes-Benz 190E 3.2 AMG?
Unfortunately, they only made a total of 200 official Mercedes-Benz 190E 3.2 AMG sedans. However, you could also purchase the AMG body kit and engine separately. As a result, many Mercedes-Benz 190 sedans came from the factory with the AMG upgrades.
Since then, many builders and tuners retrofit the AMG kit and engine into base-level 190 models. This is the easiest way to get behind the wheel of a 190 sedan with the 3.2 AMG engine. Just be on the lookout if somebody tries claiming an upgraded car is the real McCoy.
When it comes to the real thing, the Mercedes AMG 190E 3.2 was expensive from day one. You could order a fully loaded AMG 190E for around 124,000 DM, or German marks. That translates to about $75,000 or the cost of an average house in the late 80s and early 90s.
Today, if you want to find an authentic Mercedes-Benz 190E 3.2 AMG for sale, it may take a while. You will have better luck browsing the European market but it will still be a practice of patience. If you do find a factory AMG 3.2 190E for sale, expect to see a six-figure price tag, at least.
Sure, there are a few opportunities to find 2.5L AMG 190E examples stateside. Even those are going for above $80,000 when they become available. Then there is always the option of finding a project W201 chassis 190 and sourcing the parts to build a replica.
Once you are driving an early 90s 190E, you'll notice the nostalgic charm and familiar Mercedes-Benz feel from that era. If that's what you seek, with a little more power under the hood, the AMG 190E 3.2 is ideal.
On the other hand, AMG performance enthusiasts may want to look at something else. Mercedes-AMG continues building many luxurious machines capable of jaw-dropping performance to this day. Several other old school AMG machines from the 90s and early 2000s are worth a look.
Considering how rare the 190E AMG 3.2 is, it really is a collector and enthusiast's paradise. Its underwhelming performance for the price tag may leave driving enthusiasts with sour grapes. This is definitely the kind of AMG that is a little easier to avoid putting miles on.
Besides, you really can get a similar driving experience by tuning a standard 190 chassis into a similar machine. You can't get the same showroom or museum experience from a replica though. That's where some of the authentic AMG 3.2 190E sedans belong.
At the end of the day, if you love the 190E or Mercedes-Benz cars from that era, the AMG 3.2 is a dream car for you. If you are more of a casual fan, the sticker price may drive you away. Two things never change about the AMG 3.2 190E, it looks sharp and the engine has a mean mid-range growl.