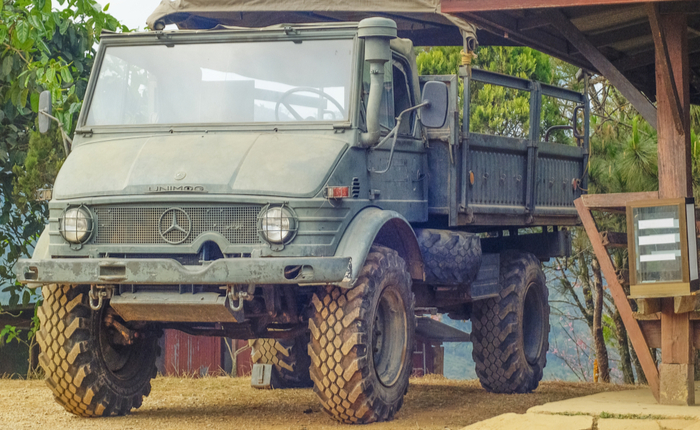 If you are not quite sure what the Unimog is, you are not alone. Believe it or not, Unimog is an acronym for Universal-Motor-Gerät. That explains what it is, right?
All jokes aside, the Unimog is a very popular and capable industrial commercial vehicle around the world. Two men, Albert Friedrich and Heinrich Rößler, turned their vision into a design engineered to be an agricultural workhorse. The Unimog may sound like a mythical beast, but to most people who have seen one, it is a heroic machine.
In post-World War II Germany, finding a way to streamline the manual labor side of agriculture proved key to rebuilding efforts. This required a machine with more capabilities than a standard tractor. The Allies granted permission to build the Unimog after securing a promise for its development without military purpose.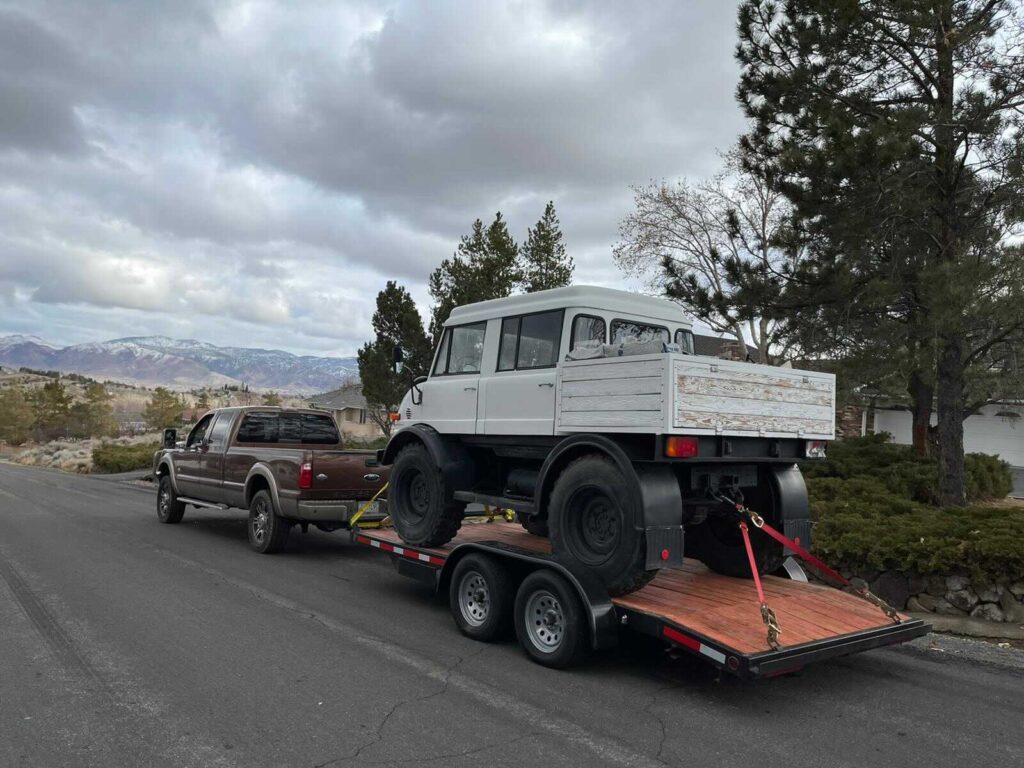 Despite designing it without military intentions, the Unimog proves resourceful in combat. The original Unimog's design features rear-wheel drive that is switchable to front-wheel drive. It also has equal-sized front and rear tires, allowing it to travel on roads at higher speeds than farm tractors.
Most importantly, the Unimog features exceptional ground clearance sitting on a flexible frame. This translates to outstanding off-road capability making the Unimog an ideal vehicle for harsh driving conditions. The original Unimog could even operate saws in forests or harvesting machines in fields, everybody needed one.
At the heart of its design, the original Unimog features a flexible ladder design chassis sitting on coil-sprung axles. It has portal axles, meaning the center of the tires is below the center of the axles. This design provides a lot of ground clearance without having to use even bigger tires.
Adding to the flexibility of the Unimog are the coil-sprung axle designs. Each axle is capable of reaching 30° of angled offset. This wide range of vertical movement allows the Unimog to drive over rocky terrain including boulders standing up to one meter tall.
A high visibility driving cab design enables easier navigation over immediate terrain without sacrificing the ability to drive it home. At least 11 different engines power the different Unimog generations. Most of them feature diesel engines.
Built like a tank to outwork a tractor, the Unimog turns the most difficult tasks into easy work. Their design would go on to see many improvements over the years, but the original planted the seed.
Meet the Unimog Family
Unimog production continues to this day, but they have come a long way since the first one in 1948 from Boehringer. In 1951, Daimler-Benz took charge of Unimog production while selling it under the Mercedes-Benz brand. However, the iconic three-pointed Mercedes-Benz star did not appear on the Unimog until 1953.
There are so many variations across the Unimog's lifespan, it is difficult to describe the specifics of each in a nutshell. Generally speaking, the Unimog is usually available in at least a short or long wheelbase version during each production year.
Other than that, most Unimogs use a variation of a splitter gearbox to shift gears. Another drivetrain point of interest includes how turning front-wheel drive on automatically locks both axles in most models. Using all-wheel drive offers an additional mode that locks both the front and rear differentials in most models.
Mercedes-Benz classifies each generation and version of the Unimog using a numerical system. Since its production lifespan spreads across several decades and variants, breaking down the Unimog's generations can be confusing.
Traditional Unimog Model Numbers
70200
2010
401/402
411
411 a/b
411 c
Traditional models are the first generation and its associated variants. Production of these Unimog models spans from 1948 to approximately 1975.
Unimog S Model Number
Manufactured from 1955 to 1981, the Unimog S is usually considered a military spec vehicle. It is the only production Unimog model to feature an Otto or petrol-based engine.
406-Family Unimog Model Numbers (Production: Approximately 1963 to 1989)
406/416/426/419
403/413
421/431
Light Series (LBU) Unimog Model Numbers (Production: 1988 to 2000)
Medium Series (MBU) Unimog Model Numbers (Production: 1988 to 1998)
Heavy Series (HBU) Unimog Model Numbers (Production: 1974 to 2002)
Extreme Off-Road Series (UHN) Unimog Model Number (Production 2002 to Current)
Implement Carrier Series (UGN) Unimog Model Number (Production 2000 to Current)
City Implement Carrier Series (UX 100) Model Number (Production 1996 to 1998)
There are only two current Unimog production models, the 405 and the 437.4. They remain in production because they are still very capable and versatile machines. The newest Unimog models can even switch between right-hand drive or left-hand drive operation in the field, a very convenient feature.
From snow removal on narrow mountain roads to navigating through deep water or mud, the Unimog gets it done. Forget mythology, the Unimog is a mechanical beast.
Kicking the Unimog Around
The Unimog is very prevalent around the world, but it is extremely uncommon in the United States. For stateside enthusiasts, you still cannot purchase a brand new Unimog from Mercedes-Benz directly. Of course, as Tire Kickers previously pointed out, depreciation on new vehicles may influence you to check out the classic car market.
There are several specialty companies who import the Unimog while meeting or exceeding U.S. registration regulations. This means finding a modern or vintage Mercedes-Benz Unimog for sale in the United States is possible. Pricing varies wildly within the Unimog market because there are so many different variations available.
Recent Unimog auction data over the past few years reveals prices from $10,000 all the way up to over six figures. Finding one for sale is not easy unless you live in Europe. When they do become available, plenty of Unimog collectors take notice.
More importantly, if you are looking for a Unimog, you need to set your ceiling. On one hand, there is a chance you will never see another one quite like it available for sale again. Despite that possibility, how much are you really willing to pay for that specific Unimog?
Many Unimogs for sale go through auctions because there is no set market pricing on such unique vehicles for this market. You may find yourself in a bidding war with at least one other interested buyer. These are well-built machines which makes them very desirable to collectors and enthusiasts of industrial engineering classics.
It always takes hard work and ingenuity to rebuild after difficult times. Courage and heroic efforts carry the baby steps of progress to the finish line. For many regions around the world, the Unimog remains the workhorse of success, standing fearless in the harshest conditions.
As history proves time and time again, necessity really is the mother of all invention. For everything else, there is the Unimog. If you want to catch one, you may have to step outside of your comfort zone.