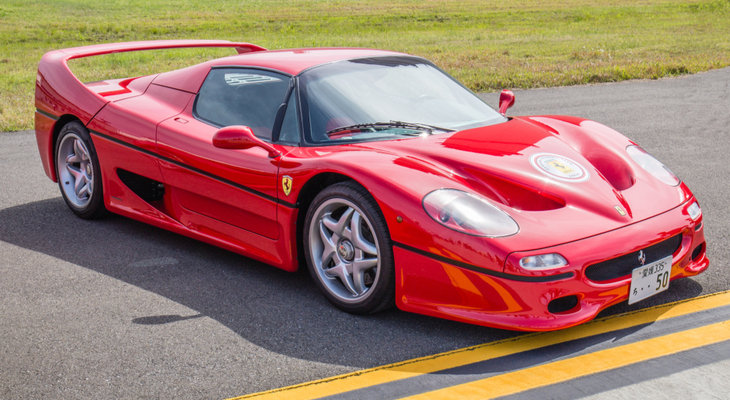 With summer officially underway, one of the best ways to enjoy it is open-air driving on a beautiful day. Consider the Ferrari F50 for your driving pleasure, a 2-door targa top masterpiece. What's better than cruising in a Ferrari with a V12 engine and a 6-speed manual transmission?
As the successor to the popular F40, the Ferrari F50 had legendary designer Italian shoes to fill. It is a rear-mid-engine, rear-wheel-drive sports car with plenty of flair. If you love cars that garner attention, the F50 never goes unnoticed.
Since Ferrari only made a total of 349 F50 models from 1995 to 1997, you rarely get to see one. If ever. Should you take a Ferrari F50 out for a spin, crowds will gather.
Getting away from the attention is as easy as firing up the 4.7L DOHC 65° bank Tipo F130B V12 engine. Every Ferrari with a V12 carries the Prancing Horse legacy with honor, the F50 is definitely one of them.
This 60-valve 12-cylinder engine produces 512 horsepower with 347 pound-feet of torque. Peak power occurs at 8,500 rpm while the torque tops out at 6,500 rpm in the F50. This is a high-revving V12 with a seductive exhaust note.
When the Ferrari F50 V12 is screaming at wide-open throttle, you will not want to take your foot off the gas. That's just one of the things that makes this iconic Italian supercar so intoxicating. It may not have the help of forced induction like the twin-turbo V8 F40, but this naturally-aspirated V12 is special.
The Ferrari F50 can go from 0 to 60 miles per hour in 3.8 seconds. Take it to the track and it will run a quarter-mile in 12.1 seconds at 126 mph.
If you want to keep going, you should be able to reach a top speed of 202 mph according to Ferrari. A Car and Driver testing of the F50 suggests a top speed of 194 mph. Either way, it is more than fast enough for most driving scenarios.
Slowing down from 70 mph to a dead stop only requires 176 feet or 54 meters. Flashing those unmistakable F50 tail lights while braking? Priceless.
Pininfarina Strikes Again
Designers Lorenzo Ramaciotti and Pietro Camardella of Pininfarina get credit for penning the Ferrari F50. The design itself is a continuation of the 1989 Ferrari Mythos concept car. As for the engine, that came from the Ferrari 333 SP race car.
This particular Ferrari race car competed in the 1994 American IMSA GT Championship. By doing so, the V12 engine became eligible for the World Sportscar stock engine category. Using this engine in the stylish Pininfarina sculptured bodywork completed the F50 puzzle.
Most of the F50s in existence feature a red exterior which really just looks right on this Ferrari. However, a few other colors were available from the factory. Here is a breakdown of the available Ferrari F50 exterior colors and how many of each exist:
Rosso Corsa or Red – 302
Giallo Modena or Yellow – 31
Rosso Barchetta or Dark Red – 8
Nero Daytona or Black – 4
Argento Nurburgring or Silver – 4
Inside the F50, the interior features classic '90s Ferrari racing styling. Clean two-tone leather seats keep your butt planted even though the F50 can achieve 0.95 of g-force on the skidpad.
Just like many Ferraris, the cockpit is a driver-oriented design with a no-nonsense approach. Luxurious craftsmanship tailors every detail with a touch of panache.
Ferrari F50 Dimensions:
Wheelbase – 101.6 inches or 2,580 mm
Length – 176.4 inches or 4,480 mm
Width – 78.2 inches or 1,986 mm
Height – 44.1 inches or 1,120 mm
Curb Weight – 3,080 pounds or 1,397 kg
Dry Weight – 2,712 pounds or 1,230 kg
Handling in the Ferrari F50 is exceptional, partly thanks to its 42% to 58% front-to-rear weight distribution. The chassis design consists of a lightweight central carbon fiber tub while the suspension features light-alloy construction.
There are unequal length wishbone suspension systems in the front and rear of the F50. Coil springs, Bilstein dampers, push-rods, and active electronic technology round out the suspension system. On paper, that is all fine and dandy but the real candy is sitting behind the wheel.
Don't Kick These Tires
Finding a Ferrari F50 for sale will never be easy. Assuming there is even one available, expect to see a seven-figure price tag. Average sales for the F50 cash in right around $2.5 million.
Exceptional examples will top $3 million, easily. A pristine F50 could sell for close to $5 million in the not-so-distant future. The F50 is a collector's car every Ferrari enthusiast wants to get their hands on, few can.
This car was so desirable when it was brand new, Ferrari limited the ability for buyers to re-sell the vehicle immediately. Part of the ownership path involved a two-year lease agreement.
Ferrari put this in place to prevent a similar resale frenzy as the F40 caused. At the time, F40 buyers were essentially flipping the cars for up to $1 million, making a healthy profit. For the F50, Ferrari put a strict screening process in place to ensure this did not happen again.
In the end, the final price for owning an F50 brand new from Ferrari was about $560,640. If you want an F50 now, you will have to fork over a whole lot more than that. Exclusivity always has its price but every mile will be worth it in the Ferrari F50.