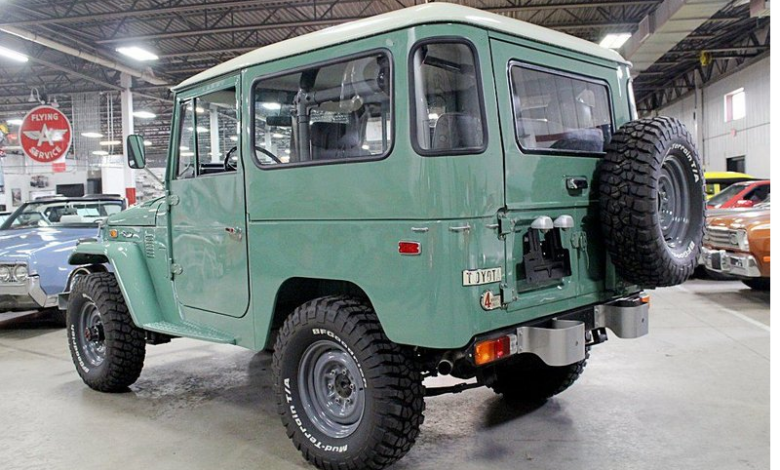 The Toyota FJ40 Land Cruiser was built between 1960-1984 and at the time was an imported competitor to the Jeep. Today, it's position as a collectible is more comparable to the Land Rover Series 1, 2 and Defenders, and the Mercedes G series that was released in 1979.
The Land Cruiser has always been a work horse. A well built, over engineered vehicle that could sustain even the most brutal conditions. This makes them especially appealing as a collectors vehicle. A new collector that also wants to be able to work on his or her car would be well at home with a Land Cruiser.
Prices of FJ40 Land Cruisers generally range from $35-75k, depending on condition. The range for Land Rovers is slightly higher, and the range for Mercedes G wagons and Jeeps are slightly lower. This is in part due to quantity of production.
The FJ40 was mass produced for 24 years, however, because unlike Ferrari's or Porsche's, they were driven daily, any example today would have to be restored. It would be very unlikely to find a perfectly original FJ40.
The FJ40 we're looking at today is a 1974 and features a diesel engine and a manual transmission. It's for sale by GR Auto Gallery of Traverse City. They have a total of six FJ40's for sale right now.
In case you didn't already know, I'm a big fan of diesel engines. Some of the engines that have clocked the most miles ever are diesel. They can withstand the apocalypse, and many can run on variations of fuel including refined veggie oil.
I think today, this type of vehicle would be a little rough as a daily driver if you had a long commute, but for around town driving it would certainly be a lot of fun.
Of the colors of the FJ40, I think this one is my favorite. It's totally unique and original. While many FJ40's currently for sale are in the more typical red, white or black, this "Nebula Green" is perfect.
Between the FJ40 and the Land Rover Series 2, I'd prefer the Land Rover. I like the dashboard of the Land Rover with it's easy ability to customize, and I like that Land Rover offered the convertible/soft top with without door windows, etc.
Other FJ40's Currently For Sale