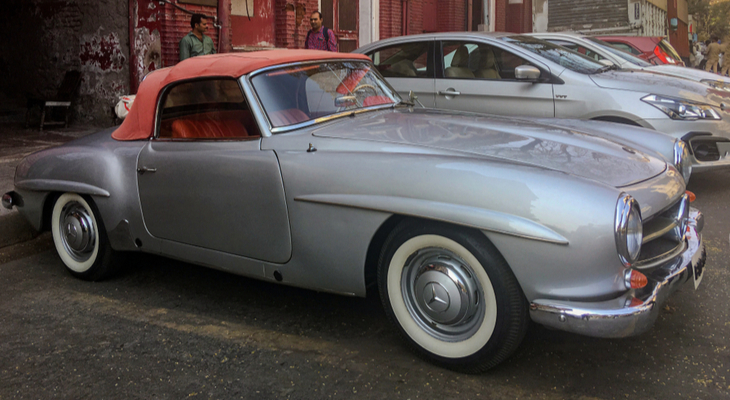 Some cars are elegant while others are seductive, the 1959 Mercedes Benz 190SL is both. This two-door luxurious roadster combines timeless body styling with a vintage European sports car driving experience. It is a front-engine-mount design with rear-wheel drive, giving it the classic FR layout so familiar to drivers.
What really makes the Mercedes 190SL special is how accessible it is when compared to the exclusivity of the famous 300SL. Both car designs feature similar styling and engineering, they both even use the same double-wishbone front suspension setup.
One difference between the two cars is the frame engineering. The 300SL features a tubular spaceframe design that was very expensive to produce at the time. Mercedes shortened the unitary floor pan of their old W121 design to create the 190SL chassis.
Therefore the 300SL is the Mercedes Benz W198 chassis while the 190SL is the W121 platform. There are obviously other differences between the two cars, including the engine. However, the cars do share a few things in common making them both desirable Mercedes Benz models.
As for the 1959 Mercedes Benz 190SL specifically, it is somewhat agile for an older vehicle design. Shifting through the 4-speed manual, fully synchronized transmission offers intimate driving purity. You will feel the road through the car as you drive, becoming one with the machine.
Under the hood of the '59 Mercedes 190SL is a 1.9L 4-cylinder engine featuring a single overhead cam design (SOHC). This engine produces 104 brake horsepower with 105 pound-feet of torque. It is an inline design using a cast iron block and it operates using 2 Solex carburetors.
Both the interior and exterior feature classy styling with premium materials. The 1959 Mercedes Benz 190SL was available as a soft-top convertible, or you could choose a removable hardtop version from the factory.
Auto manufacturers made minimal changes to models from year-to-year in that era, but Mercedes still updated some things each year. In 1959, they made the rear window on removable hardtop versions of the 190SL slightly larger.
Some 190SL models were available with an optional transverse seat for a third passenger. Most of them are two-seaters offering an authentic old-school open-air roadster experience.
Slightly Different Driving Dynamics
Many stateside drivers did not get to try a lot of the smaller European sports cars in 1959. Of course, this is just business as usual when considering the reality of domestic versus imported product availability.
The muscle car era was not here yet, but the hot rod era was heating up. Drag racing, as illegal as it still is, was also very popular in 1959. The goal for many hot rodders was to build a straight-line speed machine capable of winning drag races.
Meanwhile, many European drivers needed cars capable of navigating some narrow streets and winding roads. Agility is favorable while having enough horsepower to win drag races is not as important. With such a rich racing heritage in Europe, building sports cars capable of more smiles per mile was working in 1959.
For some, the fun is learning how to drive while accelerating out of the apex of a turn at the perfect time. Other drivers just like to go fast. Some like to master all aspects of driving.
There is nothing wrong with how you approach your passion as long as you love what you do. One thing is clear, when it is a beautiful day and you have a winding road, the '59 190SL offers sanctuary. This is a pure vintage sports car experience.
Thanks to the lightweight design of the 190SL, it can handle without suffering from body roll. There is a lightweight engine under the hood, so the car is not nose heavy when heading into a corner. With a curb weight just north of 2,500 pounds, even 104 bhp can feel zippy.
Browsing the 1959 Mercedes Benz 190SL Market
If you're looking to add a classic European roadster to your collection, the '59 Mercedes 190SL is a beautiful car. Unlike the 300SL, you can actually find a few 190SL models available on the market. It helps that Mercedes Benz produced over 25,000 190SL roadsters between 1955 to 1963.
In 1959, Mercedes made approximately 3,949 190SL models. They shipped around 1,650 of them to the U.S. market. Finding a 1959 Mercedes Benz 190SL for sale, on a regular basis, is still possible.
Pricing varies according to condition, as is the case with most classic cars. A pristine 1959 Mercedes Benz 190SL roadster will fetch over $200,000 with a proper restoration. However, you can find drivable examples for under $100,000.
It is a little less common to find project opportunities with a car such as this. There will always be a rare barn find waiting for you out there somewhere. That is of course, if you are willing to be patient enough to find it.
From showroom condition to clean car show examples, it is tough to go wrong with a vintage Mercedes Benz 190SL. These are well-built cars and if taken care of, they will always garner attention.
Over time, iconic cars such as the '59 190SL eventually become permanent fixtures in museums, garages, or showrooms. If the market value continues to rise, many owners will be less enthusiastic about taking them out for a Sunday drive. For those who do, the nostalgic open-air driving experience is the ultimate reward.