Volkswagen
Picking Up Your Buddy's New Couch in the 1981 Volkswagen Pickup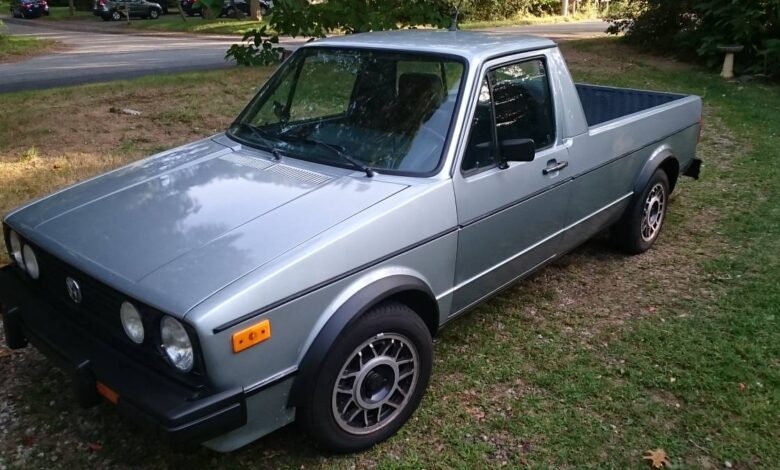 Practicality comes in many forms and one thing that's useful from time to time is a pickup bed. It may not be an off-road beast like some American trucks can be but the 1981 Volkswagen Pickup is resourceful. 
Of course, Volkswagen did not release the Pickup to compete with the big 4X4 monsters out there. Their direct competitors at the time were compact trucks such as the Toyota Hilux, Datsun Truck, and Ford Courier.
The VW Pickup is an economical pickup for its era. This makes it ideal for being the driver everybody calls when they want a new TV or decide to move. Big deal if it requires multiple trips, right?
Sharing the same platform as the first-generation or Mark I VW Golf, the Pickup is small compared to full-size trucks. Released as the Volkswagen Rabbit Pickup in 1979, this 2-door utility coupe uses the Group A1 Platform. Volkswagen produced North American Rabbit Pickups at their Westland Assembly Plant in Pennsylvania from 1978 to 1984.
There were two engine options for North American first-generation Volkswagen Pickups. You could choose between the 1.6L diesel or the 1.7L petrol gasoline engines. Both are 4-cylinder engines.
One of the interesting things about the diesel versions is the manual gearbox. Instead of having a fifth gear, VW labels it as "E" for Economy. There was also a standard 4-speed manual or 3-speed automatic transmission option for the petrol engine.
Perhaps performance is not the selling point for the front-wheel drive Volkswagen Pickup. The 1.7L gasoline 4-cylinder produces 78 horsepower with 88 pound-feet of torque.
As for power in the diesel, you better hold your horses, all 52 of them. The 1.6L diesel 4-cylinder produces 52 hp and 71 pound-feet of torque. Whoa, Nelly.
You can still find some old marketing materials on the VW Pickup Truck, including this specifications sheet. It even shows what colors were available. Imagine having to choose the color of your brand new vehicle from that example.
Glancing at the front of the VW Pickup looks almost identical to the Mark I Rabbit. Once you gander past the doors you see the cargo bed and realize this is no ordinary bunny. Eh, what's up, doc?
Driving the old-school VW Pickup feels very Volkswagen. The familiar front-wheel drive, transverse-mounted front-engine layout is agile enough to zip around town and park in tight spaces. Yet, it still does not offer the same corner-hugging maniacal handling performance as the Mark I Golf or Rabbit.
Instead, driving Volkswagen's compact Pickup falls somewhere between a Fox Wagon and the VW Quantum. If you don't look behind, you hardly notice the truck bed. Just don't forget it's there while parallel parking.
First-Generation Volkswagen Rabbit Pickup Dimensions:
Wheelbase – 103.3 inches or 2,623 mm
Length Including Bumpers – 174.6 inches or 4,436 mm
Width – 64.4 inches or 1,637 mm
Height – 56.3 inches or 1,430 mm
Finding Your Caddy
Although VW never used the name in North America, the European version is the Volkswagen Caddy. There were many more engine options available across European and worldwide market Caddy models. You can even find a 1.6L turbo diesel under the hood of some Canadian models.
In other words, there is no standard baseline to compare models across different continents. One thing remains true no matter where you acquire your Caddy from, golf clubs always fit in the pickup bed. Why not enjoy a nostalgic drive in a Volkswagen Pickup on your way to the course?
Unfortunately, finding a 1981 Volkswagen Pickup for sale is not always easy. When a VW Rabbit Pickup does become available, demand usually sets the price. With some luck, you may even find an affordable opportunity such as this recent Bring A Trailer auction for $10,000.
That example did have over 140,000 miles on the odometer but it was for a 1982 Volkswagen Rabbit Pickup. A pristine example may list for close to $40,000. Most VW Rabbit Pickups for sale fall somewhere between those two prices.
Volkswagen's Amarok marks their re-entry into the North American pickup truck market. Looking back at the classic Volkswagen Pickup may feel primitive compared to the Amarok but it has its charm. If you've ever been behind the wheel of a 70s or 80s VW, the Rabbit Pickup feels right at home.
There seems to be some growing demand for classic Volkswagen models throughout the past two decades. The German automaker certainly makes its mark across the globe.
In the old days, seeing oil in a parking spot was just another Volkswagen marking its spot. Over time, the people's car grew into cars people love. Then, when Volkswagen started searching for new drivers through clever marketing, word spread quickly, these machines are fun to drive.
Most of that happened after the Mark I Generation of Volkswagens hit the scene. In some ways, this generation sparked post-Beetle success for Volkswagen. Perhaps that is why the Mark I VW Pickup is gaining popularity among collectors and enthusiasts everywhere.
Happy Rabbit hunting!