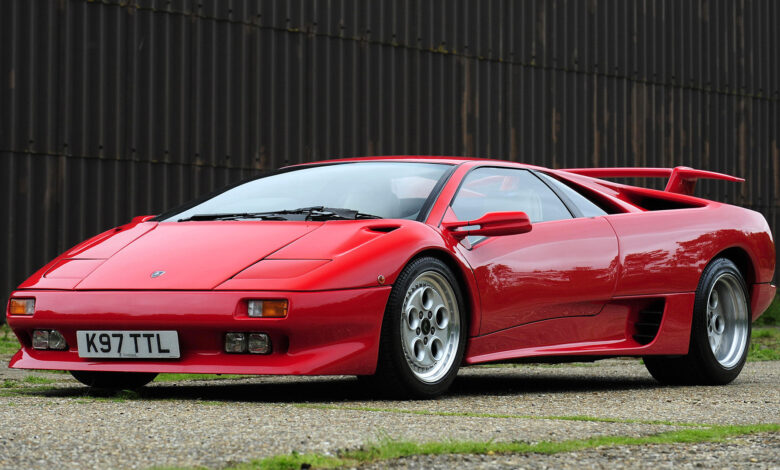 If the devil is in the details, the 1990 Lamborghini Diablo brings plenty of fire and brimstone. As the first production Lamborghini capable of reaching a top speed over 200 miles per hour, the temptation is real. When it comes to styling, there is nothing deceptive about the Diablo, this car was born to go fast.
The word Diablo is Spanish for devil but this Lamborghini is a mid-engine, luxurious Italian sports car. Some people will label it as a classic exotic car, but one thing is for sure, this is an iconic Lamborghini. Although Lamborghini eventually released an all-wheel drive version, the 1990 Diablo features rear-wheel drive offering a pure driving experience.
In the 80s, Lamborghini was enjoying the tail end of the Countach's successful run. By June of 1985, the replacement concept received the name Project 132. Lamborghini changed hands while the Diablo's development was underway but the project continued.
At the beginning of the project, a pair of Swiss-based brothers were financing Lamborghini. The Chrysler Corporation purchased Lamborghini in 1987, providing additional funding to complete the Diablo.
It turns out Chrysler was not impressed with Marcello Gandini's original design for the Diablo. Gandini designed the Countach and the Miura and his portfolio earned a nomination for Car Designer of the Century. Regardless, Chrysler moved the final stage of development to Detroit for a redesign.
This left Gandini with some sour grapes, to say the least. He would finally unveil his original vision for the Diablo with the Cizeta-Moroder V16T from 1991 to 1995.
Chrysler simply smoothed out some of the sharp wedge styling of Gandini's Diablo design. Despite offending Gandini, Lamborghini and Chrysler continued forward with their vision for the Diablo.
Meeting the Persistent Bull
Lamborghini has a tradition of naming their cars after bulls associated with bullfighting. Diablo was a famous raging bull from the 19th century. To face the fiery wrath of Diablo must have been frightening to earn such a name.
Lamborghini chose the name to strike fear in its opponents. From the showroom to the Sunset Strip, the 1990 Lamborghini Diablo brings seductive styling with V12 performance.
In the time before the Euro, Lamborghini spent 6 billion Italian lire on the development of the Diablo. The first version of the Diablo has a 5.7L V12 engine with a curb weight of 3,474 pounds or 1,576 kg. It also has a 5-speed manual transmission to put the red cape in your hands as this bull's matador.
Lamborghini made the car available for sale to the public on January 21, 1990. The Diablo's DOHC 5.7L V12 engine features 4 valves per cylinder giving it a complex growl when it sneers. To optimize delivery, Lamborghini uses a computer-controlled multi-point fuel injection system on the Diablo.
Fire it up and you will want to drive it, the sweet purr is impossible to ignore. It is also difficult to resist 485 available horsepower with 428 pound-feet of torque. Not to mention the weight-balance advantages of the mid-engine mount design, this is a driver's car.
For a middleweight sports car, it is fairly quick, even for its era. The 1990 Lamborghini Diablo can sprint from 0 to 60 miles per hour in 4.5 seconds. If you keep going, it can reach a top speed of 202 mph.
Being capable of reaching ungodly speeds while looking as delicious as a sundae is what makes this car the devil in disguise. From stoplight gawking to enjoying a nostalgic but spirited cruise, mischief will find you in the 1990 Lamborghini Diablo.
Should you need to slow your roll, you have access to Brembo servo-assisted disc brakes all around. Believe it or not, the famous Diablo rear spoiler was optional from the factory. As a result, some models have them while others do not.
Bullish On Value, Bearish On Maintenance
Lamborghini continued production of the base model Diablo from 1990 to 1998. They only made approximately 900 of them, total, during its entire production lifespan. This is a rare Italian stallion.
As a 90s supercar, you can imagine it requires some patience sometimes to keep these cars on the road. In some cases, service and parts are unavailable or sold out for months at a time.
For example, there are two separate engine ECU units with a high failure rate on the Diablo. Lamborghini does not usually keep these on the shelves, repairs often require a professional specialist. Considering the world's current semiconductor situation, you could be waiting for a while.
Listen, maintenance is a regular part of owning any classic or vintage car. In fact, vehicle maintenance is a part of life, but the cost of ownership on an exotic car is typically higher. It costs around $9,000 just to replace the clutch in a Diablo.
Then, consider all the other components and maintenance you should do while the engine is out of the car. If you're looking for one in need of some TLC, you may be better off finding one that is ready to drive. With spring and summer being around the corner, this is the kind of car you want in the shop during winter.
It is not always just the examples with high miles that have problems either. Many of these classic exotic supercars are hand-built which means maintenance requires an experienced specialist. If that does not scare you, you can still find a 1990 Lamborghini Diablo for sale.
Obviously, it is important to have some idea of what you are getting yourself into. The Diablo is a gorgeous car meaning there are plenty of people who want one. Unfortunately, there are usually only a handful of owners selling Diablos at any given time.
You will see many invitations to inquire about pricing when browsing the Lamborghini Diablo market. Expect to see a floor of just under $200,000 for a well-maintained, clean example. Many sellers will expect you to make a much higher offer than that.
Lamborghini has a history of making dream cars and that does not look to be changing in the modern era. The bottom line is simple. If you had the Diablo as a screensaver back in the day, you probably still want one in your garage.
Inspiration comes in many forms. For motorheads and gearheads, cars such as the 1990 Lamborghini Diablo can motivate you to keep achieving. Once you are behind the wheel, everything else becomes so much clearer, enjoy the drive.