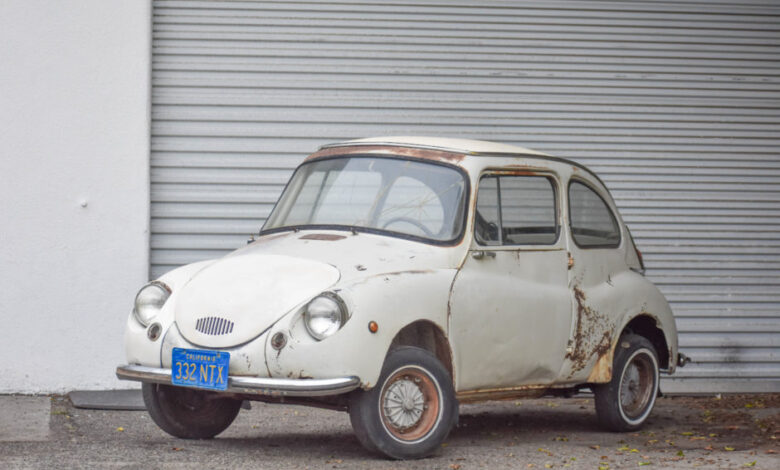 The weekend's here and it's time for another blog post about a car I'd park in my dream garage! Today we're looking at a 1969 Subaru 360 Deluxe. In New England, every other family seems to drive a Subaru. Unfortunately, salt on the roads cuts the life expectancy of most cars in New England, and Subaru's are no exception. While their engine may last, the body starts rusting.
Finding a Subaru from the 1990's without rust is rare, finding one form 1969 in New England never happens. This Subaru is for auction as part of the Elkhart Collection by RM Sotheby's. This is part of a huge auction of mostly no reserve cars, so you better believe I'll be watching to see which ones get overlooked. I'm the type of person that likes to feel like I'm getting a deal, and this might give me exactly that.
For those who aren't familiar, Subaru is a Japanese brand, and the 360 was produced as a 2 door city car from 1958-1971. They produced nearly 400,000 vehicles during the period of production. So while production numbers certainly aren't as limited as say, the Toyota 2000GT, or the Porsche 911 RS, these cars weren't parked in garages and driven only on the weekends. They were daily drivers, and for that reason, finding one that is preserved is in fact rare!
The Subaru 360 Deluxe featured a rear engine 356cc engine, and comes in at about 1,000lbs. Easy to push if you run out of gas! Top speed is 60mph, so it's safe to assume 0-60 times will be less than impressive. Perhaps 60 seconds?
Consumer Reports considered the 1969 to be unsafe and under powered, giving it a "Not Acceptable" rating. Only a small handful were ever imported to the United States, while most lived their useful live abroad.
If you really want to get some attention, RM Sotheby's is also auctioning a Police Car version of the Subaru 360. Maybe the perfect 18th birthday gift to an aspiring police officer.
Recently a 1970 Subaru 360 Deluxe sold on Bring a Trailer for $1,500. It was listed as a "project car", and no doubt, that was the correct term. It needed a lot of work! You can check out that listing if you want to see more pictures.
Whether your in the market for a classic Subaru, or you just want to check out all the pictures and all the other amazing cars listed at the Elkhart Auction, make sure you jump over to RM Sotheby's to check it out!