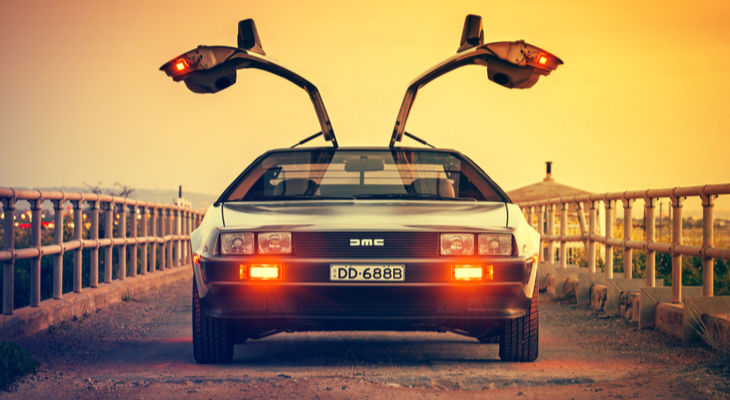 Few cars arrive with as much anticipation as the DeLorean DMC-12 carried with it on January 21, 1981. Following John DeLorean's rise to fame within General Motors, he took it upon himself to start the DeLorean Motor Company (DMC). From bold promises to hiring Italian automotive designer Giorgetto Giugiaro to style it, the DeLorean became larger than life.
With its sporty fashion, gaudy price tag and stainless steel body panels, the DeLorean had a waiting list of eager buyers. Excitement for the gull-wing machine quickly fizzled, but the company responded by doubling output. This proved to be the nail in the coffin for DeLorean during an economic recession in the early 80s.
By the time the DMC-12 earned a starring role as the time machine in Back to the Future, it was already too late. Bankruptcy meant the end of production for the almost mythical DeLorean in December of 1982. This left the world with almost 9,000 DeLorean DMC-12 cars and a limited amount of parts to keep them running.
Although some records remain lost to history, there is speculation among owners and enthusiasts regarding how many DeLoreans exist. According to VIN (Vehicle Identification Number) estimates, this is the number of DMC-12s produced for each model year:
6,700 in 1981 (VIN 500-7199)
1,999 in 1982 (VIN 10001-11999)
276 in 1983 (VIN 17,000-17,170 as well as 20,001-20,105)
There will never be enough DeLoreans in existence for fans and enthusiasts. Most people could care less about its reliability issues or lack of power, they just want one. From The Wedding Singer to car shows every summer, the DeLorean always garners attention.
For the most part, the company made very few changes for each new model year. Unlike many automobile manufacturers, DeLorean changed the DMC-12 mid-production instead of waiting for the start of a new year. Most changes were relatively minor, thus making it tough to distinguish a 1981 from a 1982 or '83.
The original DMC-12 hood features style lines running parallel, near the outer edges. One of the more noticeable differences is the hood initially featured a fuel filler flap with a locking cap. Later models feature a DeLorean logo on the lower right corner of the hood instead of style lines and the fuel flap.
Another visible difference is the wheels. Although they look similar, DeLorean actually used two different sizes, colors, wheel castings and center color caps throughout production. In all, DeLorean used a combination of three different wheel styles for the DMC-12.
The company set a target list price goal of $12,000, which is where the number 12 factors into the model's name. By the time production was in full swing, the actual sales price never came close to that figure.
MSRP of DeLorean DMC-12 Models:
1981 – $25,000
1982 – $29,825
1983 – $34,000
Despite all the rumors circulating before its release, the actual performance of the DeLorean is lackluster, at best. Many engine configurations and designs were under consideration before the PRV (Peugeot-Renault-Volvo) 2.8L V6 made its way into the car. The 130 horsepower fuel-injected V6 proved to be a disappointment in a car tailored with sleek, seductive styling.
Some DMC-12 models feature a 5-speed manual transmission while others have a 3-speed automatic. A rear-engine, rear-wheel drive design gives the DeLorean DMC-12 different driving dynamics than most cars. It can go from 0 to 60 miles per hour in 8.8 seconds with the manual transmission and 10.5 seconds with the auto.
Finding a truly close-to-original DeLorean DMC-12 is not an easy task. A lack of available parts along with some reliability issues have left many owners stranded for innovative ideas. Sometimes a duct tape approach is actually necessary to keep a DMC-12 chugging along from point-A to point-B.
That's why buyers should expect to pay a premium for a well-maintained DeLorean. Rust is obviously not an issue for stainless steel bodies, but you should still inspect the chassis and underbody for corrosion. Other than that, if the car fires up and runs, you are off to a pretty good start.
Over the years, many DeLorean enthusiasts have swapped different engines into the DMC-12 hoping for more power and reliability. In recent years, a reborn DeLorean Motor Company is making an effort to find a modern engine solution for the car. Perhaps the roads will see a revival of the DeLorean in the near future, without needing a flux capacitor.
The good news is the re-emergence of DMC has made locating parts for the DMC-12 a lot easier. This has caused a slight uptick in the value and desirability of classic DeLorean models. Even the new DeLorean has rumors circulating that they will use the same vintage body featuring a new powerplant.
If and when DeLorean re-releases the DMC-12, will there be as much fanfare as the original launch? Signs are definitely pointing to that being a possibility. Chances are it will only increase the value of the original models even more.
Merely reaching 88 miles per hour in a DeLorean will bring any driver back in time. From pulling the gull-wing door shut to hearing the engine spark to life behind you, the DMC-12 is a unique experience. With their popularity on the rise again, a $25k to $40k price range seems reasonable to make it back to 1985.
Just don't forget to bring extra plutonium if you plan on taking a DeLorean all the way back to 1955…