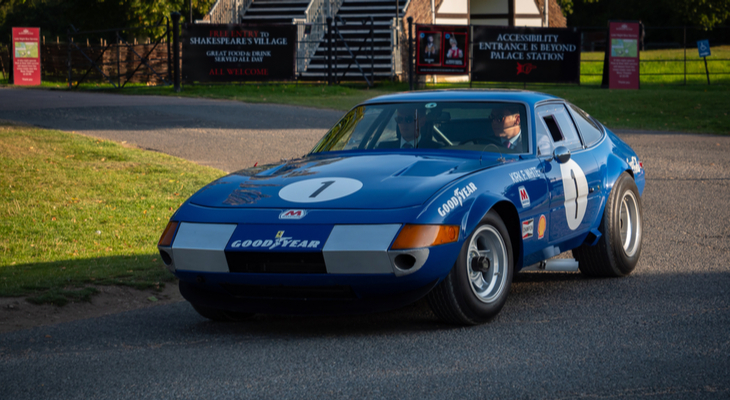 The Ferrari Daytona is a notorious symbol of Prancing Horse racing heritage and success. Just do not call it the Daytona when speaking about it officially with Ferrari. Unofficially, it became known as the Daytona after Ferrari finished in first, second and third place at 24 Hours of Daytona in 1967.
In 1968, the Ferrari 365 GTB/4 arrived with fanfare, motoring press members dubbed it the Daytona after their recent success. Despite Lamborghini's new mid-engine Miura design, Ferrari chose a front-mounted V12 engine with rear-wheel drive for the Daytona. The FR layout combines with a 5-speed manual transmission for a vintage Ferrari driving experience.
Beginning in 1971, Ferrari began producing the GTS/4 variant alongside the GTB/4. Ferrari uses these specific letters for a reason, there is an actual method to the madness. The 4 stands for Ferrari's beautiful four overhead camshaft engine design, a proven winner.
Decoding the rest of Ferrari's language is simple, the GT part of the name stands for grand tourer. The subsequent letter portion of the name states whether the Ferrari is a Berlinetta coupe (B) or a Spyder (S) variant. Both the 365 GTB/4 and the GTS/4 models fall under the Ferrari Daytona classification, unofficially.
As was often the case, Leonardo Fioravanti at Pininfarina designed another masterpiece with the Ferrari Daytona. Defined lines convene into wedges, a very sleek approach with a modern twist for the era. Usually known for seductively extravagant curves, the unique styling of the GTB/4 only adds to Pininfarina's prestigious and diverse portfolio.
Another trademark of Ferraris from that era is receiving legendary Scaglietti coachbuilding. Scaglietti produced all the Daytona bodies except for the prototype. Ironically, as iconic as this car is, it almost never existed at all.
The eventual successor to the Daytona, the 365 GT4 BB, was originally scheduled to be ready much sooner than it was. With development running behind schedule, Ferrari decided to update the previous model in an effort to fill the gap. From those ashes, the Ferrari Daytona made its permanent and impressive mark in the automotive industry.
Brand enthusiasts who share Enzo Ferrari's passion for 12 cylinder performance always love a Prancing Horse with a V12. A carbureted 4.4L V12 featuring two valves per cylinder with a 60° bank angle powers the Daytona. The DOHC engine design provides that prominently sexy Ferrari exhaust note depth.
European spec Daytonas feature 405 brake horsepower with 318 pound-feet of torque. Slight modifications to cars exported for the American market reduce those numbers a bit, but it is a Ferrari V12 under the hood. Fire one up and you will become a Prancing Horse V12 fan instantly, if you are not one already.
Agile and nimble, the Ferrari 365 GTB/4 features an independent rear suspension. Combined with its lightweight characteristics, the Ferrari Daytona features exceptional handling. Cornering in a Ferrari Daytona can turn into an artform for an experienced driver.
From 1968 to 1973, Ferrari manufactured the 365 GTB/4 model. Beginning in 1971, Ferrari began making GTS/4 models available as well. Ferrari ceased GTS/4 production in 1973 along with the GTB/4.
As the successor to the 275GTB/4, the 365 moved forward with much sharper body lines. Another design change for the Daytona added windows to the rear quarter panel. Being handbuilt during the era, Ferraris usually received subtle updates along the way.
One of the most notable changes were the hidden headlamps, early Daytona models featured fixed lights covered by a plastic shroud. A new United States safety regulation led to the banning of headlights behind covers. For US markets in 1971, the Daytona went to pop-up headlights and the rest is history.
Total Estimated Ferrari Daytona Production:
Ferrari historians estimate the total number of Daytona models produced based on the information they have available. It gets tricky from here because several GTB/4 owners wanted an open-air Ferrari experience so much, they chopped the roof off.
Many aftermarket mechanics modified Berlinetta coupes into Spyder models. Sometimes this was an effort to increase the monetary value of the car, especially in the dinosaur ages before the internet.
Obviously both models are extraordinary, but authentic GTS/4 variants are extremely rare. Most owners price Daytona models accordingly because verifying chassis numbers is easier now, but definitely keep an eye out for it.
Expect values north of $2,000,000 for well maintained, original GTS/4 Ferrari Daytona examples. GTB/4 values begin around half a million. Some of the most pristine GTB/4 models reach or exceed six figures.
Driving a 365 GTS/4 is not a bad way to celebrate Ferrari's historic Daytona finish, but it is an even better way to spend a gorgeous day. With powerful performance almost unheard of in its era, the Ferrari Daytona is still fun to drive today. Its existence as an exotic European classic GT only adds to the intrigue.
This is a very formidable vintage Ferrari. It can exceed 173 miles per hour after going from 0 to 60 in just 5.4 seconds. It also garners attention at about the same velocity.
From adding one to your garage to enjoying an authentic Ferrari V12 experience, this car sells itself. It's easy to picture yourself in it and even more fun to own one. The only thing missing is a winding Italian road in wine country to celebrate the traditional Ferrari way.