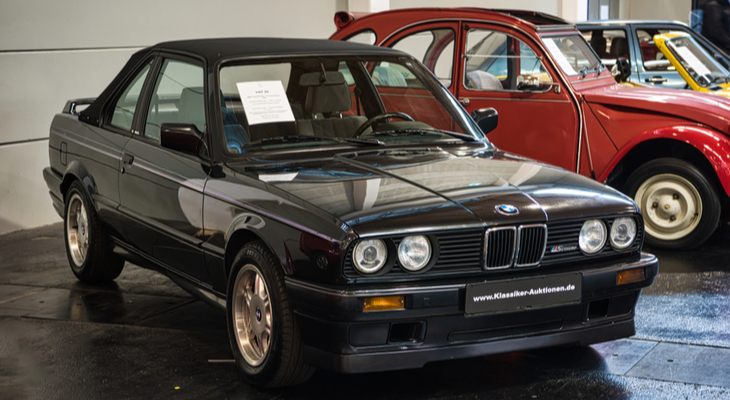 Spirited driving with confidence around every turn requires precision engineering. Becoming one with the road takes time and everybody needs to start somewhere. Getting behind the wheel of a 1990 BMW M3 is the perfect way to really learn how to drive a rear-wheel drive car.
BMW needs no introduction when it comes to the world of motorsports and competitive driving. Their M division dedicates that same pursuit of perfection when engineering vehicles displaying the tri-colored badge. Anything with an M on it translates to an exciting driving experience.
From 1986 to 1991, BMW rolled out the first generation of the M3. This is the E30 platform. It is one of the most cherished generations of the M3 by brand enthusiasts for its intimate driving and exceptional handling performance.
One of the best versions of the E30 BMW M3 was never even available in North America. In fact, the M3 did not make its first appearance in North America until the 1988 model year. Even though the 1990 BMW M3 Sport Evolution II is the cream of the crop, it never made it stateside.
Luckily, it is old enough now to make importation a little easier if you can get your hands on one. To truly appreciate a 1990 BMW M3, you really have to drive an E30. Then, imagine what kind of potential the Sport Evolution II has after learning about it.
For starters, the E30 M3 development met the requirements of the Deutsche Tourenwagen Meisterschaft's Group A Touring rules. If you do not want to take the time to look that up, it is a racing series. It took place from 1984 to 1996, basically, it means the E30 M3 is a race car from the factory.
According to BMW, the E30 M3 is the G.O.A.T. of touring car history. They claim it holds the championship belt as the winningest touring car in history.
As every team with racing aspirations does, BMW's M division kept making improvements to the E30 M3 during its production lifespan. By 1990, they really had their ducks in a row. It all begins with the improvements they made to the engine.
They increased displacement of the S14 inline 4-cylinder engine from 2.3L to 2.5L. Although official numbers fluctuate, the horsepower range on the bigger engine is between 235 to 238. This is not your average 4-cylinder engine from the 80s or 90s.
Most U.S. E30 M3 models only have 192 horsepower. Sure, they still have classic BMW styling that always seems to look incredible with flared fenders or wide-body kits. However, U.S. versions of the E30 M3 definitely lack power compared to the European Sport Evolution II.
Other modifications to the 1990 BMW M3 Sport Evo II include thinner window glass to shed weight. It also features adjustable spoilers and bigger wheels.
BMW uses a close-ratio dog-leg shifter in European models of the E30 M3. North American versions feature a wide-ratio transmission with a conventional layout. Learning how to handle torque delivery to the rear wheels with a 5-speed manual is a treat in this car.
Driving is Believing  
This is a lightweight car with a 4-cylinder engine up front. You can feel the difference between driving a car like this compared to other 200-plus hp-range sports cars of the era. The first place you will notice it is through the overall weight balance while cornering.
Consider cars such as the C4 Corvette, a fine handling car for its era. Yet, you still feel the nose-heavy tendencies in the C4 even though power delivery is smooth. Even the 3.0L inline 6-cylinder of the 1990 Toyota Supra Turbo feels a bit nose-heavy compared to the E30 M3.
Then, consider that the 1990 BMW M3 Sport Evolution's naturally aspirated 4-cylinder engine has more power than the turbocharged Supra. Plus, the 2.5L BMW engine only has about 7 fewer hp than the standard 5.7L V8 in the '90 Vette.
BMW's 2.5L S14 4-cylinder under the hood of the Sport Evo II was far ahead of its time. Now you know why it is so special.
Overall, the '90 M3 Sport Evolution II only weighs approximately 2,646 pounds (1,200 kg). Make no mistake about it, this is an exciting and zippy car to drive. It is also a great car to use while learning track discipline before graduating to heavier or more powerful machines.
Having less weight in the nose of the car can create more balance while entering and exiting corners at higher speeds. It is much more forgiving when it comes to understanding how the physics of driving are going to affect your approach. Of course, slowing down a lighter car is a little easier as well, teaching you when to properly apply the brakes.
After spending so much time behind the wheel while learning, it is very common to bond with the car. Sometimes the experience becomes so remarkable, you never want to let go. That seems to be the case with most E30 M3 owners because this car is tough to get your hands on.
Kicking the Tires on an E30 M3
If you want to find a 1990 BMW M3 Sport Evolution II for sale, you'll need to browse the global market. Start with Europe, specifically, Germany, if you can. Shopping for a car overseas can be risky, so, do your due diligence every step along the way.
As for the 1990 E30 BMW M3 Sport Evolution II price, this is a very desirable car. It doesn't help that BMW only made approximately 500 of them. Most owners are not selling, if they are, you will need to inquire about pricing.
There are also 1990 M3 Sport Evolutions in existence with the powerful 2.5L S14 engine under the hood. There are Sport Evolution, Sport Evolution II, and some Sport Evolution III models. The regular Sport Evolution examples list for well above the six-figure mark, BMW made about 600 of them.
Common maintenance issues with the E30 M3 include periodic valve adjustments for the solid lifters in the engine. Check for rust in areas prone to water puddling or along seals and seams.
Finally, this is a car many people take to the track. You will find a few modified versions of the E30 M3, keep that in mind if having an all-original example is important to you. Always check for mods and ask the seller why they did it and who performed the work.
Other than that, if you find the right E30 M3, hop in and enjoy. If the Sport Evolution models are too rich for your taste, consider a standard 1990 E30 M3 with the 2.3L engine. In some cases, you can find them for under $100,000, but they are usually above that now.
This is the kind of car that puts a bigger smile on your face the more you drive it. The engine sounds great, the acceleration is quick, and the suspension tuning is tight. It is becoming one of the holy grail cars for BMW enthusiasts everywhere, so get them while you still can.
If you have trouble finding one, some tuners can build E30 M3 replicas using a 3-series chassis. Building one from scratch will cost a pretty penny. However, you might be able to find a completed one for under $50,000 on a blue moon.
At the end of the day, it is impossible to ignore the M division's authentic product. There is a reason so many people want a genuine E30 M3. There is no substitute for the real thing and market pricing definitely backs that up in this case.