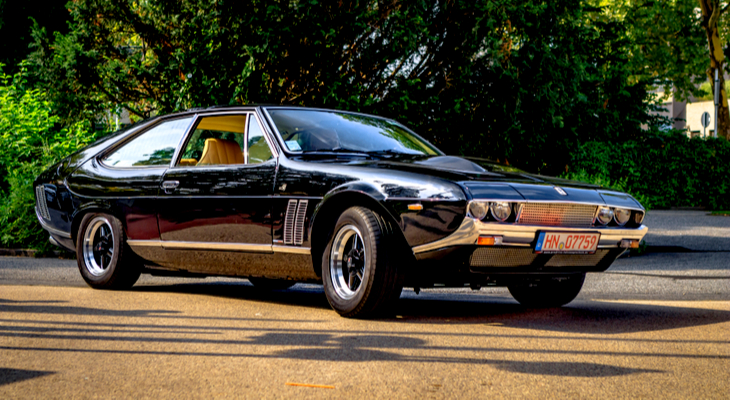 Attempting to compete with Ferrari or Maserati is a tall order, but that's exactly what Iso set out to do. From 1965 to 1974, the Iso Grifo made its mark as a limited production grand tourer. Until their bankruptcy in 1974, Iso was a rising star in the grand tourer market, thanks to the Grifo.
With bodywork designed by Giorgetto Giugiaro at Bertone, the Iso Grifo brings sexy and exotic styling to the road. A former Ferrari mechanical engineer, Giotto Bizzarrini, handled what would become the rest of the Grifo. Simultaneously, Iso produced a racing and road version of the car, side-by-side.
Bizzarrini designed the 250 GTO while working for Ferrari. While engineering the race version of the Iso Grifo, Bizzarrini began referring to it as his "Improved GTO". That's high praise.
Ready to reveal the Grifo cars at the Turin Motor Show in 1963, Iso rolled the Grifo out with success. Members of the press raved about the road version while the race car performed well, despite having a tight budget.
Big V8s power these 2-door coupes, sporting a front-engine, rear-wheel drive layout. Ironically, Iso chose American Ford and Chevrolet V8 engines for the Grifo. Even today, many builders choose these same engines when trying to acquire maximum horsepower on a budget.
What makes it unusual is most Italian grand tourer manufacturers prefer a more complex and homegrown engine design. Not Iso. They used American V8 engines, even a 454 cubic-inch from Chevy in some models.
American V8 engines have a reputation for reliability and durability, making the Iso Grifo a very intriguing exotic Italian ride. Drivers looking to take one out for a spin occasionally can do so without worrying about hard to find engine parts.
Initially in 1965, a Chevrolet small-block 327 5.4L V8 powered the Iso Grifo. A Borg-Warner 4-speed manual transmission allowed the Series I Grifo to reach 68 miles per hour in first gear. This is a good looking car that is moderately fun to drive.
By 1968, Iso introduced the Grifo 7 Litri with the powerful 427 7.0L engine. The new powertrain produced 435 horsepower with a top speed of 186 mph. As a front-engine, rear-wheel drive car, this Iso Grifo offers an enjoyable sports car experience with plenty of power.
Of course, with the massive engine, several structural changes had to occur for a smoother transition. A large "penthouse" hood scoop allowed for additional engine clearance. Iso also strengthened chassis components and reinforced the engine mounts.
The Series II, introduced in 1970, switched styling to feature a sharper, more angular nose with hideaway headlights. An IR-9 Can-Am version offered an even more powerful Chevy 454 7.4L engine. This Grifo may not be responsible for the eventual 1973 oil crisis, but it certainly didn't help.
Iso offered three different transmission options for the lifespan of the Grifo. A Borg-Warner 4-speed manual, a 5-speed ZF manual, and a 3-speed automatic transmission. Each transmission brings its own unique twist along for the ride.
In 1972, Iso introduced the Grifo IR-8. Although this time the Grifo featured a Ford Boss 351 engine instead of previously used Chevy engines. The IR-8 also features a raised hood scoop, unfortunately, this would be the last new model of the Grifo.
Total Production Volume from 1965-1974:
Series I – 330 (13 Targa Tops)
Series II – 83 (23 5-Speed Units, 4 Targa Tops)
Of the 413 total Iso Grifos in existence, 90 models feature the 7.0L engine from the factory. All versions of the Grifo are rare, but most exclusive are the 5-speed Series II models and the Series II targa tops. Luckily, a former Iso employee, Roberto Negri, still runs a small business in Italy specializing in fixing and restoring Iso Grifos.
The Iso Grifo is highly sought after by collectors. These are six and seven figure, obscure vintage Italian automobiles. Show up in a Grifo and everybody will be wondering what you're driving.
Of course, many people will probably mistake it for a Ferrari or some other premium Italian classic. Politely correcting them only adds to the charisma behind such an extraordinary automobile. Elegant designer styling, big block V8 power and priceless gawking are all part of the Iso Grifo experience.
Browsing for one will lead to many listings requiring an inquiry regarding pricing. The old saying suggests if you have to ask how much, you probably can't afford it. In the case of the Iso Grifo, it is okay to ask, but expect to find values between six and seven figures.
Even though these cars are difficult to find, they are available. The Iso Grifo offers a unique experience in a GT car few people have ever seen in person. For many collectors and enthusiasts, the experience is worth the price of admission.