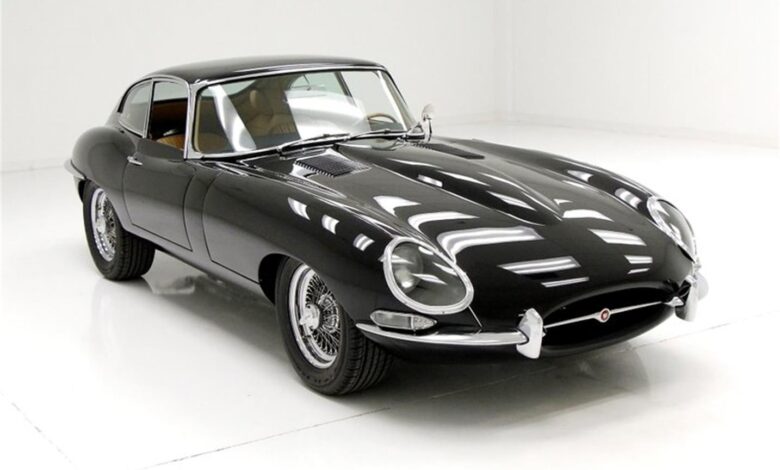 It's a sin to buy a Jaguar E Type convertible, when the coupe is just so beautiful. When you have a body line as clean as the E Type coupe, chopping off that roof was a crime. For the same reason, I prefer early Porsche 356 and 911 coupes over the convertibles.
The Jaguar we're looking at today is listed by Classic Auto Mall in Morgantown Pennsylvania, and it's the cream of the crop. It's of the era Prior to 1969. In 1969 Jaguar began rolling out hideous rear taillights to meet Department of Transportation requirements. The most collectible Jaguars feature the low profile rear lights as seen in this 1962 example.
As a personal preference, I prefer rear taillights that include orange directional lenses vs clear, but beggars can't be choosers.
The late 1960's and 1970's also brough changes to the front end of the Jaguar E Type with a revised grille and new front directionals. While some may find some appeal in these changes, most collectors place a higher price tag on the pre 1969 E Types.
The Jaguar we're looking at features the covered headlights (another feature of early models), and is finished in it's original color of Black. Personally, if I was going to get a Jaguar, I'd probably go for a true Jaguar color such as green, or yellow.
The interiors of these Jaguars are equally appealing as the exterior. These vehicles are aesthetically perfect from top to bottom. Perhaps that makes up for their well documentation history of mechanical and electrical problems?
Given this is a modern ground up restoration, those problems shouldn't concern you, but it doesn't hurt to keep the phone number of a flat bed tow truck driver.
The asking price for this Jaguar is $158k. It's not a perfectly original vehicle, but a great example of a drivers collectible. To see the full listing, visit Classic Auto Mall.