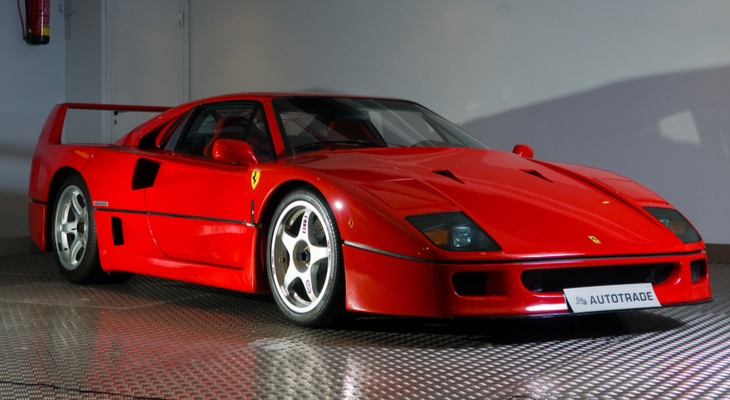 Throughout history, Ferrari builds the cars dreams are born from. For decades going on a century, Ferrari pours blood, sweat, and tears into the pursuit of perfection. Their story certainly is no fairytale, but driving the Ferrari F40 feels like living happily ever after.
As is the case with many classic Ferraris, Pininfarina is responsible for the gorgeous bodywork styling on the F40. Nicola Materazzi is responsible for leading the engineering of this mid-engine, rear-wheel drive masterpiece. Many adults grew up in the late 80s and 90s with a die-cast model or toy of the F40.
Technically classified as the Type F120 by Ferrari, the F40 carries the brand's legacy as the final car approved by Enzo himself. Produced from 1987 to 1992, the Ferrari F40 celebrates 50 years of Prancing Horse excellence. Even though Enzo began Ferrari in 1939, the first vehicle sporting the official badge rolled out of the factory in 1947.
Ferrari went into the F40 production lifespan with a plan of making only 400 of them. By the end of its production lifespan, Ferrari made 1,315 F40 cars. This does not include the LM and GTE race car versions produced from 1994 to 1996.
To say the F40 was a hit would be an understatement. Priced at $400,000 in 1987, even Formula 1 driver Nigel Mansell bought one. His F40 later sold at an auction for a then-record £1 million in 1990.
Over the course of its production, Ferrari exported 213 F40 models to the United States. The F40 is a 2-door berlinetta coupe with plenty of Italian pizazz. Its predecessor was the popular Ferrari 288 GTO.
If you put its glamorous seduction aside for a moment, the F40 offers driving purity with the soul of a race car. After all, it is a Ferrari, they do not put their racing heritage aside for a single moment when designing cars.
At the heart of its performance is the 2.9L twin-turbo Tipo V8 engine with a 5-speed manual transmission. It is fun to have control of the powerband in the Ferrari F40 because this engine reaches peak power at 7,000 rpm.
You hear the turbo spooling with the purring undertone of the Ferrari V8, in perfect harmony. Plus, the engine is behind you in this car as you enjoy the high-revving Tipo experience. This twin-turbo V8 is capable of producing 471 horsepower and 426 pound-feet of torque.
Of course, Ferrari made subtle changes to the engine's tuning throughout F40 production. In fact, the F40 did not even have a catalytic converter until U.S. regulations made it mandatory in 1990.
Cornering and handling ability is also a strong suit for the Ferrari F40. It has very low ground clearance which is bad news for slopes with extreme angles or speed bumps. However, it gives the F40 a very good low center of gravity for the track.
There is also a double wishbone suspension design keeping the handling flexible when it needs to be. A double wishbone suspension gives each wheel the freedom to act and react independently according to the surface below.
Combine the racing suspension engineering with Ferrari's aerodynamic tuning on the F40 for a pleasurable high-speed driving experience. This engine runs hot, the forced induction does not help. As a result, Ferrari channels the airflow using undertray engineering to help with cooling while creating a desirable drag coefficient.
Many mid-engine sports cars have a reputation for being capable of pointing the nose while drifting into turns effortlessly. This holds true for the F40, but it is just as easy to completely lose control. It is crucial to understand how turbos affect your powerband whenever changing gears and re-engaging the clutch in a car like this.
Preserving historical cars such as Enzo Ferrari's final road-car project is important to many enthusiasts and collectors worldwide. Just because you had the die-cast version of the F40 does not make this car a toy in any way. Respect the machine and it will reward you by teaching you how to drive it.
Creating a Masterpiece in Clutch Time
Ferrari was working on the 288 GTO Evoluzione from 1984 to 1987 to compete with the Porsche 959 in racing events. Due to the sudden FIA decision to end the Group B racing category for the 1986 season, Ferrari had five cars remaining they had no use for. At the time, Enzo wanted his final sports car project to leave a lasting impression while being suitable for road use.
From the ashes of the GTO team, the project began taking evolutionary strides toward becoming the F40. In the late 80s, public perception of Ferrari was shifting away from thrilling race-inspired machines to over-stuffed luxurious sports cars.
The Ferrari F40 is their immediate response to the public scrutiny. According to their marketing department at the time, "The F40 is for the most enthusiastic of our owners who want nothing but sheer performance."
Enzo wanted completion of the F40's development within 11 months. They began on June 10, 1986, with a goal of unveiling the F40 during the summer of 1987. He entrusted Nicola Materazzi and Pininfarina, the rest is history.
Pininfarina uses a combination of Kevlar, carbon fiber, and aluminum for the body of the F40. These strong but lightweight materials work together with the polycarbonate plastic windshield and windows to keep the curb weight low.
If you are looking for your favorite tunes in the F40, you better learn to love the sound of the engine. There is no sound system, this is a race car. You will also not find any door handles, a glove box, or door panels.
Ferrari used sliding Lexan windows in the first 50 F40 models, but after that, they featured roll-down manual windows. There are no carpets or fancy leather trim in the F40. It doesn't matter, to most performance driving enthusiasts, all you need is a seat and a steering wheel to hop in and go.
Don't worry, there is air conditioning to keep you somewhat cool. It may not be the most efficient AC system in the world, but it is there and you can turn it on. Of course, driving a car like this will likely make most drivers sweat no matter how comfortable the temperature is.
Popularity Has a Price
Every single F40 left the Ferrari factory in the famous "Rosso Corsa" color with a left-hand-drive configuration. Modified F40 cars are out there, but the Ferrari factory did not do the work.
Pininfarina's prototype manager, Paolo Garella, did modify seven F40 cars before delivering them to the Sultan of Brunei. These specific cars feature a right-hand-drive configuration.
Reaching the kind of legendary status the Ferrari F40 has usually classifies the vehicle in the untouchable category for most drivers. Such is the case with the F40. Although it is not quite blank check territory yet, you will shell out seven figures for an authentic Ferrari F40.
Believe it or not, finding a Ferrari F40 for sale is not difficult. On any given day, you will have at least a handful to choose from. They are probably red, so worry about overall condition, maintenance history, and the odometer reading.
Prices are closer to $1 million for models with higher mileage. If you want a pristine example, you will pay close to, or over $2 million. Special or exemplary F40 examples will fetch even more.
Market values fluctuate and they always will. There is no way to accurately predict the potential appreciation or depreciation of vintage and classic cars. However, it is safe to say there will always be more demand for the F40 than there is supply.
This means if you have an F40 and you take care of it, you are probably bullish on the value of your Ferrari. You know what you have, and from the looks of people when you drive by, they know it as well.
Perhaps it may not have the jaw-dropping performance of modern Ferraris, but it will always be a car many generations recognize. Even casual onlookers see the F40 and can accurately guess that it is a Ferrari.
This is a timeless Ferrari, a superstar of the automotive world. From video games to exotic car shows, several generations of enthusiasts have an F40 shaped heart. The fact that you need seven figures to even touch one tells you all you need to know.