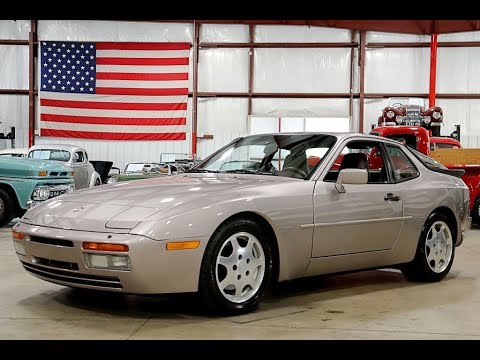 Before the Boxster and the eventual 997 Carrera, Porsche's most successful model was the 944. From 1982 to 1991 Porsche produced over 163,000 944 cars before replacing them with the 968. Some of these sports cars are more special than others, such is the case with the 1988 Porsche 944 Turbo S.
First of all, this is a Porsche. There may have been many jokes within automotive circles suggesting this is a "poor man's Porsche" or a "glorified Audi". Chuckles aside, this is one of the better handling production cars money could buy in the 80s, hands-down.
With that piece of business in the rearview mirror, it's time to get down to brass tacks. The Porsche 944 is a 2-door, front-engine, rear-wheel-drive sports coupe or convertible. Porsche made both naturally-aspirated and forced induction versions of the 944.
For the most part, the 944 was always an agile performer with a little pep in its step. Things began changing in 1988 when Porsche introduced the Turbo S edition. Porsche classifies this version of the 944 as the 951.
Previously, 944s with NA engines produced between 143 to 208 horsepower. Then, a Turbo configuration arrived in 1985 with 217 hp. Finally, Porsche nailed the formula with the 1988 944 Turbo S which produces a staggering 247 hp from the factory.
Of course, this new Turbo S model produced a fanbase full of curiosity. Could they turbocharge a naturally-aspirated 944 model to get similar or even better results? Many tried, a few with very deep pockets succeeded as the rest of them failed miserably.
Here is the catch. Porsche engineers already went through countless hours of testing to create the 944 Turbo S formula. They already found the most efficient way to do it by becoming the source.
Many 944 Turbo enthusiasts roll their eyes every time a casual admirer approaches them at a car show. They often hear how this person wants to slap a Turbo on a regular 944. Meanwhile, the 944 Turbo owner recalls exploring options before making a decision, it usually makes sense to buy the real thing.
Why the 944/951 Turbo S is Just Right
Keep in mind, unlike many Porsche models, the engine is in the front of the 944. Pop the hood of the '88 Turbo S to find a turbocharged 2.5L inline 4-cylinder engine. The specific engine code of the 247 hp version is the M44/52, this setup produces 258 pound-feet of torque at its peak.
Squeezing more power out of the Turbo S meant using a bigger turbocharger while remapping the engine coding for more boost. You can have some fun in this car, it can scoot from 0 to 60 miles per hour in 5.5 seconds. The Turbo S can run a quarter-mile in 13.9 seconds and is capable of reaching a top speed of 162 mph.
With a front-to-rear weight ratio of 50.7% to 49.3%, you can imagine why the 944 can corner so well. Turbo S configurations get a little extra help with a premium suspension system from the factory. This setup is the M030 suspension featuring adjustable Koni shocks in the front and rear.
Other important suspension components on the 944 Turbo S include the ability to adjust the ride height with the front struts. It also has anti-roll and anti-torsion bars. The suspension system features more durable bushings than standard 944 models had from the factory as well.
Porsche even sold the 944 Turbo S with Z-rated tires right off the lot. Go ahead, light them up if you want to burn through a few hundred bucks. Even the 5-speed manual transmission of the Turbo S came with a higher-friction clutch disc.
There is also a limited-slip differential in the rear with a 40% lockup setting from the factory on Turbo S models. By now, you must be realizing how much engineering Porsche put into the Turbo S. This was not just an aesthetic or modest performance package.
Don't worry, there is plenty of stopping power as well thanks to Brembo brakes. In fact, the 944 Turbo S uses the same front brake setup as the Porsche 928 S4. These are large Brembo GT 4-piston calipers with 12-inch discs.
ABS is standard on Turbo S models as well. Porsche took a car that was already capable of handling well and made it much better. Oh yeah and they added quite a bit of power to the 944 with the Turbo S, what's not to love?
Settling In
Finding a 1988 Porsche 944 Turbo S for sale is no easy task anymore. Twenty years ago you could find them more frequently but those days are gone. Many sellers prefer to use auctions when listing their Turbo S for sale.
As is always the case, mileage and overall vehicle condition will impact the final value. Demand is continuously increasing for 944 Turbo S models, so you will need to exercise some patience on your quest.
A recent Bring a Trailer auction brought this gorgeous red 1988 Porsche 944 Turbo S to a new owner. The price tag? A cool $45,500.
Other similar auctions within the past year reveal a range of $20,050 to $34,722 for 1988 Turbo S models. The good news is they pop up frequently enough if you want one. The bad news is there will be other interested bidders.
Many enthusiasts dream of owning a turbo Porsche. Although the 944 does not offer similar driving dynamics as a 911, it is still fun to drive. If you struggle to land the right 911 Turbo, maybe considering a 944 Turbo S will keep your appetite at bay.
Or perhaps you just want to add a 944 Turbo S to your collection. Whether you take it to the track or not is up to you. There is a lot of driving potential waiting for you behind the wheel of a Porsche like this.