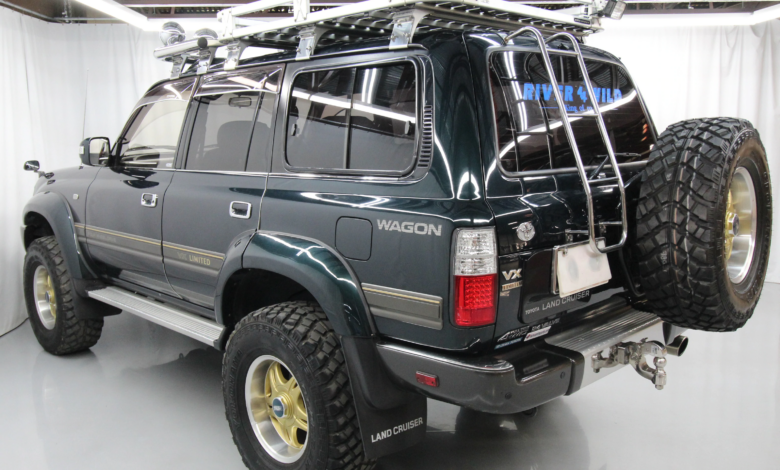 I've always been a fan of cars that could survive the apocalypse. The 1993 Toyota Land Cruiser is certainly near the top of that list, next to Mercedes G Class, and Land Rover Series 2 and Defenders. It's a nice piece of mind driving a car that you know can easily clock 200,000 miles with just basic maintenance.
Today we're looking at a great Land Cruiser, a 1993, for sale in Virginia by Duncan Imports. It's part of the J80 series that was in production from (1990–2008). The J80 is the last Land Cruiser generation I'd consider owning. All of the newer ones are too dependent on technology and have blended their look and are no longer the iconic Land Cruiser in my opinion.
The J80 features a 4.5 6 Cylinder with a timing chain. One of the upsides with a timing chain is that they can last for a long time, longer than belts. However, if the timing chain snaps while the engine is running, the damage is significant, and can be the end of that engine. This means it's important to at least have regular maintenance inspection of the engine, including the timing chain.
So how in the world is this 46,000 mile Toyota Land Cruiser only priced at $21,000? Well…you'll have to get used to driving on the right hand side of the car. It's a Japanese import. As we've discussed with the Toyota Century and the Land Rover Defender 130, right hand drive vehicles are often 50% the price of their left hand counterpart.
On a side note, in rural Vermont most mail carriers deliver mail house to house by car. Our mail carrier had a right hand drive vehicle, so he could pull over and put mail right into the mailbox without reaching over. The Post Office reimbursed him a standard mileage rate, because he drove his own car, AND he was able to buy it for 50% the price of a regular left hand drive car. How perfect!
Currently there are only a few J80 Land Cruisers for sale in the United States, not including the Right Hand Drive imports for sale by Duncan. Most North American Land Cruisers of this era already have over 100,000 miles. These cars were incredibly comfortable, they were daily drivers, and they were reliable. This is all conducive to taking them on highway trips and racking the miles.
If you want to check out a Land Cruiser or see more pics of this one, make sure you check out the full listing here at Duncan Imports.