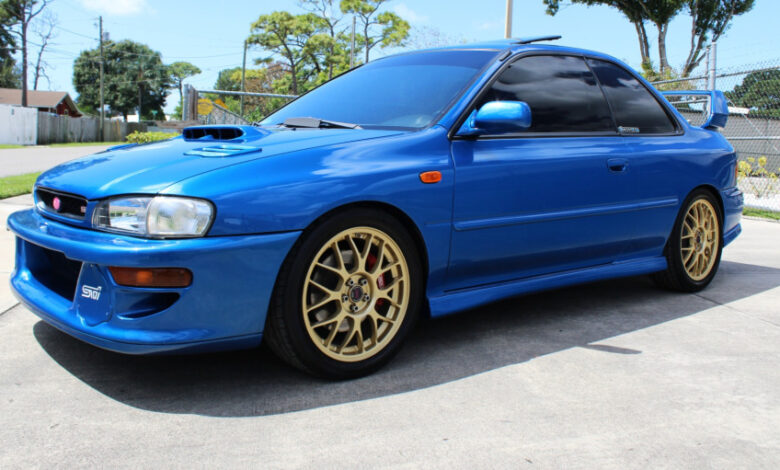 Imagine a rainy day, or even worse, it's snowing. There are some days when you do not want to expose your favorite cars to the elements. Yet, you still love to drive enough to take your 1998 Subaru Impreza 2.5RS out for a spin.
If you're in an Impreza 2.5RS when the weather gets dicey, you embrace the seasonal changes. This car is perfect for days like that. In fact, the '98 Impreza 2.5RS thrives as it gets messier out there.
Considering Subaru's all-wheel-drive reputation, this information should be no surprise. However, there is just something special about the 1998 Subaru Impreza 2.5RS. To this day, the 2.5RS is one of the most desirable Imprezas in the segment's five generations of existence.
As for the 1998 Impreza, it is part of the first generation of production. Subaru made the first generation from 1992 to 2001 for North American Impreza models. First-generation production models consist of a 2-door coupe, 4-door sedan, and a 5-door hatchback version.
The 1998 Subaru Impreza 2.5RS is a 2-door coupe with a front-mounted engine. All 2.5RS models feature AWD with a 5-speed manual transmission, making the nasty weather all the more enticing. Although these are not the only reasons this car is fun, it is a great place to start understanding why.
At the heart of its sporty performance is a 2.5L 4-cylinder boxer engine featuring a double overhead camshaft design in 1998. Beginning in 1999, Subaru switched to a SOHC 2.5L engine. They made this decision due to the high head gasket failure rate of the DOHC version.
In its stock form, the DOHC version of the engine produces 165 horsepower with 162 pound-feet of torque. You can unlock the real secret of this car's potential through aftermarket parts and tuning. Anywhere you search for parts, you will find an abundance of aftermarket support for the 2.5RS.
Oh yeah, and one more thing about this engine, the exhaust note is very aggressive and throaty. A decent aftermarket exhaust kit will really open up the engine tone. It sounds pleasant with a good setup.
Sure, many owners prefer swapping a WRX or STi engine into the Impreza 2.5RS body. In the end, this just makes an all-original factory version of this car more difficult to acquire. One way or another, drivers are going to smile behind the wheel of this Subaru.
Keep in mind, this is both a compact car as well as an economy car by definition. The 1998 Subaru Impreza 2.5RS only weighs 2,825 pounds. Throwing it around corners is not really optional.
Getting a Grip 
If there is one thing obvious to even casual motorsports fans, it's the rally-inspired styling of the '98 Impreza 2.5RS. From the massive fog lights on the front end to the hood scoop, this is one mean-looking Subaru. Even the rear spoiler is from the factory.
More importantly, the AWD capability in the 2.5RS offers incredible performance. Not just for its era, even by some modern day standards.
Modern AWD systems are surpassing the technology of the '98 2.5RS now thanks to torque vectoring and other advancements. Subaru was already looking for ways to solve these issues back in the day.
They began with their Symmetrical All-Wheel Drive System which distributes torque evenly between the front and rear axles. Then they cap this engineering feat off with a cherry on top by placing the drivetrain in the middle of the chassis. This design enables the Impreza 2.5RS to have exceptional handling with very predictable control, in almost any weather conditions.
Assuming the car still has them, the gold-colored 16-inch 5-spoke factory rims are an identifying marker for the '98 model year. The 2.5RS also features larger stock brakes than standard Impreza models. Additional stopping power is always a good thing when pushing a car to its limit.
Avoiding the Inevitable
Unfortunately, Subaru only made just over 14,000 Subaru Impreza 2.5RS models from 1998 to 2001. They made both 2-door and 4-door versions of the 2.5RS during this production window.
Considering the rally racing spirit of the Impreza 2.5RS, many drivers took them to the streets and often to gravel. This is not the kind of car owners babied in most cases. It offered affordable performance to drivers who wanted to learn.
In other words, finding a 1998 Subaru Impreza 2.5RS for sale is not as easy as it used to be. When you do find one, it may not be as expensive as you think.
It is more common to find modified versions of the 2.5RS than original examples. This custom built '98 Impreza 2.5RS recently sold for $20,300 on Bring a Trailer. From a performance perspective, it is a beast.
If you want an original example, many book values feature skewed data. Why? Because they make the mistake of tossing the 2.5RS into a generic range that includes base Impreza models.
Basically, do not ever expect to score a 2.5RS for $4,000 unless you land the barn find of the month. This is not a joke, Kelley Blue Book actually lists the typical listing price of the '98 2.5RS at $3,099. In your dreams.
When you find an all-original version of the 2.5RS for sale, it will likely be available through an auction. The market will set the price for you.
Whether you want to build a car for drifting or autocross, the Impreza 2.5RS is ideal. The problem is, a lot of people want to use this car for those purposes. Occasionally, a few get wrecked.
Over time, this is going to lead to a dwindling supply of available Impreza 2.5RS cars to choose from. There are plenty of owners who are currently taking care of theirs but do not expect to see those examples hit the market any time soon.
Part of the beauty of owning a car like this is you get to decide what to do with it. If you want to preserve it, future 2.5RS fans will marvel at your pristine Impreza. Those who choose to drive, tune, or perform an engine swap in a 2.5RS will love every second behind the wheel.
If it speaks to you then it is a work of art. Such is the case when it comes to the 1998 Subaru Impreza 2.5RS for many enthusiasts around the globe. At the end of the day, always remember, there is nothing wrong with appreciating something with wheels.