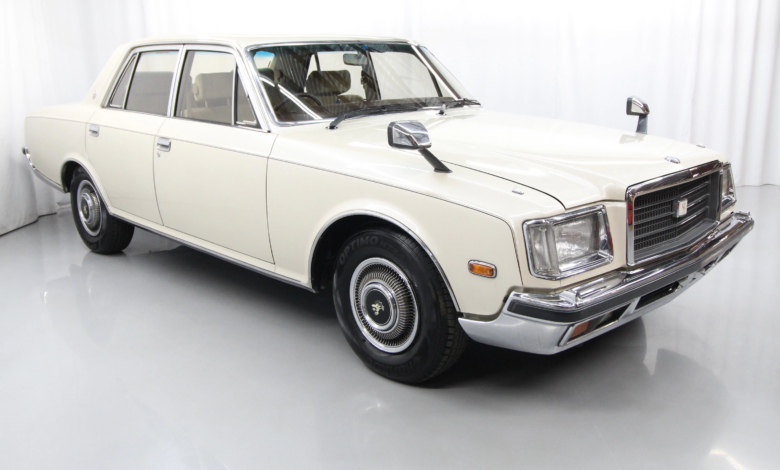 Today we're going to take a look at the Toyota Century! The Rolls Royce of Japan. It's the limousine sedan designed by Toyota for the Japanese royal family in 1967, and has been a favorite both of Japanese executives and wealthy families alike. The Toyota Century was always produced in extremely limited quantities. Finding a Toyota Century state side is a rare find indeed.
The Toyota Century we're looking at today has been imported by Duncan Imports in Virginia. It's a 1986 with white exterior and tan interior, and less than 50,000 miles. This is powered by a 4 liter V8 and an automatic transmission. It's not the V12 that was launched with the second generation in 1997, but it's still a powerful engine.
The asking price is a very reasonable $18,999. However, like the Land Rover Defender 130, Right Hand Drive vehicles in the United States never sell as well as their Left Hand Drive counterparts. It's should be expected that as much as a 50% hit in value will be seen on RHD vehicles.
What I like about this Toyota Century are of course the very Japanese hood mounted mirrors, and the way the white color helps distinguish the lines on the vehicle. I'm not as big of a fan of black cars, in general, not only because they're hard to keep clean, but also because they disguise the lines of the body.
The first Toyota Century as built in 1967, and since then, they've exemplified the best Toyota has to offer. As a car built for bragging rights, no expense has been spared in their construction. They are over engineered, and hand built, but craftsmen and mechanics at Toyota with the most experience. There is a good chance Toyota either makes very little money on these cars, or actually loses money. But their cash cow is in the affordable and reliable compact cars.
Toyota hasn't been able to compete on a global level with the likes of Bentley, Rolls Royce, or the makers of luxury European sedans, but for Toyota executives to ride in anything other than a Toyota would be accepting defeat. So the Toyota Century exists for the wealthy, and the executives. The newest model is priced at nearly $200,000. To see the newest model, check out Motor Trend's recent blog.
You can also read more about the Toyota Century in this article on Auto Week.