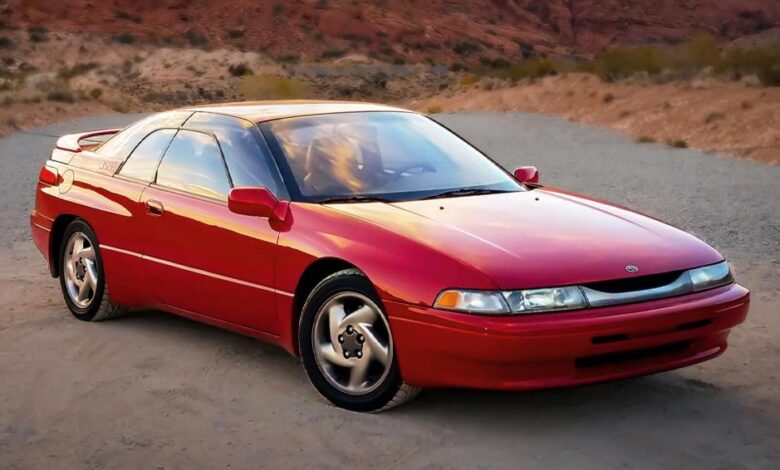 Although it is just a blip on their radar, the Subaru SVX is a unique part of Japanese automotive history. From 1991 to 1996, Subaru sold 24,379 SVX models worldwide with almost 15,000 of them making their way stateside. Yet, some of the most impressive versions were in Japan as the Subaru Alcyone SVX, specifically early models featuring all-wheel-steering.
For the most part, almost every SVX model in existence features all-wheel-drive. However, a few front-wheel drive models were available in North American markets in 1994 and 1995. Sales of FWD SVX models were in the gutter, it was clear the market preferred AWD models.
Of course, 2-door sport coupes with AWD were not exactly common in the early 90s. That is not the only unique thing about the Subaru SVX, it is yet another vehicle designed by Giorgetto Giugiaro. His portfolio includes designing the bodywork of the BMW M1, Lotus Esprit, and the DeLorean.
One of the most unusual things about the Subaru SVX design is the glass canopy. It features a window-within-a-window design, similar to the previous generation Subaru Alcyone XT coupe. The configuration features an additional glass extension covering the A-pillar, a design Subaru describes as an "aircraft-inspired glass-to-glass canopy."
The SVX features two-piece power side windows with the sections separated about a third from the top of the glass canopy. This partial-window design is similar to the Lamborghini Countach and DeLorean but large enough to actually function as a real window.
Going through a drive-thru is not possible with the DeLorean's window. Maybe it was more of a smoker's window, getting ready for Joe Camel's rise to fame in 1987. The Subaru SVX windows will actually provide you with a nice breeze when open on a sunny day.
Technically classified as a grand tourer, the SVX offers a comfortable and luxurious ride for its era. It will not launch like a rocket but there is smooth power available thanks to the 3.3L boxer flat-6-cylinder engine. This H6 engine, or horizontally-opposed flat-6, produces 231 horsepower with 228 pound-feet of torque.
It features a dual-overhead camshaft (DOHC) design with four valves per cylinder, with pipes it has some growl to it. Believe it or not, this 3.3L was the largest engine Subaru used in a vehicle for a while. In 2008, they put a 3.6L in the Tribeca, surpassing the SVX in their record books.
Every Subaru SVX model features a 4-speed automatic transmission. The only reason there is not a manual option is because Subaru did not make one that could handle 231 hp yet.
The Dyno-Sore Truth
Subaru used two variations of AWD systems in the SVX across the globe. One of the systems, sold in Japan, Australia, Brazil, and parts of Europe, was more advanced. This AWD system features VTD or variable torque distribution.
Unfortunately, the more advanced VTD all-wheel-drive SVX was never available in the United States. Several states required a vehicle capable of operating in two-wheel-drive for emissions testing on 2WD dyno machines. The VTD system was not capable of operating in 2WD.
As a result, every North American Subaru SVX features the old ACT-4 all-wheel-drive system. This system uses active-torque-split technology which dynamically adjusts the amount of torque sent to the rear wheels based on driving conditions.
Even though the superior VTD AWD SVX never arrived in the United States, the ACT-4 system gets the job done. Both handling and acceleration are on par with what you expect from a car this size with this amount of power.
Subaru SVX Dimensions: 
Wheelbase – 102.8 inches or 2,610 mm
Length – 182.1 inches or 4,625 mm
Width – 69.7 inches or 1,770 mm
Height – 51.6 inches or 1,310 mm
Curb Weight – 3,510 pounds or 1,590 kg
A well-maintained Subaru SVX should still be able to scoot from 0 to 60 miles per hour in 7.5 seconds. The SVX can do a quarter-mile in 15.4 seconds at 92.5 mph while going on to reach a top speed of 154 mph in a pre-93 model. 1994 and newer Subaru SVX coupes feature a governor limiting it to 143 mph, city hall probably received a few complaints.
Deciphering the SVX Market
Finding a Subaru SVX for sale is not complicated unless you are seeking a very specific version of it. The North American market will have more SVX models to choose from but perhaps not the one you want. You may still want to search the global market just for kicks if you are in the market for an SVX.
If you want to seek out a Japanese-spec SVX featuring 4WS, Subaru made 1,905 of them total. You will want to look for the SVX-L configuration covering the 1991 and 1992 model years. The 4-wheel-steering Subaru SVX versions use the chassis code CXD.
As far as finding one on this side of the Pacific, there are a few maintenance issues to look out for. Early model years are prone to some transmission problems. They are notorious for having a defective torque converter clutch.
When this torque converter clutch disintegrates, it blocks the radiator. Subaru updated the clutch and radiator design in most 1994 and later models. Also, be sure to inspect the underbody for rust if it is from a colder climate.
A quick glance at some recent Subaru SVX auctions reveals a price range between $6,000 to $20,000. As always, overall condition, as well as vehicle configuration, will impact the final sale price. Some SVX configurations have more luxurious upholstery than the base model.
Just like any older cars, the SVX has its quirks. Enthusiasts love the SVX while some others do not find it to be stylish at all, despite the legendary designer. Other than that, the Subaru SVX can be a smooth nostalgic 90s ride for an afternoon drive.
They certainly are not too harsh at the gas pump for a grand tourer coupe with over 200 horsepower. Legend has it you can go 500 miles on one tank of gas averaging about 25 miles per gallon. Subaru even used the song "Five Hundred Miles" sung by Allison Kraus for marketing in Japan to prove their point.
Whether or not you test the theory to push the gas needle to empty like Cosmo Kramer is up to you. Should you run out of gas, you always have a three-quarter window to roll down if you need some air. Twix, anyone?