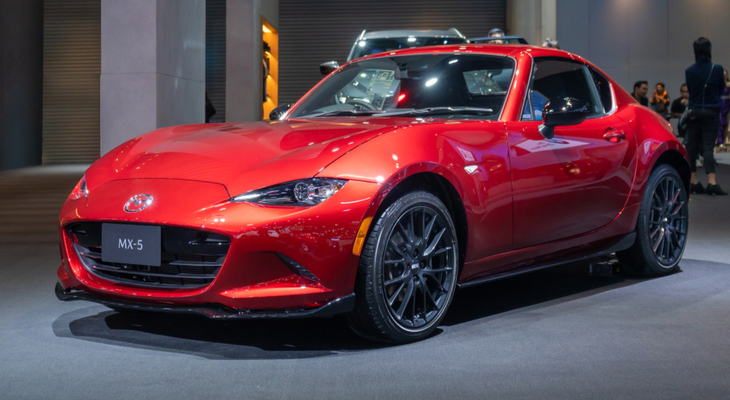 If open-air driving in a sporty roadster sounds like the perfect way to spend your afternoon, the Mazda Miata delivers. As a lightweight two-seater with a front mid-engine design, balanced handling and cornering performance is a pursuit of perfection in the Miata. Every turn presents another opportunity to master the art of driving.
Commonly called the Mazda MX-5 Miata, this rear-wheel drive roadster first hit the scene in 1989. Since then, it became the best-selling two-seat sports car convertible in automotive history. There are currently four generations of the Mazda Miata.
Mazda Miata Generational Production Years:
First Generation Mazda MX-5 NA – 1989 to 1997
Second Generation Mazda MX-5 NB – 1998 to 2005
Third Generation Mazda MX-5 NC – 2006 to 2015
Fourth Generation Mazda MX-5 ND – 2015 to Present
Mazda made many notable changes throughout each generation. Enthusiasts all have their own opinion on which one is the best. One thing remains constant among the Miata crowd, every owner loves to drive.
As the only generation to feature retractable headlights, the first-gen Miata lit the path for a very successful run. Although displacement varies from year to year, every Miata features a 4-cylinder engine in a lightweight 2-door roadster. The real engineering beauty is in Mazda's near perfect 50:50 front to rear weight balance of the Miata's design.
Pick any generation of the Miata with a manual transmission to experience pure sporty driving. So many people agree that you commonly see the Miata at amateur racing events including autocross and 5Club.
Miatas feature unibody construction with detachable front and rear subframes. Mazda adds a longitudinal truss into the chassis design which increases handling while minimizing flex. Responsive handling is a guarantee when behind the wheel of a well-maintained Miata.
By 1999, you could get a 6-speed manual transmission with select editions of the Miata. Horsepower ranges from 90 to 181, depending on engine configuration and generation. For as popular as the Miata is today, the roadster was a dying breed at the time of its inception.
Manifesting the Miata
In 1976, a Motor Trend journalist, Bob Hall, met with some very important people at Mazda. Kenichi Yamamoto and Gai Arai of Mazda asked Bob Hall what kind of car they should build. To paraphrase Mr. Hall's response, he basically told them to build a roadster.
Bob Hall said he told them the "bugs-in-the-teeth, wind-in-the-hair, classically-British sports car doesn't exist anymore." He said he told Mr. Yamamoto somebody needs to build an affordable roadster. Although the Japanese automaker did not begin on the project immediately, the seeds were now planted in the ground.
By 1981, Mazda USA hired Bob Hall in a product planning position. He met with Kenichi Yamamoto again, who was now the chairman of Mazda Motors. Kenichi still remembered the roadster conversation and by 1982, he gave Bob permission to set the wheels in motion.
Instead of just assigning one team to develop the Miata, Mazda turned it into a competition between their Tokyo and California divisions. The American team preferred a traditional front-engine, rear-wheel-drive layout. In Japan, the team was pushing for either a front-engine, front-wheel-drive layout or a rear mid-engine, RWD setup.
Well, in the end, a front-mid-engine, RWD layout won the race. Mazda even acquired a Lotus Elan to provide inspiration for the team as they began bringing the plans to life. After several prototypes, the final version was ready for introduction to the world as the MX-5 in 1989.
Weighing in at only 2,070 pounds or 940 kg, the first Miata quickly gained traction through marketing hype. Even though the original idea was to build an inexpensive roadster, several dealerships created pre-order lists. In North America, demand was so strong that several dealers began selling Miatas at considerable markups.
It's safe to say the success of the first generation passed the torch to the future destiny of the Miata. Mazda continues to introduce new improvements and features for each generation. What will they do next? Only time will tell.
Easy to Drive, Easier to Find
Some cars are difficult to find, especially if you want to try driving it. Test driving a Mazda Miata is as simple as looking in your local classifieds. If you can't find a Mazda Miata for sale near you, keep searching, one will become available soon.
With four generations to choose from, prices are going to vary quite across the entire production lifespan. The first step is to decide which generation you want to get your hands on. If you are having trouble deciding, you should go out and test drive a few of them.
From there, expect to pay close to fair market value in most cases. As always, a pre-purchase vehicle inspection will help you understand the true overall condition of the car. You can often use information you gather from a PPI (pre-purchase inspection) when it is time to negotiate a fair offer.
Depending on model specifics and overall condition, you can find used Miatas for less than $5,000 in need of some TLC. Some of the most desirable used models can list for $30,000 or more. Almost all of them will provide you with many smiles per mile.
There is also very strong aftermarket support for every generation of Miatas. There are plenty of opportunities to upgrade the performance of a Miata. Keep in mind this also means you will run into many customized and modified Miatas when kicking some tires.
As long as you feel good about your purchase, finding the right Miata for you should be pretty painless. The Miata can be a nice little track car or even just a street-legal go-kart for grown-ups. When the weather permits, having the open-air option only enhances the experience.
As the best-selling roadster of all time, can over a million Miata owners be wrong? There really is only one way to find out. Take a Miata for a spin to decide for yourself…