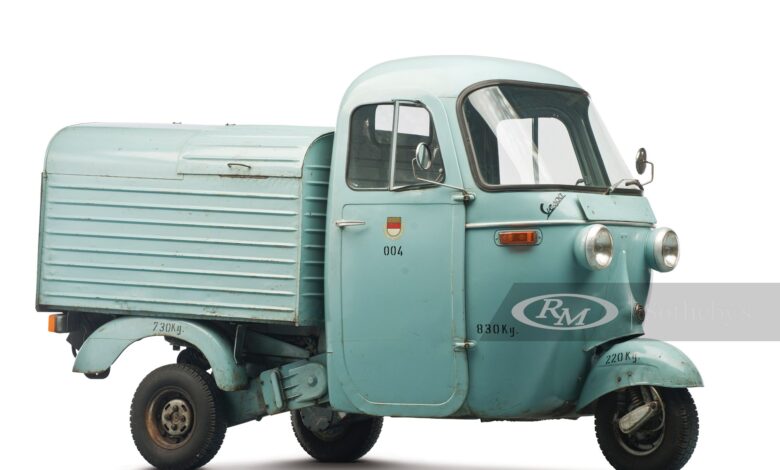 Okay I'll admit it. I love mini cars. I don't know why! Maybe it was from never having a pedal car as a kid, and then trying to use the neighbors when I was a teenager. The decision by a parent to withhold a pedal or battery powered car has clearly scarred me.
I feel at home inside a BMW Isetta, the Volkswagen Microbus, a Fiat, and certainly, a Piaggio Vespa. So this one up for auction has a place in my dream garage!
At RM Sotheby's 2020 Elkhart Collection Auctions this 1963 Piaggio Vespa will be sold, and it has no reserve. A similar Piaggio Vespa sold in 2013 for $25,300. I sort of like that one more, it has more patina. In any case, as I always say with these classic cars, beggars can't be choosers.
So here we have a 1963 Piaggio Vespa Ape Model C. It's pure Italian design. Last summer I saw a yellow one on a curve road on the Amalfi coast and took a quick picture of it. On the sun baked Italian coast, these are at home. They feature a 2 stroke 1 cylinder engine, and are definitely a combination of a motorcycle and a car.
Take note of the motorcycle style brakes and steering wheel!
So make room in your garage for this one! Good news, you don't need to make too much room. You could probabyl fit 3 of these in 1 regular garage bay. I'll be watching this, along with several other lots at the October 2020 Elkhart Collection auction by RM Sotheby's.