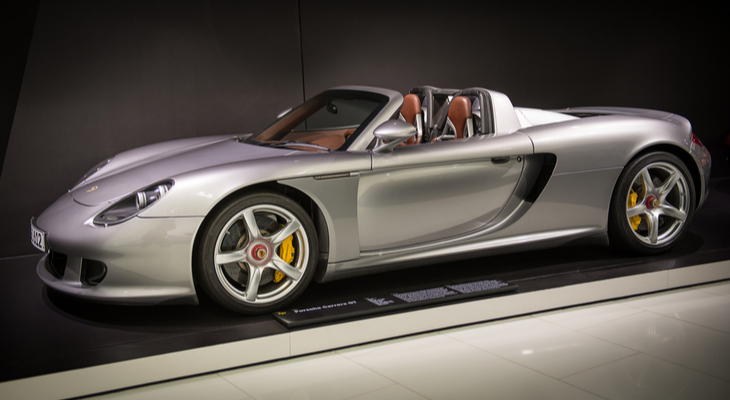 What if Porsche never built one of their masterpieces? In the case of the Porsche Carrera GT, that is exactly what almost happened.
Porsche has an extensive list of achievements at the highest level of motorsport competitions. Some of the award-winning engineering behind their road-going creations leave permanent impressions on drivers worldwide. Spirited driving is not optional when you are behind the wheel of a Porsche.
Internally known as Project Code 980, the 2-door Porsche Carrera GT ran into a few speed bumps along the way. Whenever competing automakers decide to work together on a project, a lot of complicated layers can develop. For Porsche, the development of their now-popular Cayenne SUV almost got in the way of the Carrera GT.
To put it all into perspective, you have to understand the amount of time and resources Porsche already dedicated to the Carrera GT. As a consistent Le Mans participant, Porsche was already developing a new prototype race car for the 1999 season due to FIA and ACO rule changes. The original Carrera GT design included a turbocharged flat-six engine but sometimes plans change.
Rewind the clock all the way back to 1992. Porsche secretly built a V10 engine for the Footwork Formula One team, but this motor was never used. Porsche put it on the shelf, where it sat until the first Carrera concept car made its debut.
At that particular time, in 2000, it was still just a 5.5L V10 design. Making its first appearance at the Paris Motor Show in 2000, Porsche was hoping to draw attention to their showcase. To say the Porsche Carrera concept car was a hit would be an understatement.
Ironically, the Carrera GT almost never made it to Paris. Porsche teamed up with fellow German automakers Audi and Volkswagen to continue development of the Cayenne. As a result of this partnership, Porsche shuffled their engineering priorities away from motorsports to finish the Cayenne.
Legend has it, the VW-Audi chairman at the time, Ferdinand Piëch, did not want to compete with Porsche at Le Mans. Audi's new Le Mans Prototype was the R8. Thus, after only two days of testing the Carrera GT, Porsche canceled the project in the middle of 1999.
Imagine if the world never had the opportunity to drive the Porsche Carrera GT, this is an extraordinary car. In fact, Sports Car International names the Carrera GT as its number one sports car from the 2000s. They also rank it number eight on their Top Sports Cars of All Time.
Time generally heals all wounds, so does an influx of revenue. Porsche was experiencing successful Cayenne sales while receiving plenty of interest in the Carrera GT. Enthusiasts and Porsche fans all over put pressure on the company to release the Carrera GT, so they did.
Of course, this is Porsche, so they did not just slap wheels on the concept version and roll it out. They took their time engineering the Carrera GT into a true dream car. Everything from the chassis up features the kind of precision engineering you expect from a company with such rich motorsports heritage.
An Exclusive Experience
Driving the Carrera GT is the only way to truly appreciate what this car is capable of doing. However, that is an experience many drivers are afraid of because this car is that special. Just the fear of catching a rock from another vehicle is enough to keep some drivers away from the Carrera GT.
You will also not find modern driver-assist technology on this car. Porsche driver Walter Rohrl said the Carrera GT is, "the first car in my life that I drive and I feel scared." This car is frightening to even some of the most experienced drivers and paint chips have nothing to do with it.
For those who do dare to drive it, they are in for a treat. The Porsche Carrera GT is a roadster featuring a rear mid-engine, rear-wheel drive layout. Porsche puts you in command of over 600 horses using a 6-speed manual transmission, this car can light you up.
As you recall, the original concept only had a 5.5L V10 engine. When Porsche launched the first production Carrera GT, it featured an improved 5.7L V10 engine featuring a DOHC design. It sounds incredible, but its performance is the real thriller.
With 603 horsepower, the Carrera GT's V10 engine roars to life, inspiring any driving enthusiast to get behind the wheel. This engine reaches peak hp at a high-revving 8,000 rpm making wide-open-throttle a divine experience in this car. The V10 produces a peak of 435 pound-feet of torque at 5,750 rpm.
This car will take you from 0 to 60 miles per hour in 3.5 seconds and reach a top speed of 205 mph. Remember, this is a roadster, you're going to want to hold on to your hat if you wear one.
Some of the other performance numbers from the Carrera GT are equally impressive. It can fly from 0 to 100 mph in 6.8 seconds or 0 to 130 mph in only 10.8 seconds. Considering the 1964 Porsche 911 takes 9 seconds just to reach 60 mph, the Carrera GT boasts its engineering progress.
An aluminum block and heads save some weight while maximizing cooling efficiency. Some of the depth from the engine's purr comes from the 4 valves per cylinder design, giving it a total of 40 valves. The camshafts feature variable valve timing systems while the exhaust valves utilize a sodium-cooled design.
Porsche uses large side inlets and air dams to keep the V10 engine cool. They use a carbon fiber rear bonnet frame to house the engine. A Porsche Carbon fibre-reinforced Silicon Carbide (C/SiC) ceramic composite braking system provides the stopping power.
Similar to many of their 911 designs, the Carrera GT features an electronically controlled rear wing spoiler. It automatically deploys at speeds above 70 mph. Maintaining a speed above 70 mph is effortless in this Carrera GT, providing plenty of opportunities for speeding tickets.
While awaiting citations, you will have a moment to notice the fine soft leather interior of the Carrera GT. Early Carrera GT models feature a beech wood shift knob to pay respect to the legendary Porsche 917 Le Mans race car. A carbon-fiber shift knob option was available in the second year of Carrera GT production.
Interestingly enough, the ignition button is on the left of the steering wheel in the Carrera GT. This is because of the Le Mans tradition of having drivers run to their cars. Your right hand is free to prepare the shifter while your left hand starts the engine after entering the vehicle.
Catching the Road Legal Race Car
Unfortunately, Porsche decided to discontinue Carrera GT production a little earlier than expected. Their original plan was to make about 1,500 of them, but the final number was approximately 1,270. Porsche only sold 644 of them in the United States.
Production of the Porsche Carrera GT ran from 2004 to the 2007 model year. The final official production date for the Carrera GT was May 6, 2006. Porsche cites new airbag regulations in the United States as the reason for discontinuing Carrera GT production.
Believe it or not, finding a Porsche Carrera GT for sale is possible. Prepare to see prices hovering around the seven-figure mark.
Sure, you will find a few for slightly under a million dollars, but only a handful. You will encounter several requests to inquire about pricing. Obviously, the Carrera GT is more readily available in the European market than in North America.
One thing is for sure, you will not find any Carrera GT models with an automatic transmission. Every Carrera GT model from the Porsche factory equips the 6-speed manual transmission. If that does not beg you to drive, this might not be the right car for you.
Porsche really built this car to be race-ready while being somewhat capable of doubling as a road car. If you want to find a North American version of the Carrera GT, you may have to be patient. Eventually, one will become available for the right price.
Whether you want to take it to the track or not is entirely up to you. The Carrera GT is certainly capable and ready for racing. However, the fact that it is 100% street legal makes it even more desirable to collectors and enthusiasts.
Over time, the legacy of the Carrera GT will grow into a legend. For a while, its reputation took a severe hit as the entire car community continues to mourn the loss of Paul Walker. The Fast and Furious franchise star was inside a 2005 Porsche Carrera GT the day of his high-speed crash.
Occasionally, especially before the driving season begins revving up in colder climates, it is important to check your cars for maintenance issues. Rumor has it Walker's Carrera GT had outdated tires on it the day of the accident. Walker's friend, Roger Rodas, was driving.
Tires are so important, it is a topic that should get even more attention within car communities. Do not ignore the symptoms when your tires require replacement, they can be the difference between life and death. Especially on a powerful, RWD machine such as the Porsche Carrera GT.
As much fun as cars are, it is always vital to remember they are not toys. Great power requires great responsibility, including having respect for the machine's capabilities. If you are not capable of inspecting your own rides, make sure you bring them to somebody qualified to do so.
Once your Porsche Carrera GT is ready to roll, fire it up and get ready for the upcoming summer driving season. Few people ever get to experience a car like this. If you are driving a Carrera GT, enjoy the pure Porsche racing soul at your fingertips.