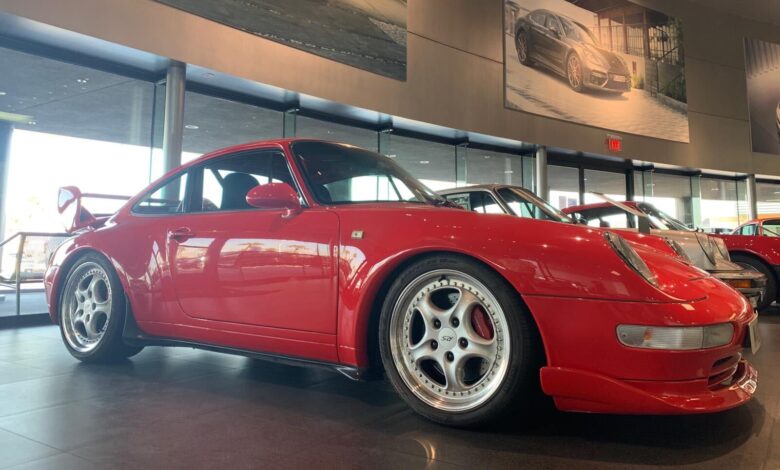 If you ever see a Porsche 911 kick it down a gear, the subtle fishtail into gripping acceleration is a thing of beauty.
Of course, all you will see is the tail, but you will definitely wish you were behind the wheel instead. Although a rare sighting on public roads, the Porsche 993 911 RS Clubsport captures the essence of the brand's racing heritage.
Porsche takes everything drivers love about the Carrera RS and fine-tunes it for track use with the limited Clubsport models. To truly appreciate what the RSCS is capable of, you should take a moment to understand the differences between a standard Carrera and an RS to begin with. 
From 1994 to 1998, Porsche manufactured the 993, which is just an internal label used for the 911. Basically, the 993 is the 911 of its era. There are several variants of the 993, including:
Carrera Coupe
Carrera Cabriolet
Targa
Turbo
Turbo S
Carrera 4S (AWD)
Carrera S (RWD)
Carrera RS
Carrera RS Clubsport
GT2
Speedster (Not Available From Factory, Only 2 Exist)
Turbo Cabriolet
Obviously, there are many 993 models available, however, the Carrera RS features several advantages over the base model. It is lighter and features more horsepower as well as many race-ready modifications.
Key Carrera RS Features:
Lightweight Forged Pistons
Dual Oil Coolers
Larger Intake Valves
Varioram Variable-Length Intake Manifold
Modified Bosch Motronic Engine Management System
Lighter Rocker Arms
6-Speed Manual Gearbox with Modified Gear Ratios
Cross Drilled and Ventilated Disc Brakes
Large Rear Spoiler
Limited Slip Differential
The list does not end there, Porsche removed the rear seats to save weight. There are no headlight washers. All sound proofing efforts are minimal across the entire car.
Bilstein dampers along with a lower ride height provide superior handling in the RS. Adjustable front and rear anti-roll bars allow drivers to fine-tune their handling from track to track. The suspension tuning only tells a part of the story when it comes to the RS' handling capabilities.
Keeping the RS light was a top priority for Porsche. They use a seam welded body and an aluminum hood to maximize their lightweight ambition. Even the windows and windshield feature thinner glass.
The final weight of the RS is a feather-like 2,822 pounds. That's not bad considering the RS features a naturally aspirated 3.8L air-cooled flat-6 engine producing 296 hp. Believe it or not, the 993 is the last word in the air-cooled 911 legacy.
These are serious upgrades capable of handling precision driving on a track at higher than usual speeds. The extremely limited RS Clubsport builds upon that successful blueprint with even more racing modifications and upgrades.
Notable Porsche 993 911 RS Clubsport Features:
Welded Roll Cage
Even Larger Rear Wing
Defined Lip or Chin Spoiler
Produced in 1995 and 1996
Only 213 Clubsport Variants Produced
This is a pure race car. In fact, Porsche even left the interior carpeting out of the final product. There are no power windows, air conditioning or radio either.
Yet, the classic Porsche styling and classy touch is still there. This car seduces drivers to drive. Some cars are born to hit the track, this one does it with a whole lot of style.
The Porsche 993 911 Clubsport is a gorgeous car, it is even street-legal in several European countries. Sadly, it was never approved for exportation to the United States.
Welcome to Clubsport
Although official numbers are somewhat difficult to track down, it is widely believed Porsche made about 213 Clubsport RS models. They are not easy to find.
In vintage Porsche fashion, the engine is behind the driver, in the rear of the car. The RS Clubsport does feature rear-wheel drive giving it that unique Porsche driving experience. The only thing missing is a matching Porsche helmet to use at the track.
What really defines the Porsche 993 911 RS Clubsport is in the eye of the beholder. To many, the car's extravagant race styling is enough to want one. For others, the pure driving experience is what makes this car so enticing.
With such limited production, you can expect to pay a premium price to get behind the wheel of a 993 RS Clubsport. Recent data suggests prices nearing half a million dollars, if you can even locate one for sale. Pristine examples fetch more than $500,000.
It is not quite blank check territory, but for many enthusiasts and collectors of Porsche masterpieces, the pricing reflects the affair. For those who do not mind having a replica, several coachbuilders are selling one. Prices still hover above six figures for a replica.
Porsche makes special cars. When the market mirrors the experience, there is usually a good reason for it. The only way to understand it is getting behind the wheel of a 993 RS Clubsport to experience it for yourself.