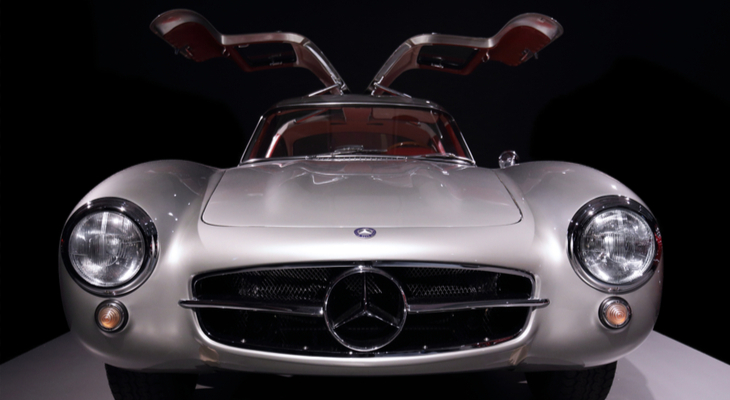 In modern times, Mercedes-Benz is a brand whose prestige is so polished, it can often overshadow the company's winning racing heritage. To Benz enthusiasts, the combination of powerful performance with luxurious class is no secret. The Mercedes-Benz 300 SL Gullwing is both a historic automobile and a symbol of the German automaker's winning formula. 
In 1952, the Mercedes-Benz W194 race car's success inspired the eventual engineering of the W198 chassis. This two-seat 300 SL sports car featured a "super-light" tubular frame along with a powerful 3.0L straight 6-cylinger engine. This makes decoding the name a simple task, 300 represents the engine size while SL represents the super-light (Super Leicht) designation.
An authorized Mercedes-Benz importer, Max Hoffman, knew the Mercedes 300 SL Gullwing would be successful in the American market. Mercedes was listening as they unveiled the 300 SL Gullwing at New York's International Motor Sports Show in 1954. The rest is history for this iconic two door coupe.
Mercedes-Benz 300 SL Gullwing Production:
1954-1957
1,400 Coupes Built
Front Engine, Rear-Wheel Drive (FR)
3,300 Pounds (1,500 kg)
$6,820 MSRP
It is not just the tubular frame design responsible for the lightweight characteristics of the 300 SL. For further weight reduction, the hood, doors, dashboard and trunk lid all feature aluminum construction. Mercedes produced 29 extremely rare all-aluminum body 300 SL models, these versions weigh 176 pounds (80 kg) less than standard editions.
With a top speed of 163 miles per hour, the Mercedes Benz 300 SL Gullwing politely requests the red carpet treatment. As a racing champion and the fastest production car of its time, the Mercedes 300 SL Gullwing is royalty. Prestigious exterior styling compliments seductive curves with the perfect blend of sport and class.
Debuting on the 1952 Mercedes 300 SL race car, gullwing doors hinge at the roof instead of the sides of the vehicle. In 1954, gullwing doors made their appearance on a road legal production vehicle with the Mercedes 300 SL Coupe. The unique styling is instantly recognizable when the doors are open.
Believe it or not, the gullwing door design is a necessity, not a fashion statement. This is due to the frame's design which does not allow for traditional automotive doors. The only design that made sense for passengers to enter and exit the car was the now famous gullwing style.
Under the hood, or bonnet, of the Mercedes 300 SL Gullwing is a water-cooled 3.0L overhead cam straight 6-cylinder engine. Capable of producing 240 horsepower (SAE gross rating), this 6-cylinder was far ahead of its time. Innovations such as an aluminum head featuring larger intake and exhaust valves put this 3.0L straight-6 in a league of its own.
This engine is commonly known as the Mercedes-Benz M198. Mercedes even offered a more powerful version of the M198 in the 300 SL Gullwing as an optional, but free upgrade. A 4-speed manual transmission shifts the gears in all Mercedes 300 SL Gullwing models.
Due to the tall side structure of the rigid door frame, climbing in and out of the 300 SL is a bit of a challenge. Because of this, Mercedes designed the steering wheel to allow for a 90 degree rotation, making it easier to get seated. This rotating steering wheel design allowed for the wheel to tilt either face down or away from the cockpit.
Inside the vehicle, seating features either a checkered fabric or a monochromatic leather material. Most customers preferred the leather, but it is a little late to change their mind now.
The fixed side windows don't retract, though they are removable. Swiveling quarter windows provide a slight breeze into the poorly ventilated cabin. With no A/C, driving the Gullwing long distances on a hot day embodies the racing spirit it was born with.
Planning for long trips loaded with cargo brought its complications as well. The 300 SL only offers storage space behind the seats, with the trunk occupied by a spare tire and fuel tank. Even though it has the soul of a race car, suitcases still fit behind the seats just fine.
It's easy to picture yourself in a stylish Mercedes-Benz 300 SL Gullwing, but it is a bit difficult to find one. Rare enough as they are with only 1,400 Gullwing coupes in existence, they are also highly sought after by collectors. Expect seven figure price tags for well-maintained, standard body 300 SL Gullwing models.
If you are seeking one of the 29 aluminum alloy bodied 300 SL Gullwings, prepare to write a blank check. The Mercedes-Benz 300 SL Gullwing is not a car you see every day, this is a connoisseur's masterpiece. A dignified blend of elegance with passionate expression, values continue to soar among collectors and enthusiasts.
Once behind the wheel, the nostalgic experience feels priceless. Sure, it has quirks as many classic cars do, but the Mercedes 300 SL Gullwing carries its own legacy. The thing about legends is they get noticed everywhere they go.