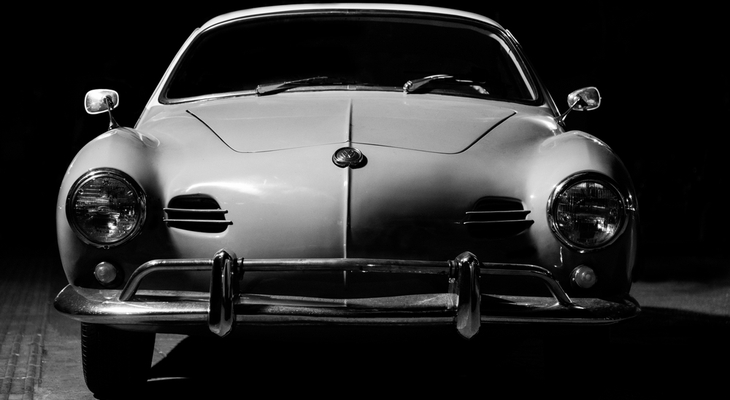 When it comes to timeless classics, the Volkswagen Karmann Ghia deserves more than a mention. This is a very unique car, even for its era. To this day, the beautiful aesthetics and nostalgic driving experience combine for a pleasurable drive on a gorgeous day.
Internally known as the VW Type 14 (or the Type 34 for the South American market), the Karmann Ghia proved successful. Enjoying a production lifespan from 1955 to 1974 is quite the accomplishment. Over those two decades, VW produced 445,000 Type 14s and about 41,600 Type 34s.

Volkswagen, at the time, had a reputation for making economical, unpleasant looking cars. They even admitted so in an ad for the very popular Beetle: "It's ugly but it gets you there". However, the Beetle's popularity paved the way for VW to try something else.
In the postwar economy, Volkswagen wanted to take a more proactive approach to their line-up. Behind the scenes, two accomplished European car gurus had already been working on the Karmann Ghia prototype. They used a Beetle as the chassis.
Wilhelm Karmann, from the German coachbuilding house Karmann, got together with Italian automotive design firm Carrozzeria Ghia. The end result is a true piece of automotive art. When Volkswagen saw the prototype, their answer was a resounding yes.
German engineering combines with Italian styling to create what may still be VW's most attractive design. Volkswagen approved production in November of 1953. The first Karmann Ghia made its debut in Paris and Frankfurt in July of 1955, the rest is history.
The Karmann Ghia, for the most part, is a 2+2 coupe or a 2+2 convertible. By its final production year, 1974, VW removed the rear seat making it a two-seater. This decision was a byproduct of safety belt regulations at the time.
Driving the Karmann Ghia offers very distinctive dynamics without overwhelming drivers. Throughout the years, VW used a handful of flat 4-cylinder air-cooled engines. None of them have impressive horsepower numbers.
Approximate Karmann Ghia Engine Specs:
1200 cc – 34 Horsepower
1300 cc – 40 Horsepower
1500 cc – 44 Horsepower
1600 cc – 60 Horsepower
A 4-speed manual transmission combines with the rear-engine, rear-wheel drive layout to give drivers complete control over the experience. This is a light car, weighing in at about 1,800 pounds. Despite being a featherweight, it takes roughly 27 seconds to go from 0 to 62 miles per hour.
Obviously engine swaps are a popular modification in the Karmann Ghia, but that also changes the driving experience. Old school VW purists prefer the stock engine, performance enthusiasts want more power. Such is the way of the automotive world.
It takes some time to get used to the finicky Karmann Ghia. For example, you have to make sure you give it enough gas to keep it running after firing the ignition up. There is also no tachometer, just a red shift indicator in the speedometer.
Although handling is not usually a strong suit of cars from the 50s or 60s, the Ghia is not too shabby. Thanks to being so light on its feet, the Karmann Ghia is fun to throw in and out of corners. Accelerating through the apex may not be as quick as you would like, but it handles like a sports car.
Since Volkswagen used some time-consuming methods for production, prices reflected the higher-end techniques. For example, many of the body panels were hand-shaped and butt-welded rather than using machine welding. Despite the higher price, the Karmann Ghia became extremely popular.
Overall, VW built the coupe version from 1955 to 1974. They built the convertible Karmann Ghia from 1957 to 1974.
Approximate Karmann Ghia Production Totals – Type 14:
Karmann Ghia Coupe – 364,401
Karmann Ghia Convertible – 80,837
Volkswagen also made a Karmann Ghia Touring Coupe from 1972 to 1975. There are approximately 18,119 Karmann Ghia TC models in existence. The TC is a little roomier and features 65 horsepower, it was only produced for South America.
Kicking the Tires
Volkswagen made a lot more coupes than convertibles. As a result, you can find Karmann Ghia coupes in fair to average condition for right around $10,000. If you spend enough time browsing, you will even find some in that price range equipped with the 1.6L engine.
Great to pristine examples fetch between $20,000 to $40,000. If you do not mind a little elbow grease, you can score a project Karmann Ghia for under $10,000. Custom modified version pricing varies according to specifics.
Finding a convertible version of the Karmann Ghia for sale proves to be a little more challenging. For the most part, pricing is right in line with the coupe, but convertibles are not as common on the market.
Open-air driving definitely makes the convertible a great choice if you are patient enough to land one. Whether you prefer a coupe or a cabriolet, the Karmann Ghia provides a vintage driving experience. It is also a car that gets a lot of attention, everywhere it goes.
Younger people will try to ask you what kind of car it is because they want one. Experienced generations want to talk to you about the one their uncle had back in the day. This is the perfect classic car to cruise around in without feeling any guilt.
It also happens to have impressive cargo room for its size. So, feel free to toss a backpack or travel bag in the front trunk while enjoying a road trip. These are the charming driving experiences Volkswagens were born for.