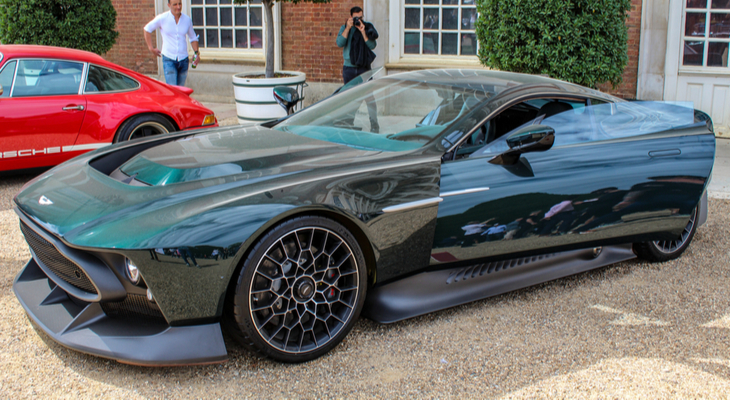 For anyone not named James Bond, the chance to drive anything from Aston Martin's Q division is a rare opportunity. When it comes to the new Aston Martin Victor, getting behind the wheel is an exclusive experience. As it should be, because this car is exceptional and there is only one of them.
Aston Martin's Q division builds exclusive cars with unique specifications for VIP and blank check clients. Their new Aston Martin Victor is a rear-wheel drive demon dressed as royalty.
A true wolf in unicorn's clothing. You may never see the Victor in person, but if you do, you'll never forget it. From snarl to growl, the Victor brings both bark and bite despite its classy appearance.
Driving enthusiast purists will marvel at the 6-speed manual transmission shifting through 848 horsepower of raw V12 power. In an age of increasing autonomous driving, this is a supercar putting you back in the driver's seat. The 7.3 liter V12 engine is merely icing on the cake, a very large cake.
Based on the naturally aspirated V12 engine from Aston's 2011 One-77 supercars, the original designers at Cosworth got to work. They managed to squeeze 90 more horses out of it while increasing torque to 606 pound-feet. The custom Graziano transmission requires two coolers and a custom clutch just to handle the power.
Obviously there is more to this one-off Aston than the engine, but achieving this much N/A power is impressive. In fact, this is the most powerful manual transmission Aston Martin ever built. Let that sink in while considering their legendary racing heritage.
A six-way adjustable track-tuned suspension can handle some serious lateral G-force. The suspension system's inboard springs and dampers are from Aston's Vulcan, a track-only machine. Sit behind the wheel and you will not throw the Victor around corners, it will pull you like it's on rails.
Classic Vantage Inspiration with a Modern Twist
From an exterior perspective, the new Aston Martin Victor clearly pays homage to vintage Vantage styling from the 70s. Taking a closer look reveals a modernized, almost futuristic approach to Aston Martin's fashion. Sleek body lines flow flawlessly around enticing contours featuring tailored accents.
Classic Aston Martins always make shades of green look like one of the most elegant colors in the world. The new Aston Martin Victor wears Pentland Green perhaps better than any of its predecessors. Combined with the carbon fiber accents, the Aston Martin Victor wins the checkered flag on styling and performance.
Highlighting the 1970s Vantage inspiration are the dual headlights to round out the retro-modern theme. The wide-body carbon fiber bodywork seduces every curve it encounters, from lane to lane. Large 15-inch front Brembo brakes with 14.1-inch brakes in the rear provide plenty of stopping power if necessary.
One of the most notable exterior details is in the taillight design. From afar they look like something from a concept car, up-close they appear to belong on a spaceship. A protruding, yet functional design houses LED brake lighting under the built-in rear lip spoiler.
Chances are you would get to know the rear of the car quite well if you ever do encounter it. The new Aston Martin Victor backs up it's performance with plenty of style.
Flying First Class with Aston Martin's Q Division   
Inside the Victor, a custom carbon fiber dash blends nicely with the Forest Green leather interior. Hints of cashmere provide an extravagant layer of luxurious class. With both hands on the uniquely-shaped steering wheel, drivers will feel as if they are piloting an airplane.
Although you may not find many Bond-like gadgets inside the Victor, Aston's Q Division tailors the experience to personify prestige. Convenient modern amenities include two screens to navigate and monitor the Victor's features. Gorgeous accents provide the ideal finishing touch.
Even though the car's name comes from former Aston chairman Victor Gauntlett, it could just as easily stand for Victory. Everything about the Victor nails it. The only problem is, if you want one, you still can't have it.
The buyer wishes to remain low-key, so there is not a lot of information available regarding pricing or additional details. Of course, the moment anyone in the public sees this car on the road, any remaining anonymity will fly out the window.
Although Aston Martin is keeping a tight lid on who ordered the Victor, there is a good chance they love to drive. If the Victor makes you green with envy, you can always contact the Q Division to create your own bespoke Aston Martin. Until then, sit back and enjoy the view.