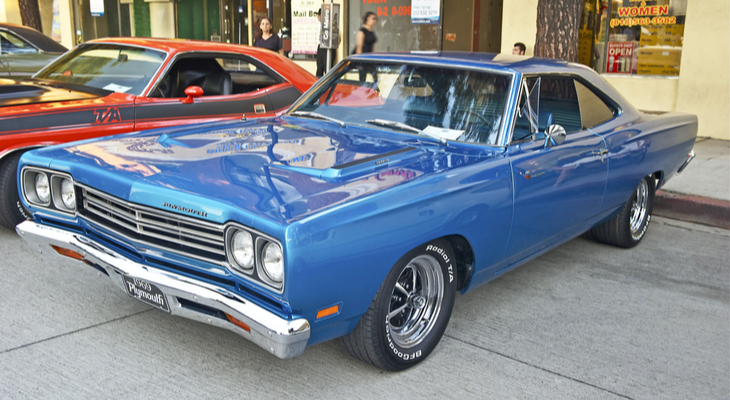 Despite sharing the name and likeness of an adorable cartoon character, it is always unwise to underestimate the Plymouth Road Runner. From 1968 to 1980, Plymouth's Road Runner enjoyed four generations of production. Featuring an FR layout, this mid-size performance car was an affordable alternative to the upscale GTX.
Built on the Chrysler B platform, Plymouth took a back-to-the-basics marketing approach with the Road Runner. Many popular pony and muscle cars were pricing themselves out of reach for some buyers. Plymouth noticed while deciding to produce more economical options by reducing the number of features available with the cars.
Plymouth's targeting of performance car shoppers on a budget did not prevent the American automaker from breaking the bank in development. Several powerful engine options available from the factory really put the Road Runner on the map. However, a very popular television cartoon series certainly didn't hurt its chances for success either.
Beep, Beep!
Plymouth paid $50,000 for permission to use the Road Runner name and character, based off the Warner-Bros cartoons. They also paid an additional $10,000 to develop the cartoonish beep, beep horn sound used in the car. With no expense spared, Plymouth's Road Runner was ready to capitalize off the cartoon's popularity.
Plymouth Road Runner Production Years by Generation:
First Generation – 1968-1970
Second Generation – 1971-1974
Third Generation – 1975
Fourth Generation – 1976-1980
Taking Off with the First Generation
Hitting the scene from 1968 to 1970, Plymouth's first-gen Road Runner offered powerful cars with stripped down options. The earliest first-gen Road Runners were 2-door pillared coupe designs. By the end of the first production year, 2-door hardtop Road Runner models became available.
Eventually, Plymouth also released a 2-door convertible option as well. A 4-speed manual or 3-speed automatic transmission were available with first-gen Road Runners. From an exterior styling perspective, the first generation Road Runner is an American classic.
Highly sought after by collectors and enthusiasts, first-gen Road Runners feature dual horizontal headlights on both sides of a wide-mouth grille. Sharp body lines and styling accents converge into a vintage 60s era sloping trunk design. The wide tail and rear lighting look great at day or night, which plenty of drivers see as the Road Runner runs away.
Looking inside a brand new car only to see the barebone interior of the Road Runner would equal disappointment to many modern buyers. However, if you wanted to go fast on a limited budget, the Road Runner nailed it. A simple vinyl bench seat, no floor carpeting in some models, is this the nosebleed section?
On top of that, few options were available with the Plymouth Road Runner. The list of available options included an AM/FM radio, A/C (except 426 Hemi models), power steering and front disc brakes. Not much else going on when it came to factory options.
Mock it if you will, then, pop the hood. Any potential laughter or punchlines will turn into admiration, and that is before you fire it up to hear that sweet Mopar V8 sound. The standard engine, a Road Runner exclusive 383 cubic inch 6.3L V8, is only the tip of the iceberg.
First Generation Road Runner Engine Options:
383 Cubic Inch 6.3L V8 – 335 Horsepower (330 HP with Air Conditioning)
426 Cubic Inch 7.0L Hemi V8 – 425 Horsepower
440 Cubic Inch 7.2L V8 – 390 Horsepower
In keeping up with tradition, Mopar offered plenty of mo-powerful engine options from the factory. Obviously, first generation Plymouth Road Runners containing factory installed 426 Hemi or 440 V8 engines fetch a premium price.
Of course, the 1970 Plymouth Superbird is a highly modified Road Runner. This is an entirely different beast altogether, one wonders how much bird is actually left on those bones. However, the 1970 Superbird is a very desirable option.
Second Generation Chrysler Facelift
To keep it more consistent with Chrysler's production and design, second-gen Road Runners received styling updates. Mopar fans will instantly notice how similar it looks to Challengers from the same era. Plymouth canceled the production of Road Runner convertibles for the second generation, all of them are coupes.
A few more luxurious options were available with second-gen Road Runners. This included power leather seats, thick carpeting and additional sound dampening. Plymouth also offered several more engine options across the second generation in comparison to the first.
By 1972, new emission regulations took their toll on the Road Runner. Horsepower decreased and quarter mile times increased, which equals slower Road Runners. The dark ages of muscle arrived.
Although desirable from a styling perspective, many performance enthusiasts prefer more powerful engine options in the second-gen Road Runner. Some builders modify the stock engine while others drop custom-built motors into the body.
Later second-gen models manufactured in 1973 and '74 hardly resemble earlier versions. A new direction was taking shape, for better or for worse.
Third Generation: Road Runner Loses Some Steam
The third generation of the Road Runner was brief, with just one year (1975) of production. Based on the Plymouth Fury, the '75 Road Runner, while nowhere near as powerful as the first-gen, was respectable for its time. There were a total of four engines available, but over 50% of them had the base 318 5.2L engine.
Fourth Generation: The Extinction of the Road Runner
It is probably far-fetched to call it a generation, but from 1976 to 1980, it was still technically available. Switching platforms from the Valiant/Duster to the Volaré, the Road Runner turned into a trim and graphics option package. In 1980, when the Volaré ceased production, the Road Runner became extinct.
For a car designed without all the bells and whistles, the Plymouth Road Runner's value certainly appreciated handsomely over the years. Hemi and 440-equipped examples in pristine condition list at or near six figures.
Some middle-of-the-pack or standard examples are available for under $50,000. You can also find a project car for under $20,000 if you search long enough. As with most cars, condition and unique features will impact the value or asking price of Plymouth Road Runners.
From legendary Mopar performance to vintage American muscle styling, the Plymouth Road Runner is a classic. Plymouth produced over 150,000 first generation Road Runners alone. You can definitely find a Road Runner if you are looking for one.
Then again, Wile E. Coyote repeatedly attempted to get his hands on the elusive Road Runner, failing miserably. Perhaps you will have better luck.
Whether you have fond memories of the cartoon or not, the Plymouth Road Runner provides a nostalgic experience for many. It is up to you to decide if it is worth it to chase after the Road Runner.