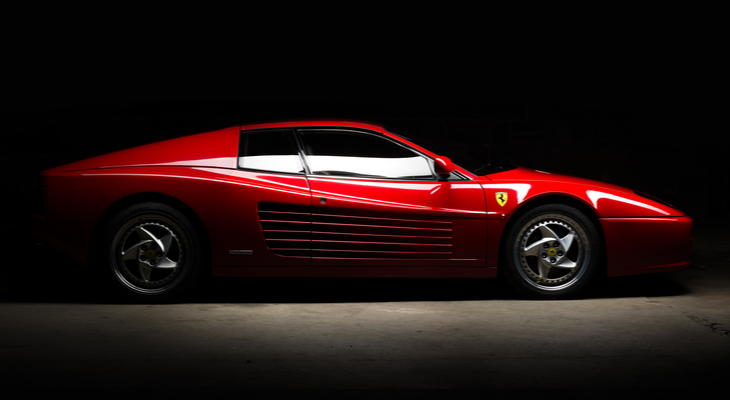 Making a dream car with lasting appeal spanning nearly four decades is an impressive feat. From bedroom posters to the modern garages of grown ups who never really grew up, the Ferrari Testarossa is iconic to say the least. Combining sexy Italian 80s styling with a Prancing Horse 12 cylinder engine equals a classic Ferrari driving experience in the Testarossa.
The name Testarossa achieves two things. First of all, it pays homage to Ferrari's World Sportscar Champion, the 1957 250 Testa Rossa. Secondly, it translates to "red head" in Italian, referring to the engine's red-painted cam covers.
Legendary design firm, Pininfarina, is responsible for the sleek accents and sharp styling of the Testarossa. Interestingly enough, this car does not feature a rear spoiler because the aerodynamic design creates such a low drag coefficient. In other words, a rear spoiler is not necessary.
As a descendent of the BB 512i, the Testarossa's engineers wanted to create a cooler cabin experience. The BB 512i featured a front-mounted radiator with hoses running to the engine behind the cabin. This creates a very warm interior while driving the 512i.
To solve this problem on the Testarossa, Ferrari designed it to be larger and wider than its predecessor. They also use two rear, side-mounted radiators near the engine as opposed to mounting a single unit up front. This design promotes a much cooler cabin while driving.
Perhaps the most defining design element of the Ferrari Testarossa are the side strakes. Running along the doors to the rear fenders, these actually are not only for looks. Laws in several countries prohibited cars from having large openings, Ferrari's solution just happens to be stylish as well.
The strakes also make the Testarossa wider in the rear, thus improving handling performance and stability. These strakes are often referred to as "egg slicers" for obvious reasons. Some people also call them "cheese graters", which makes sense since the Testarossa is always looking to shred pavement.
As a 2-door berlinetta coupe, the Testarossa offers plenty of driving pleasure. It features a rear mid-engine design keeping the center of gravity toward the middle of the car. The end result is an increase in stability along with better cornering performance.
12 Cylinders of Ferrari Power
Prancing Horse is famous for their V12 engines, and the Testarossa certainly lives up to the 12 cylinder legacy. However, the Testarossa does not have a 90° V-shaped engine, it is a 180° flat-12 cylinder design. Even though it is unique, the engine still sounds amazing, as any Ferrari should.
Featuring a naturally aspirated 4.9L DOHC 12 cylinder with 4 valves per cylinder, the Testarossa screams. With a total of 48 valves breathing, the exhaust note sounds tight, yet powerful.
European versions fire up to the tune of 385 horsepower while American market examples have 380. It is the same engine, but regulations cut into stateside fun at the time. Regardless, both market versions are impressive cars for their era.
Putting 361 pound-feet of torque to the wheels of a Testarossa is the perfect way to spend a Sunday drive. The five-speed manual transmission will reward you with a pure driving experience, but you will also enjoy retro Ferrari performance.
First Edition Ferrari Testarossa Performance
0-60 MPH – 5.2 Seconds
0-62 MPH – 5.8 Seconds
0-100 MPH – 11.4 Seconds
¼ Mile – 13.5 Seconds
Top Speed – 180 MPH
Of course, the engine only makes up part of the Ferrari performance equation. Anybody can build a car that's fast, but to make it dance gracefully on the most dangerous curves is an art. Ferrari achieves an exhilarating handling experience using some of the best suspension technology available in the 80s.
The Testarossa features a double wishbone independent rear suspension. There are two telescopic shock absorbers on both sides with coil springs. An anti-roll bar keeps the body from jolting to keep steering and handling tight whenever attempting to point the nose.
Best of all, Ferrari designed the entire drivetrain and suspension to be removable from underneath the car. This design enables easier access to the engine for regular service and maintenance such as timing belts or other components.
Many collectors and enthusiasts consider the Testarossa to be an ideal 80s icon. Ferrari capitalized on their idea by making the Testarossa one of their highest-volume mass production models.
When most people refer to the Testarossa, they are talking about the examples built from 1984 to 1991. Ferrari also made two revised editions of the Testarossa from 1992 to 1996, but these are almost in a league of their own when browsing the market. Including the revised editions, Ferrari produced almost 10,000 Testarossa models from 1984 to 1996.
Overall Testarossa Production Years Including Revised Editions:
1984 to 1991 – Ferrari Testarossa (F110) – 7,177 Produced
1991 to 1994 – Ferrari 512 TR (Testarossa) with 422 HP – 2,261 Produced
1994 to 1996 – Ferrari F512 M with 434 HP – 501 Produced
Kicking Tires on a Testarossa 
The earliest versions of the Ferrari Testarossa fetch close to a hundred grand or more, depending on condition and mileage. Some low mileage, pristine examples of first edition Testarossas are available for close to half a million dollars. For the most part, you can find yourself behind the wheel of the original Testarossa for right around six figures.
If you want a Ferrari 512 TR, you will need to shell a little more cash out. Expect to find a market range between $150,000 to $200,000 or more, depending on condition. Extraordinary examples are available for close to $300,000 or more.
With 434 horsepower and a 6-speed manual transmission, the Ferrari F512 M is highly desirable. You will find a lot of invitations to inquire about pricing when searching for a Ferrari F512 M for sale. Recent data suggests pricing around $300,000 to nearly half a million dollars, depending on condition.
Whether you want an early Testarossa or a later version, they are all stylish and fun to drive. Heads will turn everywhere you go, invoking a sense of nostalgia inside gawkers who grew up with a Testarossa on their wall. This is a dream car that rarely loses its appeal to those who always wanted one.
From the first Ferrari Testarossa to the cream-of-the-crop 512 M, each one is special. You will always love the purr of the 48 valve Ferrari 12 cylinder ready to roar behind you. If legends never die then the Testarossa is here to stay.
In fact, you probably have your old poster of one in storage somewhere. It is never too late to revisit the idea of owning a Ferrari Testarossa. Making dreams come true is part of what life is all about.