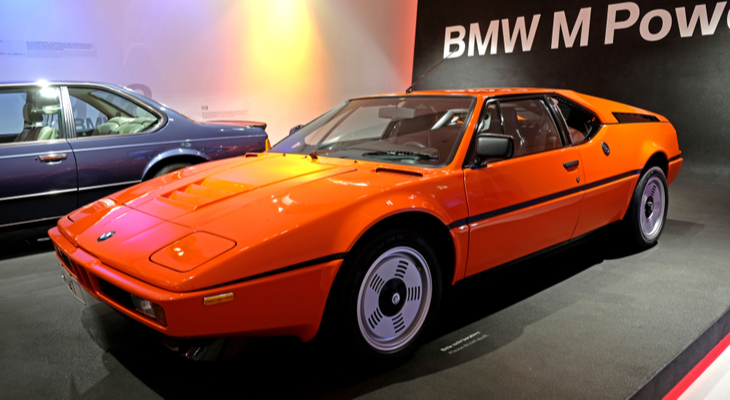 Most cars featuring wedge styling were coming out of Italy in the 70s and 80s, not this one. The 1981 BMW M1 is, in some ways, Germany's first supercar. However, BMW faced so many obstacles making the M1 that they almost never made it at all.
In the end, BMW made 453 total M1 models from 1978 to 1981, 399 of them are street legal. BMW used the remaining M1 cars for racing. The limited availability of this car makes it desirable by itself but there are other reasons you might want one.
For starters, tracing the roots of the M1 goes all the way back to 1972. BMW began working on its Turbo Concept while establishing a motorsports division. They gave the M1 an internal nickname of E26 while making it their first official motorsports project.
As is often the case with many aspiring motorsports projects, BMW wanted to compete with Porsche. At the time, the FIA required manufacturers to produce at least 400 street-legal versions to qualify for Group 4 racing. The race was on as BMW went full speed attempting to complete the M1 project in only a few years.
They brought in some big names to work on the M1. If the wedge styling still looks Italian to you, you have a good eye for design. BMW hired Giorgetto Giugiaro to design the M1's body, the same designer who penned the Lotus Esprit and Maserati Boomerang.
Other big names include Lamborghini, who was responsible for engineering the M1 and producing the 400 cars BMW needed to compete. BMW was ready to get rolling on the project but the first detour came in the form of Lamborghini's financial woes. By 1978, Lamborghini only had seven prototypes ready forcing BMW to terminate the arrangement.
Even though they did not want to, BMW assumed the responsibility of producing the M1 cars from here. The Bavarians got their ducks in a row very quickly, delivering the first BMW M1 production model in February 1979. Despite its challenging journey from concept to production, the BMW M1 is basically a street-legal race car.
From the moment BMW first dreamed this car into existence, every engineering goal was to create a race car. Even the suspension can handle a significant increase in horsepower without any further modifications to it.
Legend has it you can run the 1981 BMW M1 with slightly more than 900 hp before modifying the suspension. This is a quality build from the factory down to the most important performance components.
Driving for Performance
Now, there is a kicker to consider. It may not have the kind of engine performance in its stock form to excite everyone. You can tune more power out of it but considering how rare this car is, most owners preserve the stock form.
Many engine options came across the design table when engineering the M1. BMW eventually decided to build an all-new inline 6-cylinder engine design. They named it the M88 and it has a lot of potential for those who know them well.
This 3.5L straight 6-cylinder engine features a DOHC design while producing 273 hp in its production version form. It sounds nasty, in a good way, for its era. With 243 pound-feet of torque, it pulls hard when you get on it.
In many ways, the M88 engine paved the road for BMW's legacy as an inline 6-cylinder engine powerhouse. They based the design on their old M49 engine from the BMW 3.0CSi race cars. Excellent choice indeed.
Keep in mind, the BMW Procar race car features a modified BMW M88 engine. This version produces 463 hp with 287 pound-feet of torque. To say you can add power to an M88 engine is an understatement.
In its stock production form, the 1981 BMW M1 can scoot from 0 to 62 miles per hour in 5.6 seconds. It can reach a top speed of 161 mph. By 1981's standards, this car is quite impressive, definitely on par with supercars of its time.
Sure, modern engineering may outdate a stock M1 a bit but that is not the point of a car like this. Simply hop in, fire up the legendary BMW inline-6, and try to resist taking it for a drive. The 5-speed manual transmission only makes this nostalgic driving experience more appealing.
One of the unique things about the M1 is the engine placement itself. All the other BMW inline-6 cars are front-engine designs. The 1981 M1 is a mid-engine, rear-wheel drive 2-door sports coupe, a very common layout among 70s and 80s supercars.
Eventually, BMW modified the M88 to place it in their very first M5 model, the E28. This engine carries a reputation for BMW to this day. It performs well enough in the lightweight M1 to make the drive exciting.
How the M1 handles and corners is a treat for anyone behind the wheel. They used a lot of fiberglass in the production of the body, keeping the curb weight right around 2,866 pounds. It is a surprisingly comfortable driver's seat for road trips or cruising, despite being a race car.
BMW M1 Dimensions:
Wheelbase: 102.4 inches or 2,600 mm
Length: 171.7 inches or 4,361 mm
Width: 71.8 inches or 1,824 mm
Height: 44.9 inches or 1,140 mm
FIA rules eventually disqualified the M1 from Group 4 racing but BMW got right back up. They started their own Procar series for a few years. The race consisted of 20 drivers in M1 Procar race cars competing over a distance of 100 km.
In 1979 BMW entered an M1 in the 24 Hours of Le Mans race. Andy Warhol painted the body, making the car a featured attraction for the event. It finished in 6th place, which was the most notable achievement of the M1 in professional race events.
Owning the First M
Finding a 1981 BMW M1 for sale is not easy. Expect to see values right around half a million dollars for a clean production version of the M1. Pristine examples will list for more.
If you want to find a BMW M1 Procar for sale, you will need to be patient. They only made a little over 50 of them. The M1 Procar is a seven-figure car now, they are fast and a blast to drive.
As the only mid-engine design in BMW's prestigious history, the M1 still stands out from the crowd. BMW lost money on the M1 but this car was definitely born too soon. Perhaps it would have fared better in a more recent era.
Unfortunately, BMW pulled the plug on the M1 after only one generation of production. In 2008, they worked with Giorgetto Giugiaro to design the 30th anniversary BMW M1 Hommage Concept car. Although they never made that M1 into production, its influence is all over the hybrid BMW i8.
In some ways, the i8 carries the torch from the M1's legacy. It certainly is another first for BMW, just like the M1 was. Both models have plenty of interest on the market.
Whether you can find an M1 to add to your collection or not, this is a special car. Although they are not available for sale every day, staying the course will be rewarding for those who persevere. From the track to a countryside drive, the M1 inspires the inner racer in everyone who drives it.