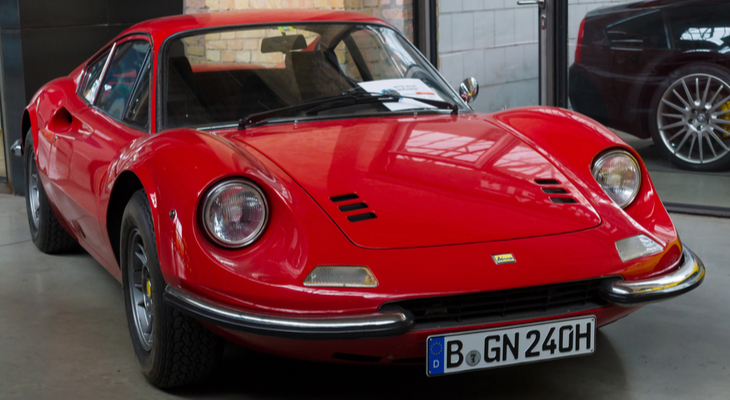 Iconic, sexy and exquisite, the Ferrari Dino still leaves a lasting impression everywhere it goes. The allure carries on because the Dino is so stylish and it was Ferrari's first high-volume production vehicle. That does not mean it is easy to locate a Ferrari Dino, but the market does offer meager opportunities. 
Dino is a spin-off as a sub-brand from Ferrari, but the term is actually not short for the word Dinoplex. It is the first car sold by Ferrari using a Dinoplex electronic ignition system, but the name has different roots. Once upon a time, Enzo Ferrari's lineup consisted of expensive V12 machines capable of out-performing the Porsche 911.
Enzo's son, Alfredo "Dino" Ferrari, envisioned a different approach during the 1950s. Over time, Alfredino's persuasive efforts to convince Enzo to build a racing team full of V6 and V8 engines persevered. Enzo didn't want to tarnish his beloved brand's prestige with more affordable cars, thus the marque Dino emerged as a compromise.
Alfredo developed the 750 Monza race car. He also had his hand in the development of a 1.5L V6 engine used in some of Ferrari's Formula cars. His vision proved successful, although his career and life tragically ended prematurely due to muscular dystrophy in 1956.
To honor his son, Enzo named the marque of V6 racing and sports cars after Dino. Dino's primary purpose was to develop race cars, but they also produced some road cars. The world wonders what could have been had Enzo's true successor been able to continue in his footsteps.
Even the Dino marque's logo features Alfredo Dino Ferrari's own signature. Although not released until 1967, the Ferrari Dino is a continuation of his passion and legacy. It just so happens to roll off the tongue in a very Italian way at the same time – the Ferrari Dino.
A high-revving, 65° V6 engine powers the Ferrari Dino lineup. Only cars with a V12 engine received the Prancing Horse logo on the car during that era. Releasing the Dino as an attempt to offer an affordable sports car, more consumers could consider a 'Ferrari' than ever before.
The mid-engine layout was common for race cars in the 60s, but using it in a production car was a bold move. Lamborghini did it with the Miura in 1966, so it was only natural for their rival to follow suit. Ferrari felt using a less powerful V6 engine would make the mid-engine design more manageable for the average driver.
All Ferrari Dinos feature a 5-speed manual transmission, giving these cars a very interactive driving experience. When referring to a consumer-market Ferrari Dino, there are usually 3 different possible models under the umbrella:
1967-1969 Dino 206 GT
1969-1974 Dino 246 GT
1972-1974 Dino 246 GTS
For the Dino's specific model number, the first two digits refer to the engine liter size. The last number references the engine cylinder count. This translates to a Dino 246 featuring a 2.4L, 6-cylinder engine.
The Dino 206 GT is a collaborative effort between Pininfarina designers Aldo Brovarone and Leonardo Fioravanti. Scaglietti built them. These names need no introduction to Ferrari enthusiasts and connoisseurs alike.
With soft corners flowing aesthetically along curvy body lines, the vintage Italian styling seductively demands attention with elegance. From its dreamy headlights to its sporty tailpipes, the Dino's groundbreaking style still turns heads today.
With a 2.0L V6 mid-engine layout, the Ferrari Dino 206 GT provides 178 brake horsepower through an intrinsic driving experience. Featuring a redline at 8,000 rpm, this dual-overhead camshaft V6 engine offers plenty of high-revving acceleration and fun. Add in the lightweight aluminum body construction and you have one of the world's rarest, most powerful go-karts.
Unfortunately, the Ferrari 206 GT is the only Dino road car that did not see mass production efforts from the company. As a result, the original Ferrari Dino 206 GT cars made from 1967 to 1969 are difficult to find in good condition. There were only 152 total Dino 206 GT models built, so expect to pay a premium price if you want one.
Beginning in 1969, Ferrari sold the Berlinetta 246 GT Dino variation featuring a larger 2.4L V6 engine. One notable change was using steel for the body's construction instead of aluminum. The Dino 246 was Ferrari's first high-volume production vehicle.
Featuring 192 brake horsepower along with a host of other improvements, Ferrari built 2,295 of these stylish hardtop coupes until 1974. This is the easiest Ferrari Dino to locate because there are more of them in existence.
For those who love open air driving or public visibility in a Ferrari, the 246 GTS offers a removable targa top. Available from 1972-1974, Ferrari made a total of 1,274 Dino 246 GTS models. It shares many features with the GT version, but the desirable removable top makes the GTS a must-have Dino for collectors.
Ferrari made a total of 3,569 Dino 246 models between both GT and GTS variations. Some of the primary differences between the years are visibly noticeable by comparing the wheels and engine ventilation designs. Expect to pay six figure prices across the entire Ferrari Dino 246 lineup, with pristine and special models fetching half a million.
By the time production completed, Ferrari made more Dinos than any of their previous cars. All Dinos were hand assembled in Modena on the same production lines as their V12 models.
Classic Italian vogue with enticing Ferrari status is enough to lure most collectors and drivers to the Dino road car models. Ferrari connoisseurs, especially those who hold Enzo in very high regard, know exactly what Dino's heritage means to the brand's history. Sitting behind the wheel of a Ferrari Dino is the fulfillment of Alfredo's vision.
To those who are unfamiliar with the car's unique history, the Ferrari Dino is a beautiful piece of fine Italian automotive history. From the rolling hills of Italy to the palm trees of California, the Ferrari Dino ages gracefully like a fine wine. It is only going to keep getting better with time.