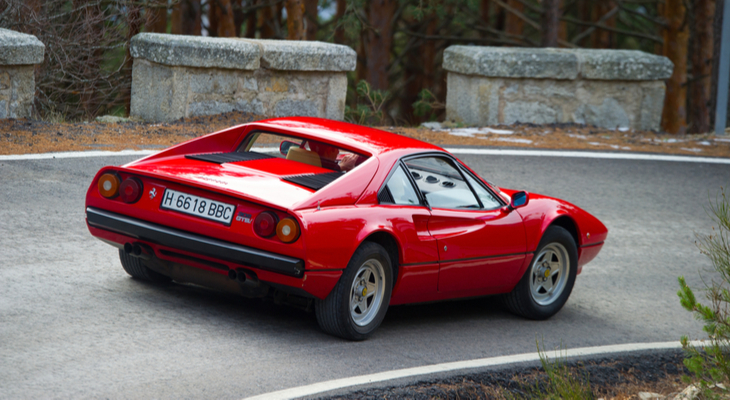 Sitting behind the wheel of a vintage Ferrari is an exquisite experience providing an ideal blend of prestige and nostalgia. Enjoying a beautiful day in a Ferrari 308 GTS is akin to driving through a cinematic dream. A spirited drive through the countryside followed by an entertaining evening filled with Sangiovese defines the 308 GTS lifestyle.
In 1975, Ferrari unveiled the 308 GTB, a mid-engine 2.9L V8 powered two-seater. The body design by Pininfarina's Leonardo Fioravanti still carries seductive appeal to this day. Classic 70s wedge styling compliments the 308's sexy curves with true Italian vogue.
Of course, if you are buying a Ferrari in the late 70s, chances are you want some visibility while driving it. In 1977, Ferrari released the 308 GTS featuring a removable targa top. The GTS becomes so popular, it outsells the GTB by a margin of four-to-one in the 308's dwindling production years.
There are a few different editions of the Ferrari 308 GTS available, they all feature a 5-speed "dog-leg" manual transmission:
1977-1980 Ferrari 308 GTS
1980-1983 Ferrari 308 GTSi
1982-1985 Ferrari 308 GTS Quattrovalvole
There are several differences between Euro-spec versions of the 308 GTS and those sold in other markets. European 308 GTS models are lighter in weight while offering superior performance due to export regulations at the time. People are often willing to pay more for a Euro-spec version, here are some of the notable differences:
European Version
240 horsepower
Euro-spec gear ratios
Smaller, lightweight bumper following hood line
Smaller rear bumper
Dual tip muffler
Vitaloni-style outside mirrors
Smaller yellow front side marker lights
No rear side lights
No fasten seat belt warning light
Flash to pass driving lights located in front grill
Rear engine cover top with left and right grill
Space saver spare tire
Reduced weight
United States Version
233 horsepower
US-spec gear ratios
Extended 2.5 mph impact bumper with additional "fangs" in the bumper
Impact rear bumper with spacer
Black muffler cover with catalytic converter
Larger flag mirrors for a better view
Large rectangular yellow front and red rear side marker lights
Rear engine cover features U-shaped grill offering space for catalytic converter
Full size spare tire
Weighs more than Euro-spec
European versions of the 308 GTS feature dry sump lubrication. Japanese, Australian and North American versions feature wet sump lubrication. This is one of the reasons why European models have more horsepower than 308 GTS models from other markets.
Ferrari's base 308 GTS features a steel body construction, unlike the fiberglass on earlier GTB models. The chassis features tube frame construction housing a transverse-mounted 90° V8 engine under a separate body. An independent, double-wishbone suspension combines with four-wheel disc brakes to provide handling and stopping power.
The removable black top is able to hide behind the seats whenever the open air appeals to your nature. All variations of 308 GTS models feature this removable top.
As emission regulations evolve, industries adapt. In 1980, new emissions regulations caused Ferrari to switch to a Bosch K-Jetronic fuel injection system to replace the Weber carburetors. This change dropped the brake horsepower down from 237 to 202 in the Ferrari 308 GTSi.
The Ferrari 308 GTS Quattrovalvole is the most desirable version available. Ferrari upgrades the 2.9L DOHC (dual overhead cam) V8 engine by giving it four valves per cylinder. This increases the horsepower up to 240 for European models (230 for U.S.) to compliment modernized styling for the 80s.
Other modifications for the Quattrovalvole models include gear and final drive ratio alterations to accommodate the quad-valve engine design. One reason 308 GTS QV models are so desirable is the engine design provides a more reliable experience. The sodium valve design used in the engines of earlier 308 GTS models are more prone to failure.
Even though there are faster Ferraris available, the 308 GTS features iconic styling that stands the test of time. Starring in the TV series Magnum P.I. as the sidekick to Tom Selleck's mustache, the 308 GTS always leaves a lasting impression. In fact, the show's producers had their hand in some of Ferrari's marketing efforts.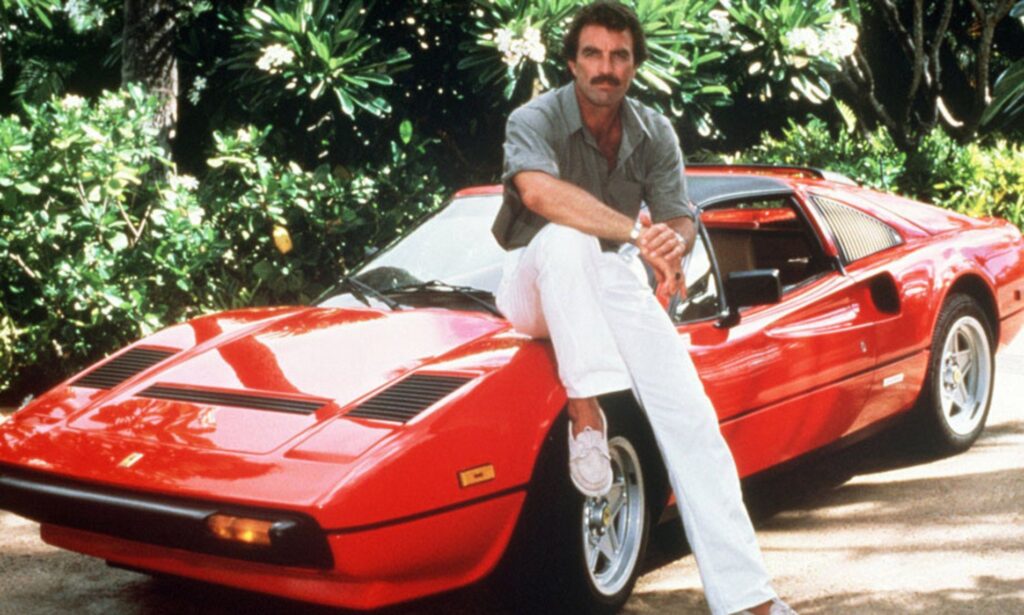 Tom Selleck drove a Ferrari 308 GTS around Oahu, Hawaii for all eight seasons of the show. Each season, he began driving a new 308 GTS around. After filming, a majority of the 308s went to auction.
Skepticism remains regarding how inconspicuous a private eye could be in a Ferrari, but the 308 GTS steals the show. Today, the car's iconic styling still turns heads of enthusiasts and casual onlookers alike.
For collectors or drivers looking to get their hands on a classic Ferrari, the 308 GTS offers an affordable opportunity. From hearing the Prancing Horse V8 purr to flipping the headlights up, the 308 GTS is a blast from the past. This is the kind of car you can put a few miles on without much guilt.
If you are in the market, finding a fair to excellent condition Ferrari 308 GTS is only a few clicks away. Mustache not included.