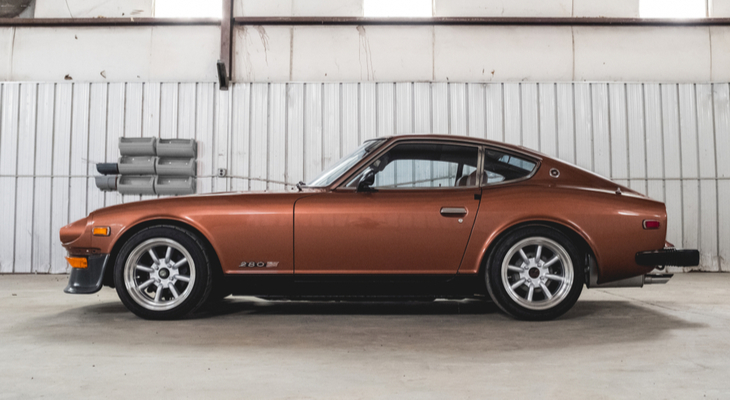 To Japanese automotive enthusiasts, the Datsun 240Z is more than just a legendary sports coupe. The Nissan S30 chassis is the first installment of what has become a very successful sports car lineage. Sold as the Nissan Fairlady Z in Japan, the Datsun 240Z hit the market looking to finish ahead of European competitors.
Many of the European sports cars available at the time featured outdated style. The Datsun 240Z offered buyers fresh automotive styling and sporty performance at an affordable price. Strong public and press response led to long waiting lists for the Z at dealerships all over the world.
Although the car's designer, Yoshihiko Matsuo, recently passed away, the spirit of the Datsun 240Z will live on forever. Sleek and revolutionary, the visionary styling of the 240Z transformed it into a halo car for the Japanese auto industry. Worldwide acceptance soon followed as interest in Japanese sports and GT cars skyrocketed.
Although it looks great, the Datsun 240Z is much more than just a vintage car with a sexy body. Featuring four-wheel independent suspension with front MacPherson and rear Chapman struts, the Datsun 240Z has exceptional handling for its era. Front disc brakes provide ample stopping power in this 2,301 pound, three door coupe.
Three door coupe? That's what it's classified as, but it is very similar to a two door fastback or hatchback type of design.
Nissan manufactured the original Fairlady Z, or Datsun 240Z models, from 1969 to 1973. Most 240Zs in the American market feature a 4-speed manual transmission, but non-U.S. versions were available with a 5-speed manual. From 1971 on, Nissan also offered an available 3-speed automatic transmission option.
Under the hood, a 2.4L inline-6 cylinder engine brings the Datsun 240Z to life. This engine is also commonly known as Nissan's L24 motor. It is capable of producing up to 151 brake horsepower and 146 pound-feet of torque with twin Hitachi SU-type carburetors.
With a front-mounted engine combined with rear-wheel drive, the FR layout Datsun 240Z provides a spirited driving experience. The Datsun 240Z can reach a top speed of 125 miles per hour while scooting from 0 to 60 in 8 seconds. Not bad for a vintage classic.
Values are definitely on the rise when it comes to the Datsun 240Z. Although a new Datsun 240Z cost about $3,800 in 1971, a recent example sold for over $300,000. Don't worry though, that was a very pristine 240Z with a special history.
Average prices are well below six figures, ranging from $20,000 to over $50,000 depending on condition. Although classic cars such as the Datsun 240Z are becoming more difficult to find every year, Nissan made plenty of them.
Datsun 240Z Production by Year:
1969 – 3
1970 – 17,005
1971 – 40,219
1972 – 60,025
1973 – 51,332
The styling of the 240Z didn't change much during their production. Earlier cars from 1969 to mid-1971 featured a chrome 240Z badge and two horizontal vents on the rear hatch. Later models removed the rear vents and changed the badge to the letter Z, centered in a circular logo.
In 1998, Nissan did something unique in an effort to restore interest in the 240Z. Nissan announced their plan to buy back some original 240Z vehicles and restore them to factory specifications. After restoration, Nissan sold them back to dealerships for $24,000.
Unfortunately, it seems Nissan may have misjudged their market at the time. Less than 50 Nissan 240Z models received the restoration. Low demand made the cars extremely difficult to sell, but today it would be a good deal.
Over the years, new fans are hopping on the Datsun 240Z bandwagon as they realize what this car is. Purists and longtime enthusiasts already know what the Datsun 240Z is capable of as a sports car. This car is fun to drive even by modern standards.
Many publications name the Datsun 240Z as one of the best sports cars from the 1970s. Perhaps that reputation as an agile and peppy RWD coupe is enough to earn a spot in your collection alone. The Datsun 240Z has iconic style while backing it up with enthusiastic performance, but it is also well-built.
Of course, high quality does not mean previous owners took care of it. However, well-maintained 240Zs reward their owners with a nostalgic driving experience without guilt. There is no shame in taking a 240Z out for a cruise on a beautiful day.
In fact, should you find yourself behind the wheel of a Datsun 240Z, the engine has a bit of a reputation. The 2.4L straight-six really rips after 4,000 rpm, but don't get too caught up in the moment. Always remember that the 7,000 rpm redline is approaching no matter how sweet that engine sounds.
The evolution of the Z into what it is today began with the 240Z. Engineers set out to build a better car than what was available, for a competitive price. Not only did they succeed, they built a legacy.