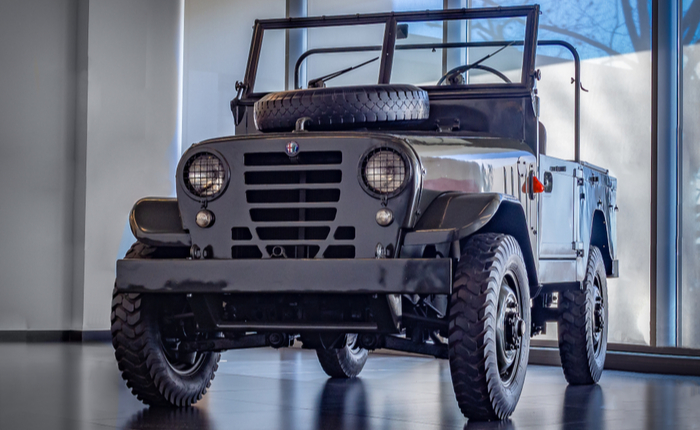 There is no doubt the classic and vintage SUV market is exploding right now. Sure, you can always see what another Jeep Willys can do, but what about something different?
With plenty of international recognition, durability and off-road capability, the Alfa Romeo Matta is a formidable choice.
Manufactured from 1951 to 1954 under contract for the Italian Ministry of Defence, the Alfa Romeo Matta is a 2-door SUV. Most Mattas built occurred within the 1952 to 1954 production window.
Available in both military spec (AR 51) and civilian (AR 52) versions, the Alfa Romeo Matta is officially the 1900 M model. Alfa produced approximately 2,007 military AR 51 editions and a total of 154 civilian AR 52 models.
Believe it or not, the AR does not stand for the brand name, Alfa Romeo. Instead, the AR stands for Autovettura da Ricognizione, or reconnaissance vehicle.
Originally developed as a reconnaissance vehicle capable of maneuvering over paved or unpaved roads, other variants quickly followed. Proving capable as a firefighting, agricultural and mobile maintenance unit, the Matta's versatility is well documentented.
Matta translates to mad, thus earning the 1900 M's 'Mad Alfa' nickname. In the face of rough terrain, the Alfa Romeo Matta powers through using its ruggedness and 4×4 abilities. Therefore it definitely lives up to its nickname.
Under the hood of this angry Alfa is a 1.9L 4-cylinder engine producing 64 horsepower and 90 pound-feet of torque. It is a twin-cam (DOHC) petrol engine featuring 8 valves and an aluminum cylinder head. Although it is not a V8, this engine does feature hemispherical combustion chambers.
A 4-speed manual gearbox shifts gears in the Alfa Romeo Matta. There is also a low ratio transfer box, ideal for off-road use in adverse conditions. The Mad Alfa is not afraid to get a little dirty on its way up to a top speed of 65 miles per hour.
Although it may not have modern off-road technology, the Matta still features a great suspension design. The independent front suspension features double unequal length wishbones to help you climb over obstacles. Not bad for its era.
Of course, if you are doing a little recon in the field, you need your vehicle to be agile. As a result, the Alfa Romeo Matta is not the size of a tank, it is just built like one. Here are the dimensions:
Wheelbase – 86.6 inches or 2,200 mm
Length – 138.6 inches or 3,520 mm
Width – 62 inches or 1,575 mm
Height – 71.7 inches or 1,820 mm
Dry Curb Weight – 2,756 lbs or 1,250 kg
Let the Adventures Begin
A true daredevil pilot of his era recognized Mad Alfa's potential as an exploration vehicle. Italy's own Maner Lualdi set out on many expeditions using the Alfa Romeo Matta as a support vehicle.
One such adventure duplicated a previously failed polar air expedition from 1926. Maner Lualdi, a true Alfa Romeo enthusiast, even used an airplane featuring one of the company's engines for the trip.
Over a decade later, Lualdi set out on a trek from Rome to Beijing using several Alfa Romeo vehicles. Two of them were Alfa Romeo Mattas, designated as mobile workspaces. He made it all the way to China's border before officials turned him away due to politics.
Even though the Matta was long out of production by this time, this journey proved how durable it truly is. To this day, the Matta has a long list of worldwide enthusiasts. Even though they are rare stateside, you can find them if you want one.
Of course, if you are looking for an Alfa Romeo Matta for sale, you may need to have patience. Keep in mind, Alfa Romeo only made a handful over 2,000 of these vintage 4×4 SUVs. That is going to prove to be your biggest obstacle if you want to obtain one.
Because there are so many variants, pricing will vary by each specific example. Expect to pay more for pristine or unique examples. A stateside version sold for an estimated $58,000 around 2016. Another one fetched $67,000 a year later.
Current European listings suggest a slight uptick in value since then. For the most part, pricing starts in the $70,000 range if you want to get behind the wheel of a classic Alfa Romeo Matta. The catch is, there are not many available.
If you see one and are considering it, it may not be there tomorrow. It may be awhile before you see one for sale again. That is part of the game when you want something as exclusive as the Mad Alfa.
In the end, you can always find Jeep Willys for less, but you may feel as though the Alfa Romeo Matta experience is worth the price of admission. It certainly made its mark, but only for a very brief time.
Either way, if you ever see one at a show, at least you will know what it is now. Most people are just surprised to learn Alfa Romeo made more than just cars in the past. The rest is history.