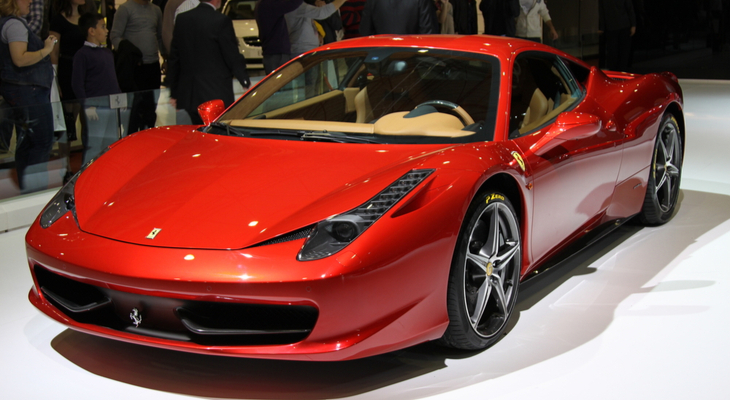 To many enthusiasts, hearing the 2010 Ferrari 458 Italia roar at wide-open-throttle makes them weak in the knees. That is not the case for residents nearby La Pista di Fiorano, a private Ferrari testing track. Despite constant local "noise" complaints when developing the 458, Ferrari's persistence paid off.
When sitting behind the wheel of the 458, it is easy to tune the outside world out. You do not drive the 2010 Ferrari 458 Italia, it drives you. This is a Prancing Horse masterpiece.
As a mid-engine sports car with rear-wheel drive, the 458 Italia provides a pure Ferrari driving formula. Ferrari even applied their own Formula One expertise when engineering the 458. They designed the chassis from the ground up making the 458 a groundbreaking successor to the popular F430.
The heartbeat of the 458 is a 4.5L Ferrari F136 F V8 engine that screams to 9,000 rpm. This engine will rattle the windows of the 458 and you will love it every single time. It produces 562 horsepower with 398 pound-feet of torque.
With peak horsepower happening right at 9,000 rpm, there is no reason to hold back. The only question is, will you have enough open road in front of you? One interesting fact about the 458 is that it's the first Ferrari mid-engine road car to feature direct fuel injection.
There is only one transmission available with the 2010 Ferrari 458 Italia. It is a 7-speed dual-clutch automatic gearbox by Getrag. This is actually the first non-exclusive Ferrari to not feature a traditional manual transmission option from the factory.
Inside the car, fans of the great Formula 1 legend Michael Schumacher will appreciate his input regarding the interior's design. As you can imagine, the layout is very familiar to a typical race car. Many of the most important controls are conveniently located on the steering wheel, making driving your main focus.
Even though this car is beautiful from an aesthetic perspective, it is a functional design. Ferrari spent plenty of time fine-tuning the aerodynamic efficiency of the 458. It can produce a downforce of over 300 pounds at 120 miles per hour or faster.
Then there is the unique front-grille design which features deformable winglets to reduce drag at higher speeds. Does attempting to defy the laws of physics in an automobile sound appealing to you? If so, the steering wheel of a 458 will fit your hands like a pair of gloves.
As is the case with many iconic Ferrari models, Pininfarina collaborated with Donato Coco to design the bodywork. The seductive bodywork blends flawlessly with its aggressive styling, you know this Ferrari has more than just looks going for it. Of course, the real attraction is driving one, not staring at it.
Driving is Believing
Accelerating from 0 to 62 mph in 3.4 seconds only tells part of the story. Throwing a 458 Italia around the corners of a race track is where this street legal car really shines. Every turn offers a heart-pounding opportunity to master the art of accelerating through the apex, you can't resist the temptation.
Precision handling is one of the strengths of the Ferrari 458 thanks to its double-wishbone front suspension. There is a multi-link suspension setup in the rear which offers more flexibility without sacrificing stability. Go ahead, push it to the limit, the 458 will keep begging for more.
On top of that, Ferrari combines this advanced suspension with their E-Diff (electronic differential) and F1-Trac traction control. This technology allows the 458 to improve its cornering and longitudinal acceleration by over 30% compared to previous models.
Going fast is not a problem in the 458 Italia and neither is braking. Should you test the car's top speed of 210 mph, Ferrari provides plenty of stopping power. Carbon ceramic brakes are just the tip of the iceberg.
They use a special system to minimize the delay between pressing the brake pedal and sending the signal to the brakes. This system works by moving the pads into contact with the discs very quickly. Ferrari combines this system with its premium ABS system.
Depending on tires, the Ferrari 458 Italia can come to a complete stop from 62 mph in 85 to 90 feet. There are other variants of the 458 such as the convertible Spider and other special editions. However, the Italia designation specifically refers to the standard 2-door berlinetta coupe model.
Every Day is a Good Day in a Ferrari
Imagine any gorgeous day for driving and you can probably see yourself in a 458 Italia. Some owners cannot even resist the urge to drive them in less than ideal driving conditions. Rain or shine, driving a Prancing Horse is fun, there is no way to disguise or hide it.
Ferrari made enough 458 Italia models to ensure plenty of people get the opportunity to see what the hype is all about. From 2009 to 2015, Ferrari produced approximately 15,000 Italia coupes. Finding a 2010 Ferrari 458 Italia for sale may take some time but you will find one eventually.
The question of whether or not it is the right 458 for you is another question. As always, using resources such as an experienced pre-purchase inspection service is always a wise idea. Getting to know the car a bit before falling completely head over heels is a good way to avoid rushing in.
If you know you want a 458 Italia, you can expect to see prices hovering around the $200,000 mark. Pristine and exceptional examples will fetch well above that. Clean examples will pop up for under $200,000 from time to time.
Choosing a color may be the most difficult decision unless you prefer the classic Ferrari red. Whichever one speaks to you, there is no doubt driving this car is the ultimate satisfaction. From car shows to meeting other Ferrari owners, there will be plenty of invitations for spirited drives coming your way.