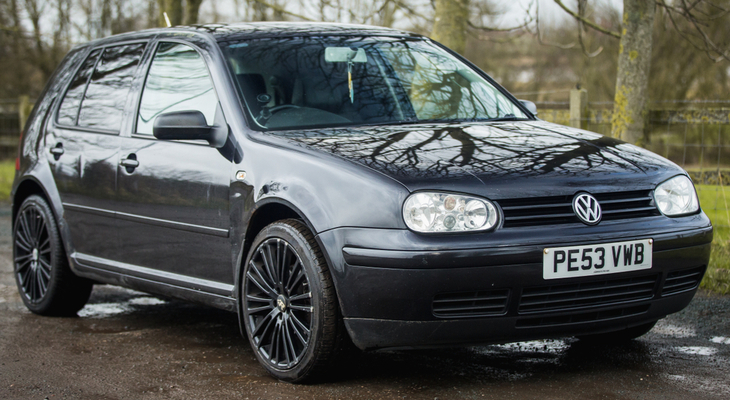 The progress of innovation is a fascinating development, especially when looking at the evolution of the Volkswagen Golf GTI hatchback. Once a nimble, peppy front-wheel drive car with sporty ambitions, the Golf grew into the rebellious 2004 Volkswagen R32. Simply releasing audio of the R32 at wide-open throttle filled VW dealerships with pre-orders and reservations across the United States.
At the time, in the early 2000s, Volkswagen's global competitors were hopping on the high-performance all-wheel drive bandwagon. Subaru's Impreza WRX and Mitsubishi's Lancer Evo were already available in North America. Volkswagen was already selling the R32 in Europe, only adding to the hype stateside leading into 2004.
In the past, the GTI earned the nicknames hot hatchback and pocket rocket. Even in their stock form, many earlier generations of VW GTIs are a blast to drive. The combination of zippy acceleration with precision handling creates many confident Vee-Dub drivers, perhaps instilling too much confidence at times.
VW enthusiasts caught wind of the AWD R32 and suddenly had their answer to the competition. Unfortunately, there were not going to be enough Golf R32 models to meet demand in North America. Volkswagen was only releasing 5,000 of them in the United States, creating a long list of FOMO (fear of missing out) victims.
Fire up the 2004 Volkswagen R32 to give yourself a reminder of what makes this car so special. To this day, this is one of the most pleasant exhaust notes to ever emerge from a 6-cylinder engine. Even the stock exhaust system sounds fine, but there are plenty of options available to open it up.
Previous to the R32, Volkswagen was using their 2.8L 24-valve VR6 engine in GTI models. There was also a 1.8L turbocharged 4-cylinder engine available for the GTI. The 24-valve VR6 sounds good, but it pales in comparison to the R32's engine.
Under the hood of the mighty 2004 Volkswagen R32 is a 3.2L VR6, their largest narrow-angle 6-cylinder engine yet. Who doesn't love cramming the largest motor they can fit under the hood of a Golf? Custom builders do it all the time, this time Volkswagen's engineers got in on the action.
With 240 horsepower and 236 pound-feet of torque, the R32's VR6 brought more power than GTIs of the same era could offer. The real question is, did it translate into an improvement in performance?
That depends on your perspective. You have to understand there is more drivetrain loss with an AWD system compared to a FWD system. The larger 3.2L engine is also heavier than the other two GTI engine options that were available.
As a result, you will notice the extra weight in the nose of the R32 when comparing it to a standard 1.8T Mark IV GTI. However, you will also have access to AWD in the R32 giving you more confidence around corners or in adverse conditions.
The 2004 Volkswagen Golf R32 can scoot from 0 to 60 miles per hour in 6 seconds if you launch it right. Many people experience a time around 6.4 seconds, so you are definitely in the right ballpark without a perfect launch. You should be able to hit a quarter-mile in 14.2 seconds with a trap speed around 97 mph on a stock setup.
Keep in mind, this car weighs about 3,400 pounds, putting it in a middleweight class. When compared to some of the lightweights in GTI history, the R32 is actually quite chunky. For those looking to tune more potential out of the R32, the added weight provides stability at higher speeds.
Buckle Up
Back in the day, HPA Motorsports developed an aftermarket twin turbo kit for the 2004 VW R32. Depending on how far into the rabbit hole you want to go, you can use this kit to squeeze between 500 to over 600 hp out of your R32. Hint, the HPA twin turbo kit is still available.
You will certainly have plenty of traction available with the R32's unique AWD system. It features VW's original Haldex-differential 4Motion technology, which does not automatically split the power evenly between the front and rear axles. Instead, the R32 only sends power to the rear wheels when it senses a lack of traction up front.
Volkswagen's first-generation R32 took place under the umbrella of the Golf's fourth generation of production. Many VW enthusiasts refer to these cars as Mark IV Golfs even if this particular model is a first-generation R32.
European R32 models were the first production cars to ever feature a dual-clutch DSG automatic transmission option. All 5,000 of the 2004 R32 models designated for the United States feature a 6-speed manual transmission. Veteran VW drivers take a lot of pride in the driving purity a manual transmission offers, the R32 doesn't disappoint them.
If you are more familiar with 4-cylinder Volkswagens, you will notice the weight of the purring 3.2L VR6. Take a few laps to get comfortable with the slightly different driving dynamics. You will quickly notice the R32 has surprisingly tight handling despite not being as agile as a 4-cylinder Golf.
In other words, your tires will take the brunt of the impact but you will adjust quickly as a driver. When you hear the throaty roar of the VR6, every chance to accelerate will put a smile on your face. At that point, burning through tires will be the least of your concerns, your focus will be on the road.
This is a stiff, sporty suspension, you will feel the jolt of every bump, uneven surface, or pothole. Try to avoid potholes, your alignment and tires will thank you. Beyond that, the apex of every turn will tempt you to test the tremendous lateral grip ability of the R32.
Inside the R32, snug sport racing seats keep your butt planted while you look for winding turns like a maniac. Passengers will have to anticipate your next moves to brace themselves, it is easier to prepare as the driver. Plus, you have the steering wheel to hold on to, your poor passengers are kind of floating at sea.
Besides passengers needing to develop sea-legs to ride with you, the 2004 Volkswagen R32 still offers an intriguing sports car experience. This is the kind of car that will inspire any lead foot to respond to Volkswagen's old "Drivers Wanted" ads. You really have to drive the R32 to see it for yourself.
Browsing the Classifieds
Finding a North American 2004 Volkswagen R32 for sale is becoming increasingly frustrating, but still affordable if you are patient. Remember, there were only 5,000 of them and a few are no longer with us. Overall vehicle condition will always impact the final price, many sellers choose auctions to list their R32s.
Considering the original MSRP of $29,100, the popularity of this car only saw a slight dip for a while. It is trending up again, but some bargains are out there if you do not mind some elbow grease. If you want a pristine 2004 R32, prepare to pay over $60,000 such as this example from Bring a Trailer.
For those with a little mechanical know-how, you can score a 2004 VW R32 for under $20,000. Sure, this R32 has 128,000 miles on the odometer, but it sold for only $13,250. You will find a ceiling of over $60,000 with a floor just under $15,000 across the current market.
Of course, there is only one catch, you will not find a 2004 VW R32 for sale every day. If you want one, you will need to begin checking your favorite automotive auction houses and listings frequently. Set up notifications through an app or email list if possible, eventually one will become available.
Once you are behind the wheel, this is definitely a driver's car. If you find an R32 in need of a little TLC, it might be a good opportunity to explore some aftermarket options. Even if you do not seek a 500-plus hp machine, there is a lot of tuning support available for this car.
Should you be fortunate enough to find a close-to-original example, you will probably want to keep preserving it. At least there are still enough R32s in existence to find another one to rack up some miles on.
Volkswagen created a hit with the R32. This first version of the R32 remains at the top of the list as their best R model according to many. You should seek an opportunity to drive a 2004 VW R32 before they become more difficult to find.
Over time, cars like this continue to fade away or get lost to negligence. They slowly roll to the back of the mind until you see one sell 40 years later for an absurd price. For now, time is still on your side, go check out an R32 if you are looking for a good time.