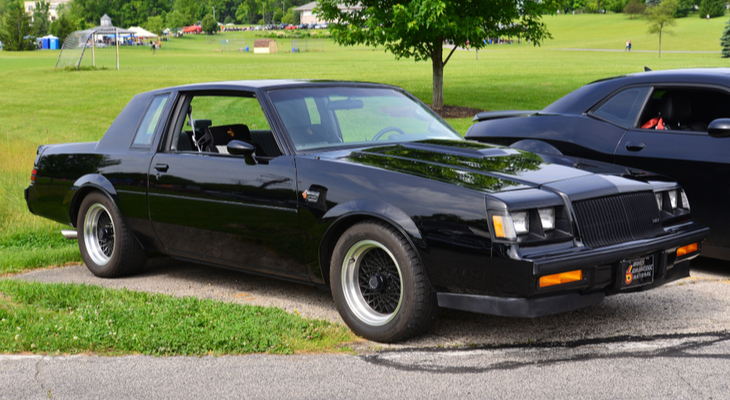 When you think of old school muscle, you usually recall thunderous American V8s roaring while idling with a rumble, right? On top of that, many 80s American sports cars do not qualify as muscle cars for many reasons, mostly emission related. Yet, the 1987 Buick GNX did not get that memo.
The GNX will show up to any American muscle car show, unintimidated, despite only having a V6 under the hood. Of course, by 1987, Buick's turbocharged V6 was not your typical Oil Shock era six-banger.
Buick's Grand National package, available on the Regal in the 1980s, primarily began as an optional aesthetics upgrade. It is only fitting that a special edition car, bred from racing, eventually becomes worthy of the package name.
Modern racing fans may not know what the Grand National origins are, considering that title has been in retirement since 1971. Hardcore fans remember this is what NASCAR called their championship series long before they sold naming rights. However, the words Grand National still stayed relevant while holding weight with the public long into the 1980s.
In 1981 and 1982, Darrell Waltrip won back-to-back NASCAR championships driving Buick Regals. At the time, Buick's image was not exciting, it was more associated with luxury than performance. As is often the case, winning races on Sundays can translate into car sales on Mondays.
After experiencing success on the track, GM unveiled the first Buick Regal Grand National at the 1982 Daytona 500. Eventually, Buick joined the dark side by deciding to make all Grand National editions of the Regal black. The force was with them as demand far outweighed Buick's supply of the Grand National Regals.
Officially, yet somewhat unofficially, Buick's Grand National engineers had one goal in mind: to beat the Corvette. By 1986, Car and Driver tested a Grand National model that was quicker than the Vette and several other notable cars of its era. The '86 Buick GN featured an intercooler to cool the intake air flowing to the 3.8L Turbo SFI V6.
In 1987, Buick was preparing to phase their rear-wheel drive models out in favor of the new front-wheel drive GM platform. That decision did not stop the Buick team from injecting some serious octane into the Grand National's final blaze of glory.
With one year of production remaining for the Regal Grand National, Buick decided to take it up a notch. Buick built approximately 20,740 Grand National Regals in 1987. They converted 547 of them into the 1987 Buick GNX.
What is the Buick GNX?
Why not build the end-all-be-all greatest Grand National at the finish line? That is exactly what was running through the minds of the chief engineer and project manager at the time. They teamed up with McLaren Engineering to squeeze more potential out of the ultimate Grand National to celebrate its successful run.
These mad scientists dubbed the project the Grand National Experimental or GNX. Under the hood is the best place to tell this story, because it is where all the action is. Pop the hood and you'll find a 3.8L V6 engine with a Garrett T3 turbocharger featuring a lightweight turbine.
To make the GNX better than standard Grand National models, engineers improved flow to the heads and exhaust system. By improving everything from engine management to airflow, the team was able to get 276 horsepower with 360 pound-feet of torque. Most industry experts will tell you those numbers are conservative, quite a few GNX models run hotter than this.
From there, they made the body stronger while redesigning the rear suspension. Then they gave it bigger tires with special 16-inch GNX aluminum rims. Other unique GNX features include:
Transmission Oil Cooler
Fender Flares
Stewart-Warner Analog Gauges
Functional Front-Fender Louvres
GNX Badging
Unique Serial Number Plaque on Passenger-Side Dashboard
All GNX models feature an automatic transmission. Sit back and let the Turbo-HydraMatic 2004R transmission do the work while you feel the thrust pulling you into the seat. This is a powerful and classic 80s cruiser in one.
The One That Got Away
To even have a 1987 Buick GNX available on the lot, you had to be one of their top 500 car dealerships. Buick was only going to build 500 GNX models in honor of the famous Daytona race, but demand was through the roof. They ultimately upped the final number by 47 more GNX models by the end.
Considering there were a few thousand Buick dealerships in 1987, some feelings were inevitably hurt. At the time, Buick also had a special dealer incentive program known as the Select 60. Dealerships competed against each other to rank in the top 60 in the company, only 47 dealers qualified in 1986.
For dealerships left out, they should have sold more cars if they wanted a GNX on their lot. The remaining 547 dealerships had a 1987 Buick GNX for sale. There were not a lot of traditional press releases for such an exclusive model, so, GM ran a promotional day.
They took the GNX out to their Desert Proving Ground in Arizona for a test run. The 1987 Buick GNX achieved a 0 to 60 miles per hour time of only 4.7 seconds. It captured a 13.5-second quarter-mile time at a trap speed of 102 mph, not bad for an 80s six-banger.
If you could even get your hands on a Buick GNX in 1987, the sticker price was $29,290. Many dealerships chose to keep the GNX models while some sold them for as much as $20,000 over MSRP. Legend has it one fetched $75,000 in 1987.
This car was popular then, it is famous now. Getting your hands on a 1987 Buick GNX will not be easy if you want one. As always, overall vehicle condition will impact the asking price.
Back in 2019, an '87 GNX with only 8 miles on the odometer sold for $200,000 on Bring a Trailer. Again in 2019, another example with around 500 miles on it sold for $130,000. Believe it or not, you can find a few for under $100,000, but with more miles on them.
There are not a lot of these in existence, you will not see a GNX available for sale every day. If you are patient, you may see an occasional listing or auction pop up. Even a standard Grand National will fetch upwards of $30,000 these days.
For those who are a fan of the boxy G-body era, the 1987 Buick GNX is at the top of your list. Feeling the torque delivered to the rear wheels catapults you into a smile every time in the GNX. Once the tires grip, it's go time in this car.
Forced induction into efficient V6 engines is the norm now, but the 1987 Buick GNX paved the way. It may take a while to land one, but once you do, there will never be a reason to look back. Just remember, you can have a GNX in any color you like, as long as it's black.