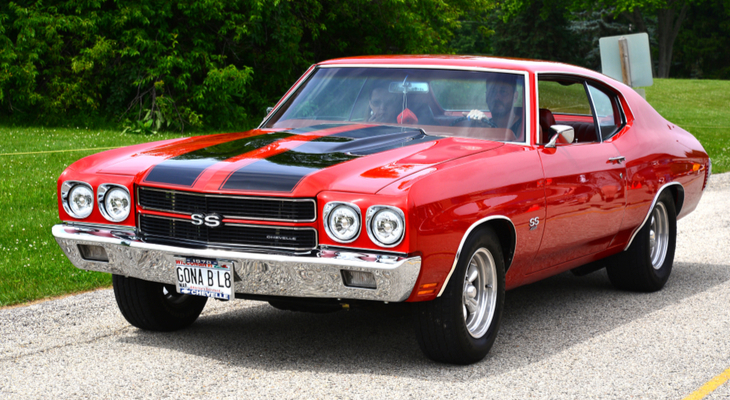 Just as the '70s were lighting up, General Motors lifted their engine displacement ban on midsize cars. The 1970 Chevrolet Chevelle SS 454 is the perfect example of a rebellious uprising after years of oppression. Welcome to the age of muscle.
To celebrate the independence of the muscle car era, why not roll out a big block beast with redesigned styling? That's exactly what Chevy did for the 1970 Chevelle model year. In 1969, the Chevelle was "America's most popular midsize car" but the changes in 1970 became legendary.
Not only does it feature classic American muscle car styling, Chevelles with the 454 cubic-inch V8 can back it up. The Super Sport, or SS package was available for both hardtop and convertible versions of the Chevelle.
There are two different tiers of SS packages for the 1970 Chevelle, the SS 396 and the SS 454. Obviously, the numbers correlate to the engine displacement, somewhat. The SS 396 features a 402 cubic-inch V8 while the SS 454 actually has a 7.4L 454 cubic-inch V8.
To add the SS 454 package onto the Chevelle, you only had to cough up an additional $503 in 1970. Yet there is still some confusion, there are two different versions of the 454 V8 engine throughout 1970 Chevelles.
At first, the '70 SS featured the LS5 454 V8 engine producing 360 horsepower. This is the $504 SS 454 package.
Eventually, for a little over $1,000, you could add the LS6 454 V8 featuring Holley four-barrel carburetors. This 454 V8 produces 450 hp, more than any other factory engine ever before in the world at the time. If you wanted to add positraction, you had to fork over another $42.
The more powerful LS6 454 engine uses aluminum for the manifold and pistons. It also has a different compression ratio, solid lifters, and other modifications from the factory. You could choose from the Rock Crusher 4-speed manual or the Turbo 400 automatic transmission for the LS6 SS 454.
Big Block Chevelle SS 454 Performance
In some ways, the 1970 Chevrolet Chevelle SS 454 with the LS6 V8 engine was a supercar of its era. Although it is a bit big and heavy, the Chevelle SS 454 has formidable handling. Striking fear in both rivals and public perception of powerful cars, the SS 454 Chevelle was larger than life.
There is plenty of torque coming from the LS6 454 V8, as you would expect from such a massive engine. It produces 500 pound-feet of torque at 3,600 rpm. As for peak hp, those 450 horses are running at full speed right around 5,600 rpm.
All this power translates to impressive performance at the drag strip. A 1970 Chevy Chevelle SS 454 with the LS6 can go from 0 to 60 miles per hour in 6.1 seconds. It will run a quarter-mile in 13.7 seconds with a trap speed of 103 mph.
With a front-engine-mount, rear-wheel-drive layout, the Chevelle offers a familiar driving experience. This is the way a muscle car should feel. It is also how a classic muscle car should smell and sound.
At wide-open-throttle, the LS6 454 V8 engine roars with the fury of hell. When you kick this baby down, the rear-end shakes with a lot of torque twist on the chassis. You do feel it at the helm and it is equally satisfying to see as a spectator.
1970 Chevrolet Chevelle SS 454 Dimensions:
Wheelbase – 112 inches or 2,845 mm
Length – 197.2 inches or 5,009 mm
Width – 75.4 inches or 1,915 mm
Height – 52.6 inches or 1,336 mm
Curb Weight – 3,836 pounds or 1,740 kg
Browsing the 1970 Chevelle Market
Unfortunately, Chevrolet only made a total of 8,773 Chevelle SS 454 models in 1970. It's anyone's estimate as to how many feature the LS5 V8 versus the LS6 engine. Most collectors and enthusiasts seek the more desirable LS6 1970 Chevy Chevelle SS 454.
It is not impossible to find a 1970 Chevrolet Chevelle SS 454 for sale but there are some things to note. Sadly, it can be difficult to find an authentic, all-original '70 Chevelle SS 454 with the LS6. As a result, you will see many '70 Chevelle SS 454 "Tribute" models on the market.
Tribute 454 SS models are really just another way of saying replica. Many builders and restoration experts will drop a 454 LS6 crate motor into a 1970 Chevelle chassis. If the builders do an exceptional job, many of these 454 replicas can fetch anywhere from $70,000 to over six figures.
You will also see many other engines under the hood of restomod Chevelles. Sometimes you will even find some 1970 Chevelles with modern engines under the hood. This is becoming very common in the classic car community.
Should you insist on finding a numbers-matching, authentic 1970 Chevy Chevelle SS 454 with the LS6, they do exist. It will take a little patience. For right around six figures, you should be able to find one in good to excellent condition, eventually.
As for the LS5 version of the '70 Chevelle SS 454, they are a little easier to find. Although the price does not reflect the 2021 collector's car market, this LS5 Chevelle sold for $41,450 in 2020.
One thing is for sure, the classic Chevelle market is booming right now. Many non-original and even non-SS Chevelles from 1970 are currently listing for over $60,000. Even in this golden age of modern muscle, the vintage '70 Chevelle continues to stand the test of time.