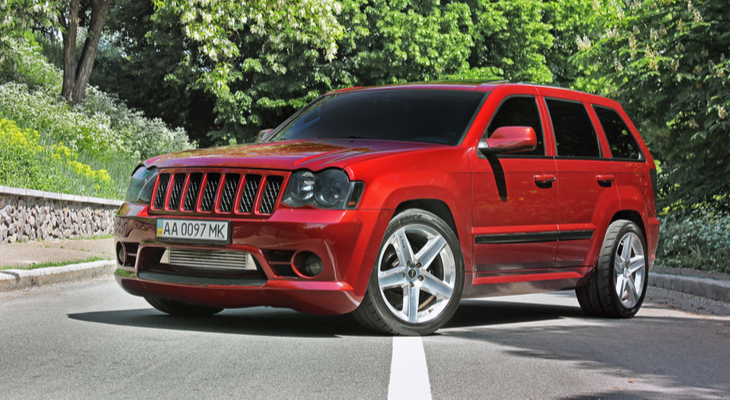 Take a look at the current SUV market, there are options ranging from the economy class to luxurious Land Rovers. There are even high-performance SUV models should you want to take the whole family to the track for a day of fun. If nothing else, surprising tuner-cars at stoplights in the 2012 Jeep Grand Cherokee SRT8 is worth the price of admission alone.
In the world of modern automotive design, Fiat Chrysler's Ralph Gilles is a rockstar. The 2012 Jeep Grand Cherokee SRT8 is just another page in his massive portfolio. With aggressive body lines caressed with artistic finesse, the 2012 Jeep SRT8 brings style and performance to the streets.
It's the performance that makes most SRT8 drivers giddy when they are behind the wheel. Under the hood, you will find a 6.4L Hemi V8 engine producing 470 horsepower with 465 pound-feet of torque. That's if you leave it stock with the factory setup, there is a lot of aftermarket support for modern Hemi engines.
Even in its stock form, the 2012 Grand Cherokee SRT8 is an impressive elephant. This 5,200 pound SUV is capable of stampeding from 0 to 60 miles per hour in only 4.6 seconds. It can achieve a quarter-mile time of 13.3 seconds with a trap speed of 103.2 mph.
If you keep going, the 2012 Jeep SRT8 can reach a top speed of 155 mph. Rumor has it there is a way to remove the limiter if you really want to see what this baby can do.
Don't worry, it can slow down in a hurry as well thanks to an excellent braking system. You will only need a little over 100 feet to come to a complete stop from 60 mph. Of course, if you ride the brakes hard they are going to need maintenance more often.
This vehicle brings a lot of momentum with it but the suspension is surprisingly responsive for an SUV. It does not handle with quite as much agility as BMW's X5M but it certainly still belongs on a track. Besides putting your tires through hell, you will not want to leave without doing a few more laps.
You certainly will not need to worry about missing a shift of gears. Jeep's 2012 version of the SRT8 features a 5-speed automatic transmission, nice and simple.
It is not just an SRT-tuned suspension responsible for the incredible grip ability the Jeep SRT8 has. You should not ever have to worry about getting your launch right thanks to Jeep's phenomenal all-wheel-drive system.
Thirsty But Fun 
Fuel economy for vehicles in the 2012 range usually suffer from mediocre numbers for a variety of reasons. Newer versions of many of these vehicles feature 8-speed automatic transmissions which help manage fuel resources. However, fuel economy was something Jeep was trying to solve in 2012 already.
For example, the 6.4L Hemi V8 engine utilizes Fuel Saver Technology which deactivates some of the cylinders when engaged. As a result, the 2012 Jeep SRT8 achieves 13% better fuel economy over previous versions.
In fact, Chrysler claimed the 2012 Jeep SRT8 could go 500 miles on a single tank of gas. For most SRT8 owners, the temptation to put the pedal to the metal is too much to resist. Perhaps it is possible with some discipline, but what would be the point if you have to drive like grandma?
In reality, the 2012 Jeep SRT8 averages about 12 miles per gallon in the city and 18 on the highway. If you like to bury the needle, do not expect fuel economy even close to those numbers.
2012 Jeep Grand Cherokee SRT8 Dimensions:
Wheelbase – 114.8 inches or 2,915 mm
Length – 191.3 inches or 4,859 mm
Width Including Mirrors – 84.9 inches or 2,156 mm
Height (Not Including Roof Rail or Antenna) – 69.1 inches or 1,756 mm
Going From the Supermarket to the Speedway
Most Jeep Cherokee drivers love their ground clearance, cargo capacity, and off-road ability. The SRT8 offers a slightly different experience while still retaining the aforementioned Jeep Cherokee heart and soul.
Many SRT8 Hemi owners put aftermarket exhaust kits on to really open up the V8 tone. This engine absolutely growls when it wants to get nasty. You will want to let it rip every opportunity you find, probably with the windows down just to hear it roar.
Taking an SRT8 to the track is not really optional. If you own any kind of SRT8 and have not visited the track yet, add it to your bucket list. The track is where adults bring their favorite toys.
Finding a 2012 Jeep Grand Cherokee for sale is not impossible. However, you will only have a handful of options at any given time. Keep in mind, the used car market is on fire right now which is definitely affecting asking prices.
Overall condition, the amount of miles on the odometer, and other factors are at play, as usual. Current market conditions suggest a range of $25,000 to over $40,000 for a 2012 Jeep Grand Cherokee SRT8.
SRT models tend to hold their value a little more steadily over time than base or entry-level configurations. You may see some Grand Cherokee SRT8 with aftermarket superchargers out there, these tip the scale in the $50,000-plus range.
For whatever reason, capable and practical SUVs with all-wheel-drive are very desirable right now. Mix in impractical performance for a grocery-getter and the market becomes a bunch of kids looking at candy through a window. The drool-inspiring performance of the 2012 Jeep SRT8 is eye-candy for every driver stuck in a 200-300 hp minivan.
Getting your significant other to understand why you need the SRT8 over the Caravan is a whole different story. Good luck with that one.
For what it's worth, racing helmets are available in a wide variety of sizes. You can probably find one for each member of the family. Hopefully that helps you get behind the wheel of a 2012 Jeep Grand Cherokee SRT8 because it is a treat.