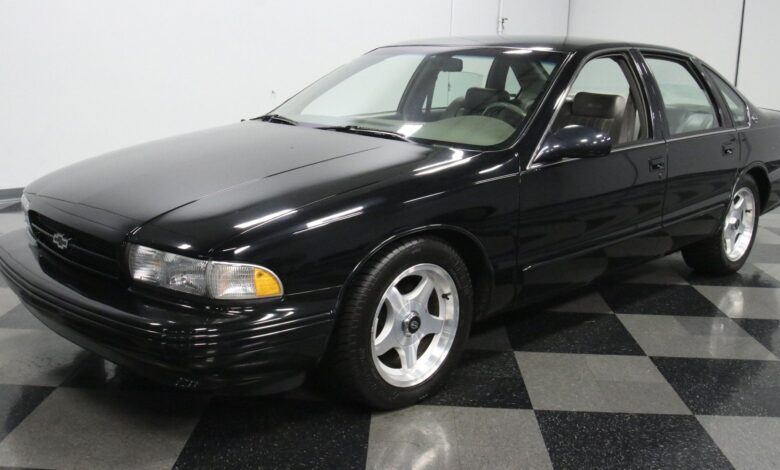 Although it is one of Chevrolet's most recognizable models, its Caprice was not selling well in the early 90s. Outside of taxi and police fleets, there was not much of a market for the Caprice. Things began changing for the Caprice when the head of Chevrolet, Jim Perkins, sparked a new idea.
In 1992, Perkins instructed Jon Moss, the manager of special vehicle projects at the time, to create a hot rod out of the Caprice. Keep in mind, the Caprice is a full-size sedan with rear-wheel drive. There are four doors and plenty of legroom for all passengers to stretch out in this sedan.
It did not take long for Moss and his team to have the first Impala SS concept car ready. The first concept on display at the 1992 SEMA Show is basically a black Caprice with the 9C1 Police Package. Oh yeah, there is also a Corvette LT1 V8 under the hood and Impala SS badges around the car.
Chevrolet had not used the name Impala SS on a car since 1969. They thought this new Caprice on steroids would present the perfect opportunity to revive the legendary namesake. By definition that made this car an instant collectible right off the lot. 
Perkins knew this car needed to see the light of day. As a result, Chevrolet went on to produce 69,768 total Impala SS sedans from 1994 to 1996. Interestingly enough, this is the first time the Impala SS featured four doors.
With an original sticker price of $22,495 in 1994, the Chevy Impala SS was flying off the shelves. Chevy dealerships could not keep them in stock. Even former Caprice critics were on board, heaping praise on the comfortable and formidable 90s Impala SS.
Not Quite The Corvette LT1
Despite boasting impressive performance capabilities for a sedan, the engine is not the 300 horsepower Corvette LT1 V8. Some of the differences are the Impala SS LT1 has a different camshaft and cast-iron cylinder heads. The end result is about 40 less hp but the LT1 design is all there.
In other words, feel free to explore adding more power to your Impala SS engine, they can handle it. There is plenty of aftermarket support available for this engine. Of course, there is nothing wrong with keeping it all original either.
You can go from 0 to 60 miles per hour in about 7.5 seconds in the 1996 Chevrolet Impala SS. Not bad for a comfortable 90s sedan, not bad at all. The 5.7L LT1 V8 engine produces 260 hp with 330 pound-feet of torque in the '96 Chevy Impala SS.
For a big car, the 1996 Impala SS actually handles with some surprising agility. Do not expect to whip this four-door around the track but it may raise some eyebrows. The factory 17-inch wheels will grip enough while the stock 12-inch disc brakes provide ample stopping power.
There are also stout anti-roll bars, refusing to give an inch like a veteran left tackle against a rookie pass rusher. Sitting at 4,221 pounds, the anti-roll bars barely break a sweat when cornering overzealously in the 1996 Chevy Impala SS.
Thanks to the special police package, the 1994 to 1996 Chevrolet Impala SS features a solid rear suspension system. There are gas shocks and steel springs that work with the anti-roll bar to keep your confidence behind the wheel.
Compared to the muscle-era Impala SS, the 90s version features more modern safety features. This even includes dual airbags. Plus the 1996 Impala SS is only about a second behind the old-school 409 cubic-inch version in the quarter-mile.
You should be able to run 15s in the 1996 Impala SS without much difficulty. A well-maintained, stock setup should be able to clock a 15 second time with a trap speed of 92 miles per hour. Plus, when this engine opens up, it has a nasty growl that you are going to love hearing with every run.
Catching Your Impala
Believe it or not, finding a 1996 Chevrolet Impala for sale is actually fairly easy. When searching, you will notice asking prices all over the place. There is no doubt the used car market is experiencing some volatility right now.
Even auctions can have wild results depending on who is bidding and when the auction is occurring. For the most part, you will see asking prices from around $15,000 to over $50,000. Obviously, the overall vehicle condition will be a determining factor when gauging true market value.
There is another way to see how much you may be willing to pay for the right '96 Impala SS. Simply take a look at a few completed auctions. Take note of when the auction ended and whether or not it met the reserve price, if there was one.
A Bring A Trailer auction from January fetched $21,500 for this clean 1996 Impala SS with 6k miles. Just one month earlier, another Bring A Trailer auction ended with this one-owner '96 Impala SS going for $30,500. From enthusiasts to collectors, the perceived value of this special edition Caprice Impala SS is trending up.
Luckily, Chevy made enough Impala SS models in the 90s to ensure it is possible to get your hands on one. You may even be fortunate enough to find a nice little project opportunity for under $10,000 with some persistence. They are not difficult to work on if you know your way around a garage and parts are easy to find.
From adding one to your collection to going for a spirited Sunday cruise, the Impala SS delivers. It is a smooth ride where you can just kick back, relax, and enjoy that LT1. Although at least one special edition exists with a T56 manual 6-speed transmission, most are automatics.
This is a classic American performance luxury sedan with cushy seats and an engine that never hesitates. Any unsuspecting stoplight rivals are definitely in for a rude awakening. Yet for Chevy, Impala, and Corvette enthusiasts alike, this car is not a sleeper, it is just another keeper.