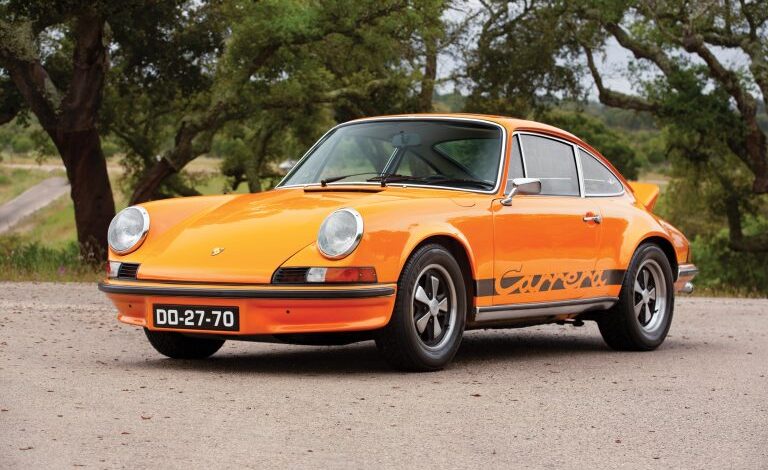 The 1973 Porsche 911RS is in my opinion, one of the most beautiful Porsche's every built. Collectors certainly value this rare car, with prices anywhere from 500,000 to over $1,000,000. So let's take a look at this car.
Much like the 1969 Mustang Boss 429, the Porsche 911 RS was a production model built to meet the homologation rules of FIA Group 4 racing. It was unveiled in the Paris Auto Show in 1972, and released as a 1 year special for 1973, athough a variation was produced in 1974.
Four variations were built, the 911 RS Touring, the 911 RS Sport aka Lightweight, the 911 RS Rennsport aka RSR, and the 911 RSH (Homologation). All 911 RS featured flaired wheel arches, a duck tail spoiler, and a wider stance than a base 911.
The RSR is the rarest and most valuable, followed by the Lightwight, and last but not least the RS Touring. The factory price for the 911 RS was about $14,000. Conversion Order 491 produced the $22,500 911 RSR. The front tires for the RSR are 9″ while the rear tires are 11″.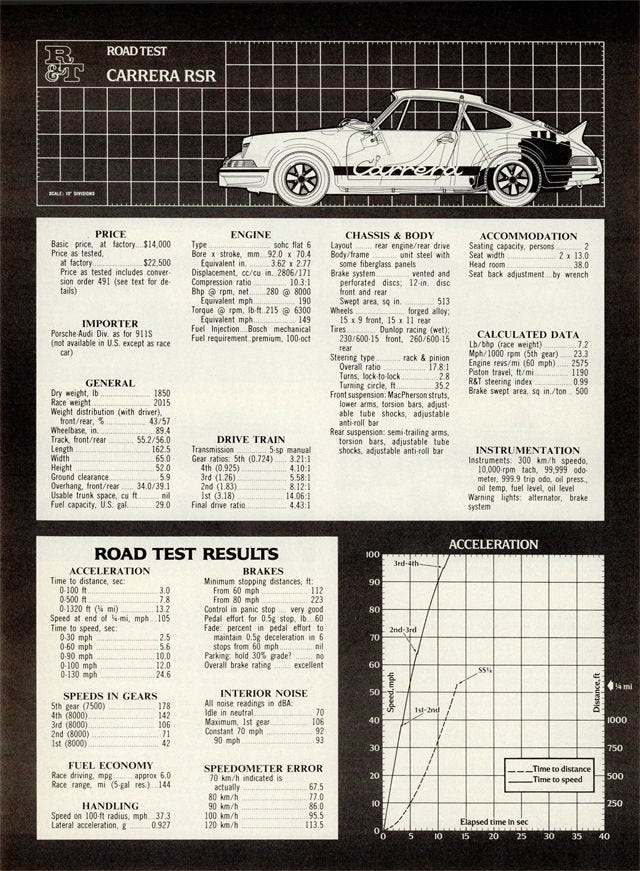 The Engine
The 911 RS was equipped with a 2.7 liter engine with a compression ratio of 8.5:1 and produced 210 hp. The touring and the lightweight models had the same engine, but the lightweight was stripped of creature comforts to reduce the weight and increase the speed.
The 911 RSR was equipped with a 2.8 liter engine witha compression ratio of 10:1 and produced an impressive 300hp.
Colors
The Porsche 911 RS came in a number of bright and flashy colors. I'm not a huge fan. I don't like the Yellow, Green, or White with bright red/blue accent. I do however like the Tangeriene/Red and Jade Green.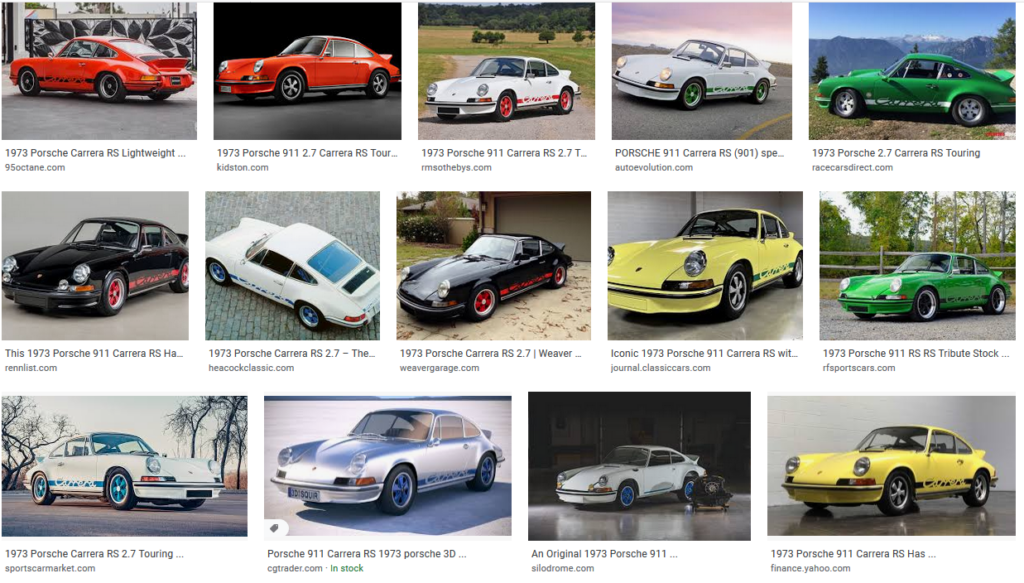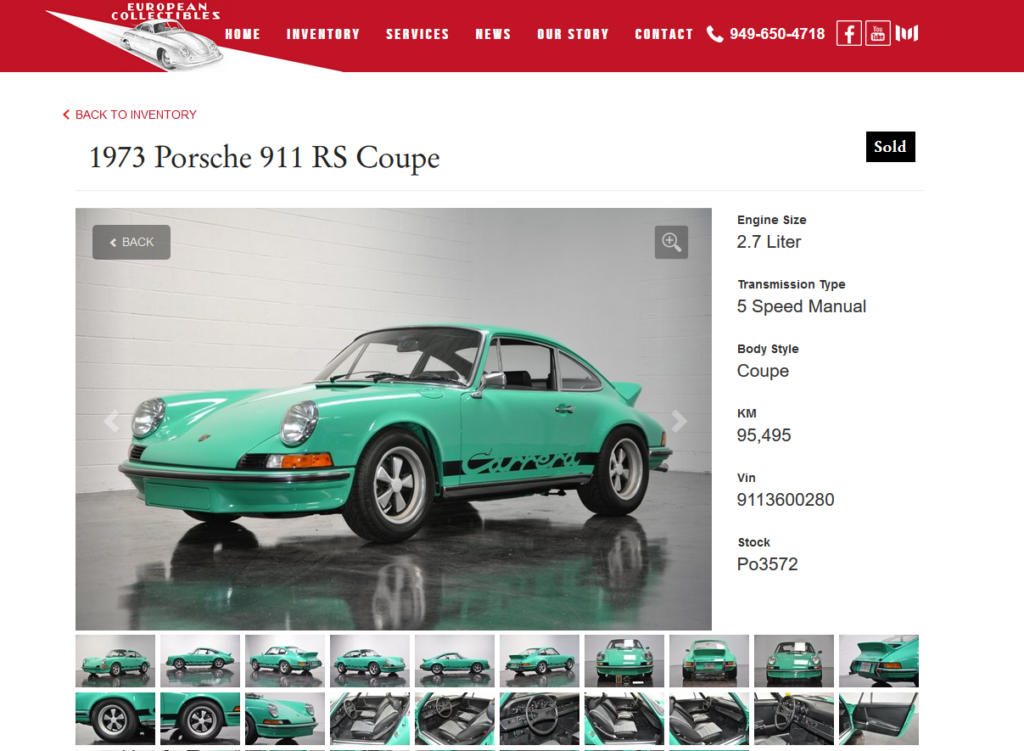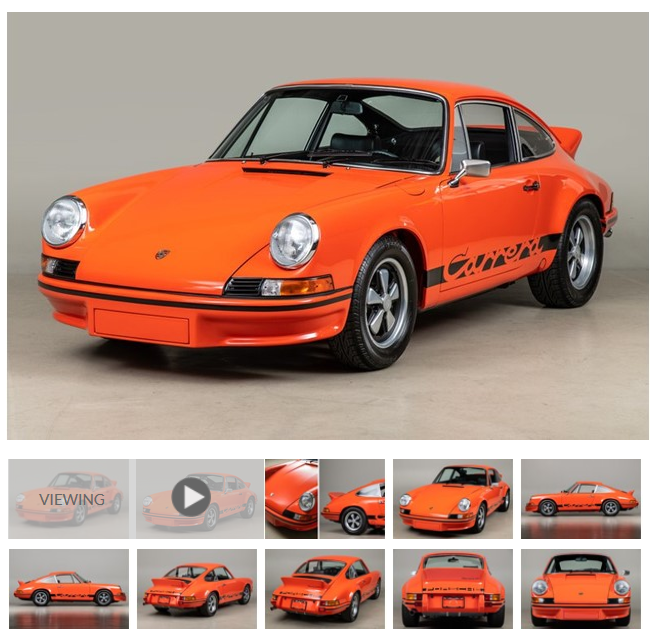 Production Numbers
Porsche built 1,580 1973 911 RS cars for 1973.
1973 – 911 RS Touring – 1308 vehicles
1973 – 911 Sport Lightweight – 200 vehicles
1973 – 911 RS Rennsport – 55 vehicles
1973 – 911 RSH (Homologation Cars) – 17 vehicles
1973 Porsche 911 RS results in Auctions
1973 Porsche 911 RS for sale