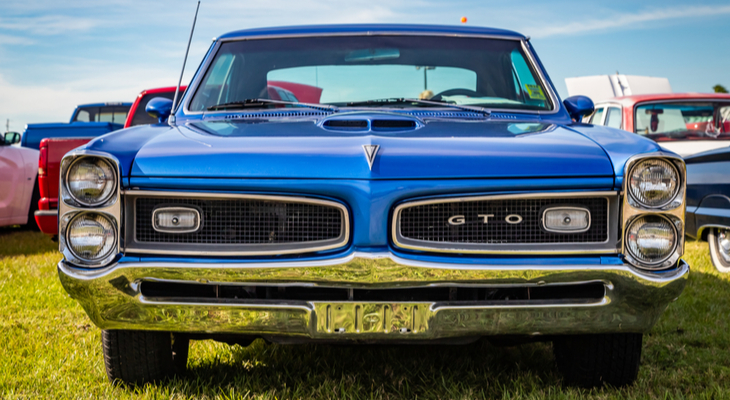 As the original American muscle car, the 1967 Pontiac GTO carries an immortal legacy. The other domestic automakers quickly scrambled to rival the GTO, but Pontiac set a trend that defined an entire era.
Pontiac made several generations of the GTO, but the first one sparked a race that continues to this day. In fact, battling for the modern horsepower crown inspires insane machines with new ideas lurking behind every corner. One might argue the golden age of muscle is just beginning, but it would not be possible without the original GTO.
Every performance enthusiast will appreciate the GTO's backstory with a sly grin. Ever since you first sat behind the wheel, everybody has been telling you to slow down. Yet, deep down, you know you want to see what this baby can do.
That is exactly how Pontiac's engineers and managers felt when General Motors banned all their divisions from auto racing in 1963. Since Pontiac's marketing approach heavily favored performance, there was only one solution. Focus on street performance.
One of the GTO's designers was John DeLorean himself. The other two big names responsible for this masterpiece are Bill Collins and Russ Gee. Their idea of cramming a larger V8 engine into a sportier car chassis started gaining traction.
Just like that, the muscle car era chirped its tires for the first time. Of course, finding loopholes in GM's strict rules helped make it all possible. At the time, GM didn't have restrictions on how large of an engine could be available as a factory option.
Tell this to any mechanical engineer with a passion for going faster and you get cars such as the GTO. In fact, the GTO was one of the fastest cars Pontiac ever built.
John DeLorean dubbed the project 'GTO' after inspiration from the successful Ferrari 250 GTO. Internally, at Pontiac, the project was often referred to as the Grand Tempest Option. Pontiac would go on to use the word Grand in many future models, but the GTO is just the GTO.
The Birth of the Muscle Era with the First Generation Pontiac GTO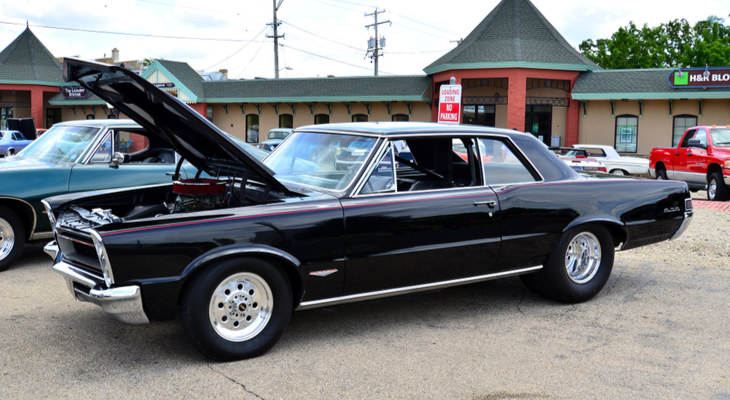 From 1964 to 1967, Pontiac's first generation GTO hit the streets with a mean streak. Using GM's A-body platform, Pontiac's V8 2-door was available as a coupe, hardtop or convertible. By 1967, Pontiac already reached the end of the GTO's first generation of production.
Many collectors and enthusiasts consider the styling updates of the 1967 Pontiac GTO to be the most desirable of the first generation. Major changes include switching from louvre-covered taillights to eight tail lights, four on each side.
Other notable options for the '67 GTO included available Rally II wheels featuring colored lug nuts. GTO emblems moved from the fenders to chrome rocker panels. Pontiac produced 81,722 GTOs for the '67 model year.
Total 1967 Pontiac GTO Production Breakdown:
Hardtop – 65,176
Convertible – 9,517
Sports Coupe – 7,029
Under the hood is where the 1967 Pontiac GTO really shines. Out with the old, in with the new. Pontiac increased the V8's displacement from 6.4L to 6.6L, that's 400 cubic inches of fire breathing potential.
This all new 6.6L V8 was available in three packages: economy, standard, or high output. There is a pretty big difference between the three engine options when it comes to performance.
1967 Pontiac GTO Engine Package Option Horsepower Numbers:
Economy – 265 HP
Standard – 335 HP
High Output – 360 HP
Pontiac upgraded its performance using an optional 4-barrel Rochester Quadrajet carburetor as well as other fine-tuning between the three engine packages. A 3-speed Turbo-Hydramatic TH-400 automatic transmission featuring a "manual" shifting mode was also an available factory option.
Of course, a traditional manual transmission was still the standard equipment. To help slow this beast down, front disc brakes were an available option in 1967. For some reason, getting behind the wheel of a first generation Pontiac GTO encourages drivers to use a lead foot.
Setting Sights on a 1967 Pontiac GTO
Luckily, Pontiac made enough GTOs in 1967 to get your hands on one, but these are desirable cars. Most values fall in a range between $40,000 to $90,000, depending on condition and other varying factors. It is not impossible to find a project car, but they are becoming more difficult to locate.
The 1967 Pontiac GTO even enjoyed a stint as a co-star to Vin Diesel in the 2002 blockbuster xXx. Sometimes one of the four purple GTOs with flames used in the actual movie pops up for sale. Prices hover around six figures for one of the movie cars.
Movie stardom aside, the 1967 Pontiac GTO always commands respect wherever it goes. From big block V8 exhaust notes to vintage American muscle styling, there's a lot to love about the '67 GTO. That's why they are always in such high demand.