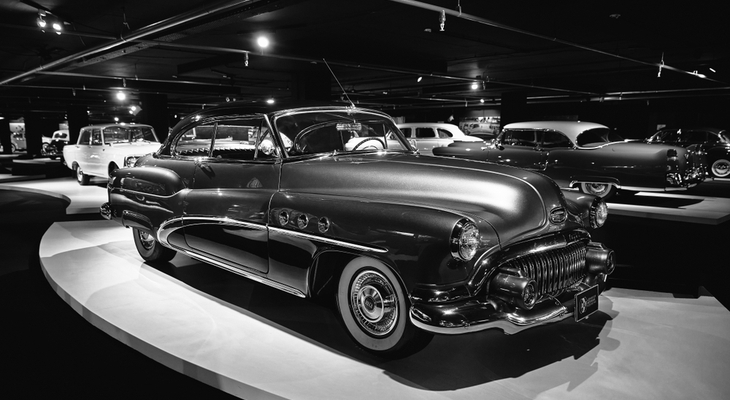 From Back to the 50s car shows to enjoying a beautiful afternoon drive, the 1956 Buick Super embodies American nostalgia.
Built on the old GM rear-wheel drive C platform, the '56 model closes out the fourth generation of Buick Super production. Buick tasked Harley Earl with designing the fourth and eventually the fifth generations of the Super or Series 50 models.
Although Buick is a premium automobile manufacturer, the Super targeted buyers on a budget. Buick still offered plenty of comfortable convenience including power windows and leather as standard equipment in convertible models.
You could even order Frigidaire air conditioning as an option with a 1956 Buick Super hardtop or sedan.
Available Configurations:
2 Door Convertible
2 Door Riviera Hardtop
4 Door Riviera Hardtop
4 Door Sedan
All 1956 Buick Super models feature a 5.3L Nailhead V8 engine under the hood. This 322 cubic-inch engine produces 255 horsepower with 341 pound-feet of torque. At the very least, this engine sounds great on a Sunday cruise while moving over 4,000 pounds of vintage American styling.
Buick offered two transmission options for the 1956 Super. One of them is a 3-speed sliding shift manual transmission. The other option is a 2-speed Dynaflow automatic transmission.
In 1956, Buick decided to make the convenient Dynaflow automatic transmission standard equipment on all Super models. One of the most recognizable features of the fourth generation Buick Super are the Ventiports on the front fenders. Just like the '55 models, the 1956 Buick Super features four Ventiports on each front fender.
Another notable design feature of the 1956 Buick Super is the long, chrome Sweepspear accent strips on its sides. This chrome stripe separates the two-tone paint job on the Buick Super. From its round headlights to subtle rear fin styling, the '56 Super brings classic 50s charm everywhere it goes.
A notable change for 1956 Buick Super models includes using a Cordaveen and nylon interior. The foam seat cushions made long drives more bearable while Buick loaded the Super with other standard features. Some of the standard features include:
Trunk Light
Electric Clock
Armrests (Front and Rear)
Sliding Sunshades
Cigarette Lighter
Glove Compartment Light
Turn Signals
Map Light
Dual Horns
Step-On Parking Brake
Red Liner Speedometer
Trip Mileage Counter
1956 Buick Super convertibles feature a power top as standard equipment. Six-way power-adjustable seats were optional. The 4-door Riviera hardtop was a brand new addition to the Super lineup for the 1956 model year.
Despite Buick's efforts to make the Super more appealing to the market, sales began slumping. Sales of the final installment of the fourth Super generation fell under 100,000 to a mere 80,998. Perhaps that's why Buick moved on to a fifth generation after the brief 1954 to 1956 lifespan of the fourth generation.
Kicking the Tires on the Buick Super
If you remember these cars in neighborhood driveways or if you just want one, there are still a few of them around. Finding a 1956 Buick Super for sale may require some patience, but you will eventually find a few.
Expect to pay somewhere under $20,000 for project opportunities. You will probably pay north of $20,000 for most running to fair condition examples. Pristine and unique 1956 Buick Super examples should fetch over $30,000 with some reaching well over $50,000.
Ironically, 1955 was Buick's most successful sales year of the decade. How did Buick follow up on their success? By making 200,000 fewer cars in 1956.
Of course, the reason why Buick made this decision was because the entire American automotive market was reaching a point of saturation. At the time, this inspired Buick to try releasing a wider variety of models in an effort to offer something unique.
The starting price for Buick Super models in 1956 ranged from $3,204 to $3,544, depending on trim configuration. Total production numbers for the 1956 Buick Super are:
2,489 – 2 Door Convertible
29,540 – 2 Door Riviera Hardtop
34,029 – 4 Door Riviera Hardtop
14,940 – 4 Door Sedan
Obviously, convertible models are quite rare. If you want the open-air 1956 Buick Super experience, prepare to pay a premium price. That is if you can even find a 1956 Buick Super convertible for sale.
For such a stylish, full-sized cruiser, the 1956 Buick Super is often overlooked or long forgotten. It may not be the '57 Chevy, but it is a formidable part of 50s American automotive history. Besides, classic car shows would be boring if everybody brought the same kind of car.
From the vintage interior scent to the classic American V8 rumble, enjoying a summer night is easy in a Buick Super. Cruising in a 1956 Buick Super is the perfect way to reminisce about a simpler time. Next stop is the drive-in.