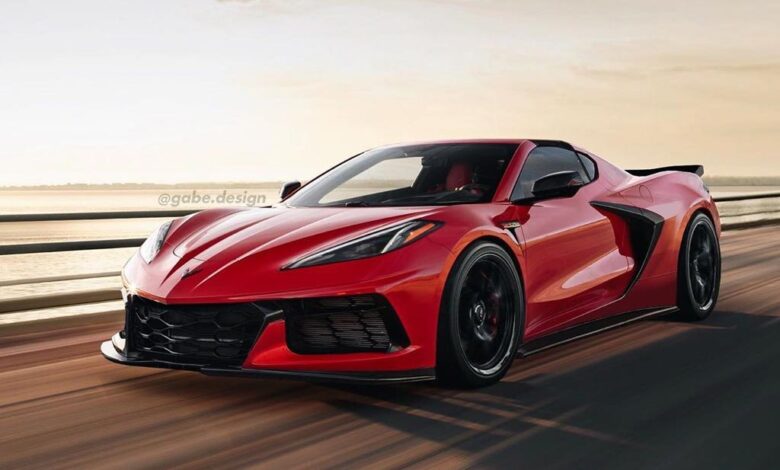 For eight generations now, the Chevrolet Corvette keeps giving more expensive competition a run for its money, without fear. Chevy's eighth installment of the iconic sports car introduces a mid-engine layout for the first time ever in a Corvette. In fact, the Corvette C8 is the first mid-engine car from General Motors since the Pontiac Fiero in 1988.
Of course, advancements in technology leave the 80s in the dust with the 2020 Chevrolet Corvette C8 Stingray. Every generation of Corvette uses the generational number after the letter 'C' for classification. This means a first generation 'Vette is a C1 and so on, the C8 is simply the eighth generation of America's Sports Car. 

Speaking of the new mid-engine layout, it is a balanced design offering 40/60 front-to-rear weight distribution. As a result, the driver and passenger sit about 16 inches further forward than the previous generation. This design shifts a slight majority of the vehicle's weight over the rear wheels, providing greater traction for the rear-wheel-drive C8.
With 495 horsepower and 470 lb-ft of torque, traction comes in handy. The 2020 Chevrolet Corvette C8's naturally aspirated 6.2L LT2 V8 engine brings venom with its sting. Select configurations of Chevy's new Stingray can glide from 0 to 60 miles per hour in about 2.8 seconds.
For the first time ever, Chevrolet offers a Corvette with the option of either a right or left-handed drive configuration. Chevrolet also offers many additional trim level options. For seating alone, the C8 offers up to three options: GT1, GT2 and Competition Sport packages.
The Corvette C8, completely redesigned in relation to previous models, features a driver-centric cockpit, offering more control at your fingertips. Now in place of the instrument cluster, a 12-inch digital screen displays your current driving mode (1 of 6 modes). Drivers can also access and adjust customized performance settings via the 'Z' button located on their steering wheel.
All first production 2020 Chevy Corvettes are Stingray models looking to enjoy the weather. Trim Levels Available – Targa Top or Retractable Hardtop:
1LT – Lightest Curb Weight Model – Starting at $58,900 MSRP
2LT – Comfort and Convenience – Starting at $66,200 MSRP
3LT – Luxury Performance – Starting at $70,850 MSRP
Each trim level features its own suspension setup corresponding with the available power. Chevrolet also upgraded the previously used Performance Data Recorder to feature a higher resolution camera. An optional Z51 Performance package offers even more enjoyment when equipped with the C8.
Available for all three trim levels, the Z51 Performance package offers:
Aerodynamic Splitter and Spoiler
Better Acceleration
Electronic Limited Slip Differential
Improved Cooling System and Brakes
Magnetic Ride Control
Performance Suspension and Tires
Sports Exhaust
Unfortunately, just about the only thing missing from the C8 is the option to shift via traditional manual gearbox. The only available transmission for this Corvette is an 8-speed automatic featuring a Tremec dual-clutch setup with paddle shifters. Historically, the only other Corvette released without the option of a manual transmission was the original C1 from 1953-1955.
Chevrolet states this is largely due to the incredible advancements with their automatic transmission. They revealed it was partially due to a lack of recent customer demand for a manual transmission. Engineers also didn't want to take away from the structural integrity of the design, noting that adding a shifter could complicate matters.
Staying true to its roots, the 2020 Chevrolet Corvette C8 offers drivers a supercar experience for a fraction of the price. Although there are many first-time-ever features, the 2020 Chevy Corvette C8 solidifies traditional 'Vette heritage with its incredible performance. From classic Corvettes to the C8, it is impossible to stop smiling when you are behind the wheel of one.
Collectors looking to get into a vintage or modern Corvette have plenty of options available. One of the beautiful benefits of owning a 'Vette is the ability to drive it as much as you want, without guilt. They just happen to be a lot of fun to drive at the same time.
If you are considering adding a Corvette to your collection, it is easy to fall in love with almost any generation. However, if you are looking for the most unique driving experience any 'Vette offers, the C8 is the way to go. The innovative advanced engineering of the mid-engine 2020 Chevrolet Corvette C8 is ready to unleash an exciting new chapter.
While some showroom classics will be teary-eyed behind glass windows, the 2020 Corvette will be entering its prime. Don't be the kid who has to stay inside while all your friends are out playing with their new toys. Keep that in mind the next time you find yourself typing 'Corvette for sale' into the search bar.