Toyota
The 1964 Toyota Land Cruiser FJ45 Pickup Still Gets the Job Done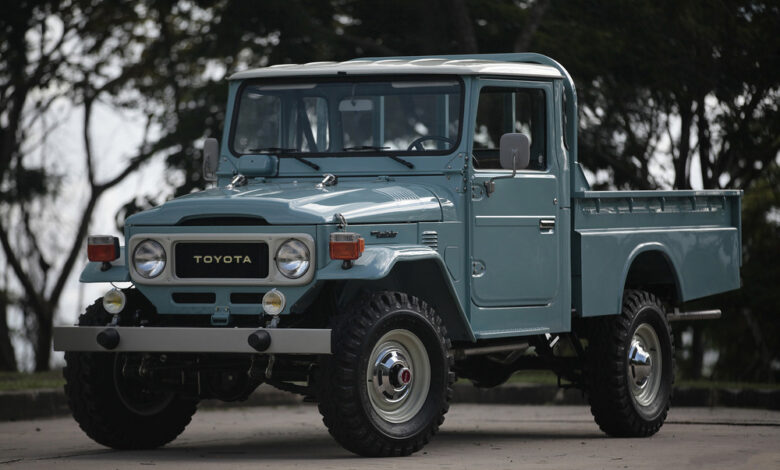 There are many Toyota Land Cruiser enthusiasts and collectors all around the world. As Toyota's longest-running production model, the Land Cruiser continues to stand the test of time. Toyota has made several variations of their flagship SUV over the years, including the 1964 Toyota Land Cruiser FJ45 Pickup.
As part of the J40 generation of Land Cruisers, the FJ45 features traditional body-on-frame construction. The FJ45 has a longer wheelbase than some of the other J40 Land Cruiser configurations. At 116.1 inches (2,950 mm), the FJ45's wheelbase is much longer than the 90, 95.7, or 104.3-inch versions.
It is also a pickup truck instead of the more traditional Jeep-like SUV style of Land Cruisers from that era. Still technically classified as a full-size SUV, this is one of the largest J40 Land Cruiser designs.
Most J40 generation Land Cruisers feature rear-wheel drive with available 4-wheel drive. All J40 Land Cruisers sit on a front-engine mounted chassis design.
Toyota used several different diesel and gasoline engines in the J40 generation of Land Cruisers. There are two different versions of their petrol, or gasoline, inline-6 cylinder engine during these years. One of the engines is a 3.9L while the other is a 4.2L.
There is a wide variety of diesel engines under the hood of J40 Land Cruisers. Toyota used six different diesel engines during this era. Four of them are inline-4 cylinder engines while the other two are inline-6 cylinder diesels.
Diesel versions of the J40 trucks were not available to consumers in the United States. Some of them still showed up on American shores as commercial vehicles though.
Most Land Cruisers sold to the general public from 1960 to 1975 feature the 3.9L F-series Toyota inline-6 cylinder petrol engine. This engine produces 125 horsepower in most J40 Land Cruiser models. It also produces between 209 pound-feet of torque, which is where this engine really shines.
The complete J40 generation covers the span of 1960 to 1984. 1963 was the first year Toyota introduced the two-door pickup FJ45 model. There are several variations of the FJ45 lineup, all of them feature 4-wheel drive.
To crack the code of why Toyota chose the letters F and J as the model name is actually quite simple. They used F-series engines in their Jeep or J chassis. You definitely do not need a translator for this one.
Off-road capability with proven durability highlights the appeal of the 1964 Toyota Land Cruiser FJ45 Pickup. Having the ability to haul cargo is merely a bonus. From challenging terrain to harsh weather conditions, this Land Cruiser keeps on truckin'.
A 3-speed column shift manual transmission shifts gears in the 1964 Toyota Land Cruiser Pickup. It has manual drum brakes from the factory. A two-speed transfer case was standard in the '64 Land Cruiser Pickup.
A Reliable Workhorse is Invaluable 
The rugged styling of the 1964 Toyota Land Cruiser FJ45 Pickup was ahead of its time. By modern standards, this is a very desirable vintage SUV. You can drive it without guilt and it rewards you with nostalgic charm.
To this day, Toyota still offers replacement parts for J40 series Land Cruisers. Even though they are reliable and have a reputation for withstanding extreme elements, it is nice to know parts support is still available. Should you need to fix your Land Cruiser, you should be able to find the parts you need.
By 1965, the Land Cruiser became Toyota's best-selling model in the United States. It was already popular by this time, but sales began exploding each year from this point on for a while. They had sold 100,000 Land Cruisers worldwide by 1968, that number jumped to 300,000 by 1973.
1964 was a very good year for Toyota considering they trailed only Chevrolet and Ford in worldwide auto sales. The Land Cruiser enjoys continued success to this day with over 10 million sold since 1951, the first year of its existence.
There are still many original and close-to-original examples of the 1964 Toyota Land Cruiser FJ45 Pickup for sale. Many professional resto-mod builders also customize some of them to have modern powertrains or other features.
With proper restoration, a 1964 FJ45 Land Cruiser will fetch over $30,000. Considering its original price tag was around $3,000, many former J40-era Land Cruiser owners probably wish they still had theirs.
Custom modified FJ45 examples will vary in pricing depending on their features. One such example features a modern LS V8 engine with a 5-speed manual transmission. It sold for over $100,000 in 2020.
Toyota made a lot of variations of the J40-generation Land Cruiser. There are several of them available on the market. If you want a 1964 Toyota Land Cruiser FJ45 Pickup specifically, you will need to practice some patience.
The good news is they do pop up once in a while. When you see a '64 Toyota FJ45 for sale, you will know whether or not it is the right one for you. If it isn't, you may have to wait a while for another opportunity.
In the end, it may be worth waiting for if it means being happier with your purchase. Once you are behind the wheel of a classic Toyota FJ45, the real fun begins. Enjoy the ride.