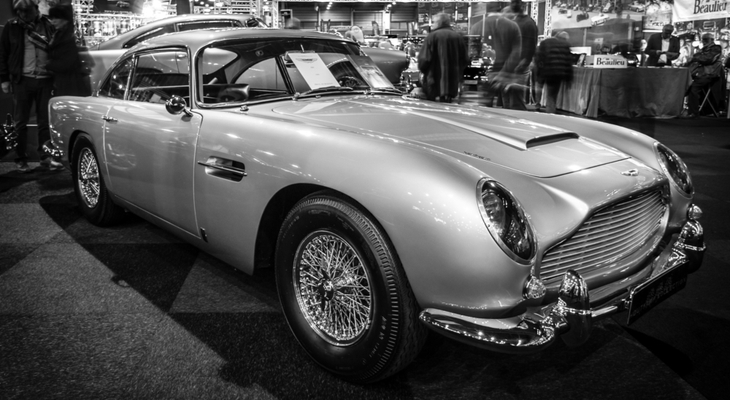 The Aston Martin DB5 may be one of the only cars capable of striking fear with so much elegance. Just ask any James Bond villain. Making its silver screen debut in the 1964 film Goldfinger, the DB5 quickly gained popularity.
Ironically, the Aston Martin chosen by the author of the Bond novel is a DB Mark III. However, special effects guru John Stears convinced Aston to go with the DB5 instead. The rest is history.
At the time, the DB5 was still a prototype. However, Aston Martin supplied two DB5 models to Stears. He then modified the DB5s for use in Bond movies.
The DB5 would go on to make several more appearances in Bond films over the years. You can see it starring in Thunderball, GoldenEye, Tomorrow Never Dies, and Casino Royale. Although most of the scenes didn't make the cut, it was set to make an appearance in The World Is Not Enough.
Modern Bond films continue to give the DB5 screen time. You can catch the DB5 in Skyfall, Spectre and the highly anticipated No Time To Die.
Today, the DB5 is iconic and unmistakable. It all began at the 1964 New York World's Fair, where the DB5 became "the most famous car in the world". Aston Martin displayed both the DB5 models used in Goldfinger to promote sales.
Beyond Stardom
Perhaps the DB5 does not get enough credit for being such a well-built car. The engineering quality is evident in its starring roles, but few people ever get to sit behind the wheel of one. That is where the DB5 truly shines.
Sure, it has the perfect blend of fashionable body lines with seductive curves, but the DB5 offers great performance for its era. The lightweight, all-aluminum DOHC straight-6 cylinder engine roars the DB5 to life. Although it is the same block, there are a few different factory tunings of this engine.
The standard coupe DB5 puts out 282 bhp at 5,500 rpm with 280 pound-feet of torque. A higher performance DB5 Vantage engine offers the thrill of 325 bhp at 5,500 rpm with 288 pound-feet or torque. Many DB5s feature a 5-speed ZF manual gearbox, but a 3-speed BorgWerner automatic was also available as a factory option.
There are only approximately a total of 65 DB5 Vantage coupes ever in existence. As for the convertibles, only 12 of them left the factory with the Vantage engine. This engine features upgraded carburetors and tuned camshafts.
Whether you prefer the standard DB5 coupe or the Vantage, this car always arrives with gawkers all around.  Aston Martin also produced a 2-door convertible version of the DB5, but they are extremely rare. From 1963 to 1965, Aston Martin manufactured a total of 1,059 DB5s, but only 123 are convertibles. 
Believe it or not, the DB5 shooting-brake edition is even less common than the convertibles. Aston Martin only assisted with the production of 13 station-wagon styled DB5 models. Most of them came from an independent coachbuilder, Harold Radford.
Every DB5 features the classic front-engine, rear-wheel drive layout offering a vintage driving experience with racing heritage. Classified as a Grand Tourer, the designer, Carrozzeria Touring Superleggera, created a timeless masterpiece. Everybody still wants one.
Getting your hands on one is another story. It takes patience and deep pockets to land an Aston Martin DB5.
Lining Your Pockets with Luxury
Aston Martin designs classy cars, inside and out. The DB5 is no exception. It is also one of the most famous movie star cars of all time.
If you want one, they are out there, but prepare to pay a premium price. You will encounter many sellers asking you to inquire about pricing. However, you can expect near-pristine models to fetch anywhere from $750,000 to over seven figures.
Some of the most extraordinary DB5s fetch a lot more than that. For example, the actual DB5 used for promotion of the film Thunderball sold in 2019 for a record $6.3 million.
Of course, there is another option. Aston Martin is building 25 DB5 replicas as seen in Goldfinger, including some of the gadgets from the movie. Each one will retail for just under $3.7 million.
One way or another, the Aston Martin DB5 is basically a seven figure car. Highly desirable, luxurious, and not easy to acquire. Is this a plot to a new Bond film featuring a DB5 as the valuable treasure?
Maybe in 1964, but future Bond films will always remain relevant in terms of potential heist values. On the other hand, the DB5 does not appear to be losing relevance as Bond's car anytime soon. As long as you are not a villain, you will have nothing to fear whenever you see an Aston Martin DB5.