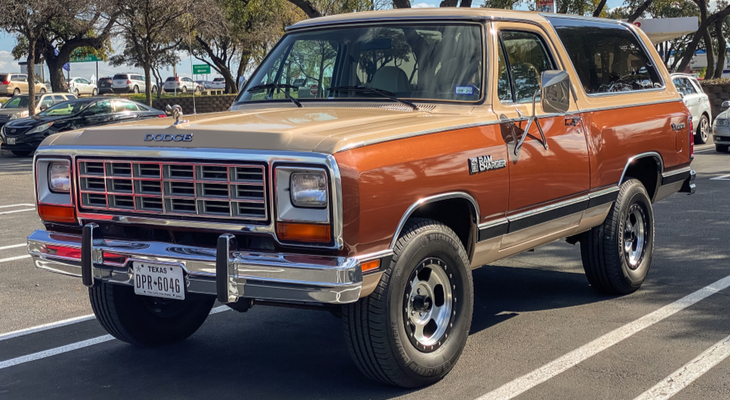 When exploring the wilderness, it is common to spot Broncos or Trailblazers frequently straying from the beaten path. Although it is becoming quite rare to see the endangered Dodge Ramcharger, the presence of its off-road spirit still exists. From 1974 to 1993, the Ramcharger never backed down from a challenge, why would it begin now?
Although production of the Ramcharger continued in Mexico until 2001, Chrysler ceased production in the United States as of 1993. The first two generations of the Ramcharger are the models most enthusiasts seek to this day. It is a full-size SUV with 2-doors, making it a direct competitor for the Bronco and K5 Blazer at the time.
Of course, Chrysler also owned Plymouth, making the Trail Duster a very similar model to the Ramcharger. This was a common practice for Dodge and Plymouth.
Dodge Ramchargers are front-engine sport utility vehicles with standard rear-wheel drive. Most models after 1978 with the factory-available 4×4 utilize a transfer case to switch between 2WD or 4WD operation. There is still a large group of enthusiasts who take their Dodge Ramcharger 4x4s out for a weekend of mudding.
Getting to Know the First-Generation Dodge Ramcharger
Considering both the past, present, and future direction of Dodge, choosing the name Ramcharger for this project was perfect. However, under its development stage, Dodge called the Ramcharger the Rhino. One way or another, nothing would dare stand in its way.
They began by shortening a pickup from the old Chrysler AD platform by nine inches. For the first official model year in 1974, you could only get a full-time 4-wheel-drive version. Dodge added a RWD-only version as an option for the 1975 model year while continuing to offer a 4WD model.
For the first few years of production, the Ramcharger offered open-air driving, a feature that's making a comeback with modern SUVs. Ramchargers came with a dealer-installed fabric top or an optional removable steel roof featuring a tailgate window you can flip open. The removable steel roof option is similar to a pickup bed topper.
One of the most interesting facts about the early Ramcharger is that only the driver's seat was standard equipment until 1976. That's right, passenger seats were optional equipment from Dodge for the Ramcharger until '76. Imagine telling your significant other this news.
It is very common to swap a Mopar 440 cubic-inch big block V8 engine into both generations of Ramchargers. However, the 1974 model year was the only Ramcharger available with the 7.2L 440-ci V8 as a factory option. The other big block engine available for the first generation was the 6.6L 400 cubic-inch V8.
Dodge used the LA series Chrysler small-block V8 engines in the first generation of the Ramcharger. The two options were a 5.2L 318 cubic-inch version or a 5.9L 360 cubic-inch V8. Horsepower and torque ratings vary from year to year due to emission regulations and other factors.
First Generation Dodge Ramcharger V8 Output Range by Engine
5.2L – 135 to 160 hp with 240 to 255 lb-ft
5.9L – 160 to 210 hp with 270 to 290 lb-ft
6.6L – 165 to 185 hp with 290 to 305 lb-ft
7.2L – 200 to 235 hp with 330 to 350 lb-ft
All first-generation Dodge Ramchargers came with either a 4-speed manual or 3-speed TorqueFlite automatic transmission from the factory. First-generation production spanned from 1974 to 1980. Dodge built a little over 109,000 of them during this production window before moving on to the next generation.
Catching Up with the Second-Generation Dodge Ramcharger
Beginning in 1981, the second generation of the Ramcharger featured a non-removable welded steel top. Although open-air driving was no longer available, the updated generation of Ramchargers offered more modern styling and features. Dodge produced the second generation of the Ramcharger until 1993, the same year they ended American production of the model.
At the start of the production window, the second generation of the Ramcharger features the classic egg-crate style front grille. Dodge continued using this grille design until the 1986 model year. In 1987 they switched to a crosshair front grille design.
From 1981 to 1987, all Ramchargers featured a carbureted engine. Beginning in 1988 Ramcharger models, Dodge used throttle-body fuel injection (TBI) with the 5.2L 318-ci V8. Then they added TBI to the 5.9L 360-ci V8 in 1989.
These are the only two factory V8 engines Dodge used in the Ramcharger during second-generation production. Similar to the first-gen models, horsepower and torque vary from year to year.
At the start of second-gen Ramcharger production, Dodge was still using the LA series V8 engines. In 1992 they switched to the Magnum series 318 as the standard engine in the Ramcharger. Dodge began offering the Magnum series 360 engine as an option for the final year of Ramcharger production in 1993.
With TBI, second-gen Ramchargers could produce smooth power more efficiently than carbureted versions. The 5.2L 318 with TBI produces 170 hp with 245 pound-feet of torque. As for the 5.9L 360 with TBI, it produces 193 hp with 285 pound-feet of torque in the Ramcharger.
Magnum series V8s from Dodge feature the best performance available in a second-gen Ramcharger. By 1993, Ramchargers had a range of 230 to 235 hp right off the lot. Many new Ramcharger owners were eager to see what they could do on dirt roads or in the mud.
There were several different manual and transmission options available with second-generation Dodge Ramchargers. The most common manual transmission with 4WD models is the old granny-shifting 4-speed. There were also 3-speed and 5-speed manual transmissions available in select second-generation model years.
Most second-generation Ramchargers with an automatic transmission have the trusty Loadflite TF-727 3-speed. In 1991, Dodge switched to a 4-speed automatic transmission. There are a variety of axles and transfer cases used throughout both first and second-generation Ramchargers.
Although official production numbers of the second-gen Ramcharger are not openly available, you can still see a few on the road. There will come a day when they are just another fading memory but there was a time when they were a common sight.
Lifted Spirits
Ripping around in a classic Ramcharger is still fun, especially off-road. It is rare to find a 4X4 vehicle like this without some customizations or modifications. Expect to see lift kits, engine swaps, and aftermarket suspension components when kicking tires.
If you don't mind a 2WD Ramcharger, you will have a higher chance of success if you want an all-original example. Off-roading enthusiasts are more likely to choose 4WD versions. Either way, finding a Dodge Ramcharger for sale is becoming increasingly difficult each year.
There is no doubt this old school Dodge is riding the hot vintage 2-door SUV wave. As is often the case, overall vehicle condition will have the biggest impact on pricing. If you want a bit of a project, they are still out there.
Believe it or not, you can find a nice little fixer-upper for under $10,000 with some patience. Many of these Ramchargers still run but will require some immediate maintenance. Expect to see a lot of faded paint and even surface corrosion.
There may be serious rust on models from winter climates, especially in regions where using salt on the roads is common. This is a very common problem on old Ramchargers. A good shop can fix it for the right price, do not expect it to be cheap.
In other words, make sure you know exactly what kind of project you are getting yourself into. A little elbow grease can turn into a never-ending project if you overlook your due diligence. Just because you find an example for $3,000 does not mean you should hop on it without an inspection.
A clean first or second-gen Ramcharger will usually list somewhere between $10,000 to $20,000. Showroom condition and concours examples will fetch north of $25,000 pretty easily.
Some of the most impressive Dodge Ramcharger builds are currently coming out of the resto-mod community. A reputable builder can put a modern 5.7L Hemi in a classic Ramcharger and sell it for six figures. These are very desirable across the Mopar and off-roading communities.
For the most part, getting behind the wheel of a Dodge Ramcharger is still affordable. As interest in vintage 4x4s continues to increase, there will be fewer Ramchargers available. Until then, this steel beast will remain ready to clash horns with anything in its path.