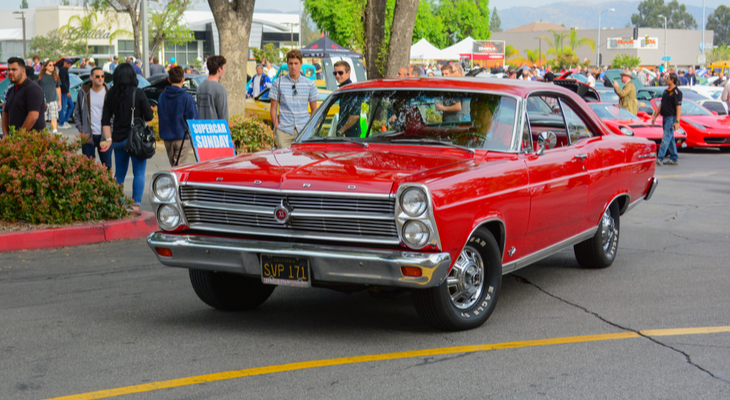 In modern society, there are so many headlines circulating the globe at any given time, you can choose your source of the news. In the late 1950s and into the 60s, multiple sources of information were not available at the fingertips of society. Therefore, everybody heard the same breaking news if they were tuning in.
From the airwaves to newspapers, if a story grabbed your attention, your neighbors knew about it too. Space exploration remained a constant story into the 1960s, dominating world headlines as the race to the moon continued.
As the space race between the Soviet Union and the United States really began heating up, Ford's Galaxie hit the market. Why not capitalize on the social excitement at the time through great marketing? Naming the Galaxie opened the imagination and wallets of potential Ford customers.
In 1963, Ford found another way to sell more Galaxies to consumers. They became the first company in the automotive industry to release a ½ year model with the 1963 Ford Galaxie Fastback. In some ways, the American automotive industry rivals had their own silent war, each attempting to dominate the market.
Racing with the Galaxie
Already toward the end of its second generation of production midway through 1963, Ford gave the Galaxie a streamlined fastback roofline. This change improved the styling of the Galaxie while also making it more competitive in NASCAR races. The new roofline design creates less aerodynamic drag and less lift at higher speeds.
Another welcome change thanks to Ford's desire to be more competitive is the 427 cubic-inch V8 engine under the hood. This engine is actually a 425 cubic-inch engine. At the time, Ford did not want to appear to have a smaller engine than their NASCAR competition.
By the time the 1963 Ford Galaxie Fastback hit dealership lots, the 425 cubic-inch displacement went out the window. Ford marketed it as a 427 cubic-inch engine and the rest is history. The numbers that really matter depend on the single or dual carburetor versions of this V8 engine.
This 427 cubic-inch V8 engine produces 410 horsepower with a single carburetor and 425 hp with dual carbs. You could even order aluminum cylinder heads from the dealer with a '63 Galaxie Fastback if it had a 427 under the hood.
427 cubic-inch versions of the Galaxie Fastback have plenty of power for straight-line speed. Since the engine is in the front of this rear-wheel drive car, the Ford Galaxie Fastback has an FR layout. This layout offers vintage American big-body car handling and performance.
Even though this car saw a lot of time on NASCAR tracks, it is still a cruiser that suffers from body roll. With a curb weight over 3,600 pounds on most models, do not expect it to actually handle like a race car. The Sixties were a long time ago, it is better to treat the classics with care and respect.
There were several engine options available from Ford for the '63 Galaxie. The standard engine option in a 1963 Ford Galaxie Fastback was a 289 cubic-inch V8 engine. 352 cubic-inch and 390 cubic-inch V8 engine versions of the '63 Galaxie were also available.
The 390 cubic-inch V8 is commonly found under the hood of many Galaxie Fastbacks. This engine has 300 hp. Ford offered several transmission options for '63 Galaxies.
One of them is a 4-speed manual Borg-Warner transmission. Another option, very popular with big-block models, is a 3-Speed Cruise-O-Matic automatic transmission. A 3-speed manual with overdrive was also available.
Buyers were lining up as the new sports roof 1963 Ford Galaxie Fastback quickly passed the remaining older roofline models. In fact, Ford sold approximately 4,978 Galaxie Fastback models with the 427 cubic-inch V8 engine under the hood alone.
Estimated 1963 Ford Galaxie Fastback Production Totals:
Galaxie 500XL Series Fastback Coupe – 33,870
Galaxie Six Series Fastback Coupe – 100,500
As for the Six Series editions, many of them have a factory 223 cubic-inch inline 6-cylinder engine. Ford used a 2-speed Ford-O-Matic automatic transmission in these models. Many of these shells have since been under restoration or modified with V8 engine swaps.
Finding Your Galaxie
Finding a 1963 Ford Galaxie Fastback for sale is fairly easy and affordable for an American classic. Ford made plenty of them.
Project Galaxie Fastbacks are available for under $10,000. For less than $5,000 you can find projects that need a lot of elbow grease, but they are available.
Perhaps you prefer to hop in and cruise. To get behind the wheel of a 390 cubic-inch version, expect to see prices ranging from $20,000 and up. Pristine examples with the 390 cubic-inch 6.4L V8 engine will fetch over $30,000.
If you want to find a 1963 Ford Galaxie Fastback with the 427 V8 for sale, prepare to open your checkbook. If you still know where it is. Expect to see values ranging from $50,000 to over six figures for excellent to pristine examples.
Decent running examples featuring the 289 cubic-inch V8 are available for under $20,000. Restomod and unique examples are also available for the right price. There are a lot of options available if you are in the market for a '63 Ford Galaxie Fastback.
Go ahead, turn back the clock and dare to get your news from the AM radio of a vintage Galaxie. Thanks to the rumble of a classic American V8 engine on a beautiful day, you will feel on top of the world. That's the kind of beauty the Galaxie is waiting for you to discover.