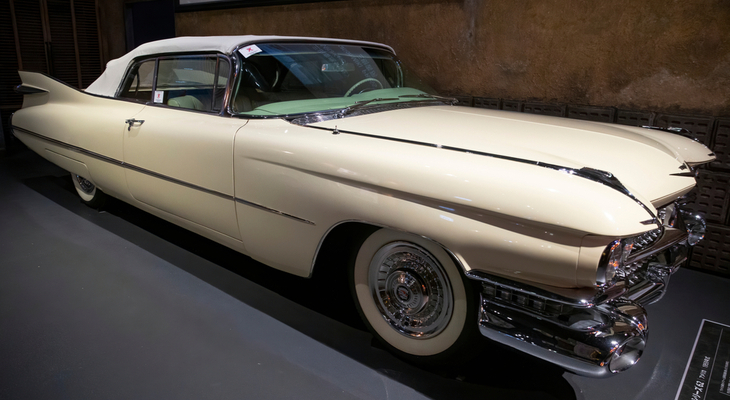 Big fins, bright chrome, and iconic 50s styling define the 1959 Cadillac Series 62 Convertible as a timeless classic. This is the kind of car that rides like a boat, rocking with the highway all night long. If a car could be Elvis, this just might be the one.
Although it is a smooth ride, you don't need Blue Suede Shoes to drive one. If you love riding around in your automobile with "No Particular Place To Go", the '59 Caddy will take you back in time. On a gorgeous summer night with the top down, the starry sky will reward you for every mile.
Cadillac produced the Series 62 from 1940 to 1964. Enthusiasts and automotive historians also refer to them as the Series Sixty-Two when writing it out.
By the time 1959 rolled around, the Series 62 began rocking its sixth generation of production. As many rock and roll legends can tell you, hits are often short-lived. The sixth generation of the Series 62 only topped the charts for two years, beginning in 1959 and ending in 1960.
Even though the production window was only open for two years, the sixth-generation Series 62 still makes a lasting impression to this day. Fender skirts cover the rear wheels and tires halfway, an instantly recognizable design element. Speaking of tires, the 1959 Cadillac Series Sixty-Two looks natural with white walls.
One of the most identifiable features is the rear grille insert between the famous dual bullet-style tail lights. Up front, the sight of the wide-mouth grille still gives 50s automotive enthusiasts the chills.
During the daylight, the classy Cadillac emblem leads the way, after sunset, it is the dual round headlights charging forward. Everywhere it rolls, the '59 Series 62 leaves a thunderous exhaust tone in its wake.
Anything in its path will want to move out of the way because this is a big-bodied American classic. Once the 1959 Cadillac Series 62 Convertible has momentum on its side, look out. 5,000 pounds of steel is tough to stop or turn on a dime.
1959 Cadillac Series 62 Dimensions:
Wheelbase: 130 inches or 3,302 mm
Length: 225 inches or 5,715 mm
Width: 80.2 inches or 2,037 mm
Height: 56.2 inches or 1,427 mm
Luckily, the '59 Series 62 has ample power to get it moving, making it an ideal classic American cruiser. Under the hood is a 6.4L, 390 cubic-inch V8 engine. It is the simple but trusty single overhead valve design producing an effective 325 horsepower.
Shift this old-school convertible into drive and let the low rumble of the V8 guide your journey. From the desert to the forests, there is no wrong turn when the weather is nice. Even on a chilly night you can simply put the top up and take this baby for a spin.
Built on the old General Motors C-body platform, the 1959 Series Sixty-Two is a front-engine, rear-wheel drive car. The only transmission available from the factory was the 4-speed Hydra-Matic automatic transmission. 
It is not necessarily a difficult car to drive, the auto transmission makes it more accessible for many people. However, you will need to take some time getting used to the size of this vehicle.
Of course, one of the benefits of a larger car is a more spacious interior. Not only is there plenty of room inside the 1959 Cadillac Series 62 Convertible, it is also comfortable. The 1959 Cadillac Series 62 Convertible is only available as a 2-door, but it still has a roomy back seat.
Bring the whole family to the drive-in theater or diner while enjoying a nostalgic night out on the town. On second thought, forget taking it to the movies, just drive around because this car is the star. Since it is a Cadillac, there are plenty of standard luxurious amenities, just do not expect smartphone connectivity in 1959.
Series 62 Convertible Standard Equipment in 1959:
Power Brakes
Power Steering
Reverse Lamps
Windshield Wipers
Two-Speed Wiper Motor
External Rearview Mirror
Interior Vanity Mirror
Oil Filter
Power Windows
Two-Way Power Driver's Seat
Even though Cadillac included all of these features as standard equipment, many manufacturers did not. Many modern car shoppers would scratch their heads if things such as wipers were not standard equipment.
Imagine thinking you will never drive your convertible in the rain, thus declining the wiper option. As the story goes, one rainy day later, regret sets in, such was life in 1959. Or, imagine not having an external rearview mirror in a car this large.
What may be even worse would be declining the oil filter, that poor engine. All hypotheticals aside, Cadillac rolled the red carpet out for their Series 62 customers in 1959. If you want one now, you might want to begin counting your beans.
Dropping the Mic
Stardom feels great on top but can often come crashing down. That is not the case with the '59 Series 62 Convertible. From rockabilly pin-up photos to gearheads, this car still gets around and steals back to the 50s shows.
If you want to find a pristine 1959 Cadillac Series 62 Convertible for sale, bring six figures. Concours examples with complete restorations can list for right around $150,000 or more. Some sellers choose to list their 1959 Series 62 Convertibles through auto auctions.
For those who do not need a showroom quality car, there are some reasonable examples available. You will usually only find a handful of Series 62 Convertibles for sale at a time. Persistent patience and diligent experience within the market will reveal more opportunities.
Decent to very clean restoration examples can fetch between $50,000 to over six figures. There is a wide price range depending on condition and seller motivation. Do your due diligence and you just might find a bargain.
Market value for a very good example hovers right around $30,000 to $40,000. A few project opportunities may pop up from time to time for under $30,000. If one does become available, bring your A-game, there will likely be many suitors.
Whether you choose to build it "One Piece At A Time" or buy it whole, the '59 will garner attention. Cadillac only made approximately 11,130 of these. Considering how high the demand for this car is, there are already not enough of them to go around.
In other words, as corrosion and the elements wear the '59 Series 62 Convertibles down, even fewer will remain. Each one offers the opportunity to preserve a stylish and lavish example of American automotive history. Time will reward those who cherish this car and pass on its importance to future generations.